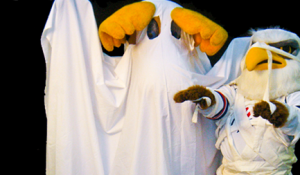 The Amerks are back at home today to play against the Syracuse Crunch and close out their first long stretch of games this season.  The Amerks are wrapping up four games in five nights and have so far played well in all of the games.  Last week we knew this weekend would be a test and the team passed with flying colors.
Michal Repik scored the overtime game winning goal Saturday night in Syracuse to extend the Amerks winning streak to six games, the teams longest winning streak since the start of the 2006/2007 season.  It was also the Amerks first regular season road win in Syracuse since April 2007.
Missed last nights game?  Here's the recap.
Update 12:39pm Sunday afternoon: The Florida Panthers sent Jason Garrison back to the Rochester Americans, he should be back in the lineup tonight.
If you did not have plans to go to tonights game you should stop what you're doing and get to the game.  The team has a couple of great promotions for the game, "Sweets in the Suites and Red Hot Sundays."  The game is at 5pm.  You'll still have plenty of time to get home in time for the Yankees game at 8:20pm.  As for the Bills, does anyone really care anymore?  Come to the arena and watch some exciting hockey!!
Some more thoughts about the game:
** Alexander Salak showed that he is not going to allow opposing players to push him around.  Salak earned two minutes for roughing after a Crunch player hit him in the crease.  Salak got up and threw a punch, he's not going to take it.
** We'll probably see another matchup of Alexander Salak and Dan LaCosta in net tonight.  Both goalies played great games on Saturday.
** During the first intermission Don Stevens was talking to Benoit Groulx and it was great to hear Groulx say, "I'm convinced we dont have our a game yet."  Groulx is happy that the team is winning but is convinced they can do much better.  He went on to say that he still thinks the team is giving up too many pucks along the walls and that the defense can do a better job forechecking as well as their positioning.
** Expect Kenndal McArdle and Tom Sestito to settle their battle early in the game.  Sestito went after Peter Aston who had hit Derek McKenzie into the boards hard.  It was a clean hit but Sestito still took off across the ice to chase down Aston.  McArdle was quick to get in and help out Aston.  The last time the Amerks and Crunch played in Rochester you may remember this fight:
http://www.youtube.com/watch?v=F_vCu8uQS8k&feature=player_profilepage
** Keaton Ellerby played his best game of the season in Syracuse.  He was skating all over the place and had great control of the puck.  A few times he was skating end to end untouched.
** Luke Beaverson played a great game as well.  He was involved making plays and playing physical with the Crunch.  With both Rory Fitzpatrick and Jason Garrison out of the lineup it was going to be interesting to see if he could step up his game and he did.. now it's time for Peter Aston to do the same.
** Shawn Matthias had another soft game tonight.  He needs to take a lesson from Graham Mink about standing in front of the net, staying in front of the net, and if someone pushes you around you get back up and get in their face.  Are we starting to see why the Detroit Red Wings originally traded him away?
** Chris Taylor, Jeff Taffe, and Mike York are playmakers.  These guys are pure proof how talented veterans can help a team win games.  Anytime they are on the ice you can expect something to happen.
** Michal Repik has six goals and five assists in eight games for 11 points.  He's doing everything he can to prove to the Panthers he's deserving of a callup when needed.
** Andrew Sweetland and Brady Calla were healthy scratches for the third straight game.  With Oreskovich and Bonneau in the lineup and playing well the only chance these guys are back into the game is if someone gets injured or called up.
** Jimmy Bonneau and Jon Mirasty will probably find a way to drop the gloves again on Sunday.
And finally if you've read this far, I need some help trying to get the word out about this site.  This is my third season and it's time to really let Rochester know this place exists.  The site has grown year over year at a fairly steady pace which is pretty good considering how bad the past two seasons were.  If anyone has any ideas or anyone has a local business that would be interested in partnering up in some way please get in touch with me through the contact link up top or send an email to keith at letsgoamerks dot com.