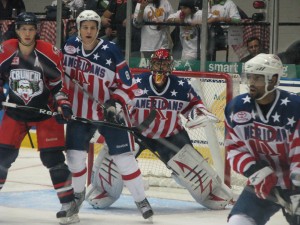 10/25/2009.. Alexander Salak earned his first professional shutout and led the Rochester Americans to a 3-0 win over the goon squad known as the Syracuse Crunch.
It was the Amerks seventh win in a row and also their fourth win in five nights and they're not showing any signs of slowing down.
With the win the Amerks are now in sole possesion of first place in the American Hockey League with 17 points.
Graham Mink scored the game winning goal at 2:45 of the first period with assists to Mike Caruso and Chris Taylor.
Caruso retrieved his own shot that went wide of the net and around the boards.  He grabbed the puck at the blue line and dumped it back in right to Mink who was all alone to score.
"I don't know where the defensemen went," Mink  said.  "He was there and maybe he was jumping into the rush. Caruso made a great play and I had enough time for the goalie to go down and get it over him."
Jimmy Bonneau and Jon Mirasty fought for the third time in less than 24 hours at the half way mark of the first period.  Bonneau is proving that he's capable of being that heavyweight we've wanted here in Rochester.  He's also earning the respect of the coach which is evident by the ice time he's getting.
http://www.youtube.com/watch?v=TDEUjvoi28kv
"I think it would have been great until his jersey got off and I had nothing to hold on to," Bonneau said.  "They were great fights.  We both punched each other hard in the face, it was awesome."
Jamie Johnson scored the Amerks second goal at 3:55 of the second period on the power play.  Keaton Ellerby passed the puck to Mike York who put a hard shot on LaLande and Jamie Johnson was standing right there on the crease to put the rebound in the net.
Alexander Salak played great though the entire game with his eye on the puck wherever it went.  Going back to Saturday nights game he has held the Crunch scoreless for 110 minutes and 9 seconds.
When we learned Tyler Plante hurt his knee last Wednesday some questions came up about Salak being capable of playing three in three.  Tonight he proved he had no problems.
Benoit Groulx talked about Salak saying, "He's the only one who's 60 minutes out there and did not show any signs of fatigue or anything physically or mentally."
There was never any question in the minds of the coaches about him playing all three nights.  "I told him that he was in and that was it, he had no choices," Groulx said.
Alexander Salak did not seem to mind either, "That was tough," he said.  "But it was good.  We won 3 games in a row and i don't mind much."
It helps that Salak can count on the defense in front of him.  Keaton Ellerby has been playing his best hockey yet with the Amerks.  He's skating fast, controlling the puck, not losing the puck, and holding on to his stick.
"If i give up a rebound the guys get it, they make our game really easier and it was fun to play," Salak said talking about counting on the defense.
The defense is also relying on him.  Clay Wilson said, "He's a good solid goalie.  He's everything you need.  Gives you confidence that he's going to make the save.  If you mess up you can have a little extra confidence because he's standing on his head right now."
Watching Salak in net can give someone high blood pressure with the way he plays.  When asked how to describe his style of play he just says, "I just do what i think is right.  This is my game."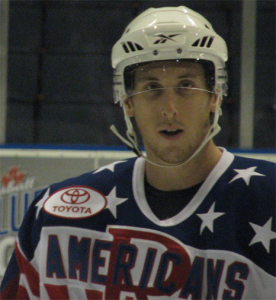 One of the highlights of the game was a span of 94 seconds in the third period when David Brine, Evgeny Dadonov, Michal Repik, Keaton Ellerby and Clay Wilson were able to continuously cycle the puck through the Crunch zone.
During that span both teams were playing five on five hockey.  The Amerks put the puck into the Crunch end pretty quick preventing the Crunch from a line change.  They recorded two official shots on net and a third that was wide.
Shawn Matthias scored his first goal of the season with 37 seconds left in the game on the power play, assisted by Mike York and Clay Wilson.  Matthias did a great job on the power play staying in front of the net during the power play.  Wilson shot the puck from the blue line, Wilson took a stab at the first rebound and Matthias was there to keep the puck away from LaLande and put it in the net.
And shortly after that is when things started to get nasty.
Luke Beaverson and Kevin Harvey got tangled up along the boards.  Harvey was wearing a full cage and not supposed to be fighting but that didn't stop him from throwing punches at Beaverson.  Beaverson was trying to punch back but had a tough time punching anything but a full cage.  By the time Harveys helmet came off the linesmen stepped in.
The second fight at the end of the game between Jimmy Bonneau and Jon Mirasty occured after Mirasty gave Salak a shove.
Here's a video I snagged off the TV screen.  Somehow I didn't hit record on my camera at the game.
http://www.youtube.com/watch?v=Qga887RHXTY
Salak says he said something like, "I just said hey guys thats pretty stupid. 3-0 leading, you losing its not neccesary to do it.  I don't think he heard what i said.  He pushed me but i dont think he's stupid, he knows if he fight with me i would probably die there."
Bonneau, "There would have been no point of a 2nd fight out of nowhere tonight but theres some respect to get too. i'm not going to stand around looking at what people are doing if the tough guys going after my goaltender, doesnt matter who you are."
Rochester is on a seven game winning streak and is currently in first place in the American Hockey League.  They're playing great hockey together as a team and get better with each game.  The fans are happy, the players are enjoying themselves, and the atmosphere inside the arena is the most exciting it's been in two years.
"The group we have right now is focused and I think they get along very well together.  They battle hard," Benoit Groulx said.  "Its nice to see where we're at now but at the same time we have a lot of things to work on."
The Amerks only have one game in the next ten nights.  They'll have plenty of team to continue working together and building off of what they've done so far.