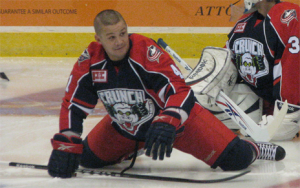 A game between the Rochester Americans and Syracuse Crunch is going to be a physical game and will likely have a fight or two.  Sunday evening in Rochester that's exactly what happened.
Jimmy Bonneau fought Jon Mirasty twice and looked beat up after the game.  He said the last time his face was like that was after he broke his orbital bone.
"My face is beat up and I'm tired," Bonneau said.  "But my heads fine, my hands are fine, and my legs are fine so i'm ready to go."
Bonneau is currently with the Amerks on a PTO but is working hard to show he deserves a contract.
Round 1:
http://www.youtube.com/watch?v=TDEUjvoi28k
Round 2:
Somehow I did not hit record on my camera, so here's a crappy recording from the TV.. better than nothing.
http://www.youtube.com/watch?v=Qga887RHXTY
These two teams play again on Friday November 6th, plan now to be there!