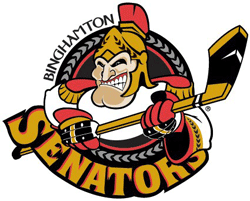 The Amerks are back in action tonight on the road against the Binghamton Senators.  These same two teams played nine days ago when the Amerks defeated the Senators by the final score of 4-2.
That game was also filled with a lot of action near goaltender Tyler Plante.  That's also the same game that he hurt his knee when Cody Bass crashed the net and knocked him over.
One thing that should be guaranteed about the game tonight – those same antics will not happen again.  Alexander Salak is riding a three game winning streak, is undefeated this season, and will take matters into his own hands if needed.
The Amerks will be without Jeff Taffe, Kenndal McArdle, and Michal Repik who had been called up this week to join the Florida Panthers.  Even though we're concerned about Taffe, McArdle, and Repik missing from the roster we can't forget about Chris Taylor, Graham Mink, Mike York, and Jamie Johnson.  That's more offensive talent than the Amerks had most of last season.
Shawn Matthias, David Brine, Evgeny Dadonov, and Victor Oreskovich will all be counted on to give everything they have and produce the results they're capable of.
Mike Duco has been cleared to play after being out with a shoulder injury.  Brady Calla and Andrew Sweetland will probably see ice time as well with the holes on offense.  Duco, Calla, and Sweetland have been invisible on the ice and it's time for them to step up as well.
Benoit Groulx is not concerned about players being called up and neither is anyone else.  That's part of life on an American Hockey League team, changes.  One of the things that has been written on the board in the locker room is to "play as a unit of 5."  It does not say, "play as a unit of 4 if Repik is out of the lineup."
I'll be making the trip down to enjoy, watch, and cover the game.. stay tuned for updates.  Game time is 7:05pm and you can watch the game line on AHL Live for $6.99 or listen live on WHTK 1280AM/107.3 FM.