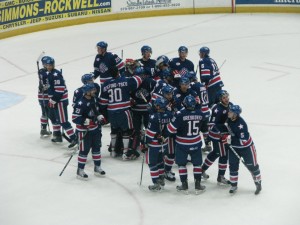 The Amerks came into Friday night riding a seven game winning streak that started back on October 12th, two days after they were pretty much destroyed by Albany.  When they left Binghamton on Friday night the Amerks extended the winning streak to eight games, the longest since early 2005.
A big concern coming into tonights game would be how the Amerks would do without Jeff Taffe, Michal Repik, and Kenndal McArdle out of the lineup.  By the end of the first period it was clear this team was going to do just fine.
Once the final buzzer sounded it was great to see the team gather in their own end and congratulate each other.  It was not a wild celebration in the oppositions barn but a way for all of them to say to each other great game.  It's still very early in the season but stay tuned, the chemistry in this team could be something special.
Just getting home from the trip, here's my recap from the game:
The worst part of the game was early in the first when the Amerks were unable to do anything when they had a four minute power play opportunity.  It was as if the team had never had a power play this season.
No worries though, David Brine followed up shortly after the end of the power play to score the first goal of the game assisted by Victor Oreskovich.  Oreskovich had hit Erik Karlsson hard into the boards, was able to get the puck back in the corner and centered a pass right to Brine in front of the net.
After the game he talked about being grateful for the ice time and said that hard hits are signs he's playing  a good game.  It appears to be what motivates him and gets him moving.  It's still hard to believe this guy took two years off from playing hockey.
The Binghamton Senators tied the game 1-1 when Jesse Winchester scored stick side on Alexander Salak after he received a perfect pass from the opposite side of the ice through traffic.
Winchesters goal ended Salak's shutout streak at 139 minutes, 51 seconds.  Not too shabby!
Denis Hamel had a great chance on the power play at 11:59 of the 2nd to put it past Salak who was laying on the ice but he couldn't get it up.  In the great words of Daniel Brier, "If you can't get it up you can't score."  Less than a minute later he had the same chance but was not able control the puck to squeeze it past Salak.
Jamie Johnson put the Amerks ahead 2-1 off another great pass by Oreskovich along the boards.  Mike Duco helped make the play happen by going at the net and taking his player along with him leaving Johnson open to get the pass and score past Chiodo.
Great second period by the Amerks with scoring, hitting, and some luck that Hamel missed two great opportunities.  In the past those would have been guaranteed goals for Hamel.  Is Hamel losing it?
About two minutes into the third Kaspars Daugavins missed a pass that would have given him a clean shot stick side on Salak.  Or would Salak have been able to move quick enough to make a spectacular save?  I'll take the spectacular save.  Off the rebound Oreskovich cleared the zone with the puck leading a three on one with Brine and Matthias along with him.  Chiodo saved the wrist shot and put the rebound into the corner not allowing Brine or Matthias to follow through.
Zach Smith scored off a wicked wrist shot that went directly into the top far corner glove save into the net and bounced right out.  It was clearly a goal with the light on but it took the ref a moment to call it a goal.
Not  to be outdone, Jason Garrison followed up 2 minutes and 4 seconds later in the third period with his own perfect shot off the cross bar and into the net to give the Amerks a 3-2 lead.  Assisted by Mike York and Chris Taylor.
With under four minutes to play in the game and Chris Taylor in the box for hooking, Salak robbed Ryan Kellar on the power play to keep the Amerks lead at one.  Moments later on a two on one break Zach Smith took a shot that was saved by Salak, as Smith continued past the net Salak had come out to save it and was hit in the head with a knee.  It was great to finally see the Amerks start a little shoving match behind the net.
Desperate to try and get a goal to tie the game the Binghamton Senators pulled Chiodo with 1:57 remaining on the clock.
With Chiodo pulled from net Erik Karlsson was trying to go through center ice with the puck and was stripped by Chris Taylor who passed it to Jamie Johnson to score the empty netter at 19:07.
A few other quick notes:
Mike York and Chris Taylor continue to shine.  They continue to make plays every game that lead this team.  Whether it's assisting on a game winning goal or controlling the puck on a penalty kill.
Jamie Johnson had his best game as an Amerk.
Jimmy Bonneau had a handful of shifts and appears to be on the same path as Riley Emmerson was last season.  Start out early in the year getting some fights in and as the season goes on we see the skating improve and ice time increase.
Andrew Sweetland?  I saw him on the ice once.  I was told he was on the ice for an earlier shift as well.  He was the only player without a shot on goal.
**************
Rochester Americans 4 At Binghamton Senators 2 – Status: Final
Oct 30, 2009 – Broome County Veterans Memorial Arena
Rochester 1 1 2 – 4
Binghamton 0 1 1 – 2
1st Period-1, Rochester, Brine 5 (Oreskovich), 11:04. Penalties-Karlsson Bng (double minor – high-sticking), 5:16; St. Pierre Bng (tripping), 12:43; York Rch (goaltender interference), 18:56.
2nd Period-2, Binghamton, Winchester 2 (Karlsson), 9:42. 3, Rochester, Johnson 3 (Oreskovich, Henry), 14:09. Penalties-Condra Bng (tripping), 1:18; Mink Rch (interference), 2:26; Smith Bng (goaltender interference), 3:50; Bannister Bng (boarding), 4:58; Bonneau Rch (fighting), 7:24; Bailey Bng (double minor – high-sticking, fighting), 7:24; Ellerby Rch (tripping), 9:15; served by Oreskovich Rch (bench minor – too many men), 11:42.
3rd Period-4, Binghamton, Smith 2 (Winchester, Smith), 5:14 (pp). 5, Rochester, Garrison 2 (York, Taylor), 7:22 (pp). 6, Rochester, Johnson 4 (Taylor), 19:07 (en). Penalties-Beaverson Rch (hooking), 2:12; Garrison Rch (hooking), 4:26; Schira Bng (interference), 6:49; Calla Rch (tripping), 10:27; Hennessy Bng (high-sticking), 10:38; Taylor Rch (hooking), 16:16; Condra Bng (cross-checking), 19:07.
Shots on Goal-Rochester 16-9-12-37. Binghamton 12-18-10-40.
Power Play Opportunities-Rochester 1 of 11; Binghamton 1 of 7.
Goalies-Rochester, Salak 6-0-0 (40 shots-38 saves). Binghamton, Chiodo 1-5-0 (36 shots-33 saves).
A-3,173
Referees-Jamie Koharski (84).
Linesmen-John Everett (82), Jameel Chaudry (51).