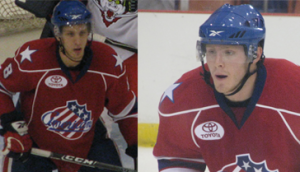 The Florida Panthers booked Victor Oreskovich and Keaton Ellerby on a plane this morning to join the team in St Louis to increase the recent callups from the Rochester Americans to five players.  Earlier in the week Kenndal McArdle, Michal Repik, and Jeff Taffe were called up.
Ellerby was called up to play in place of Bryan Allen who has not played consecutive nights as he recovers from his knee surgery.  No idea if Allen is ever going to be 100% to play consecutive games this season.  Keaton has been playing some great hockey lately, possibly his best since turning pro.  He's skating fast and smooth and controlling the puck as well.  He's stopping shots and clearing the puck without turning it over.
Oreskovich being called up was a bit of a surprise.  He's a great player and you'd never know watching him that he took two years off.  Oreskovich had two assists in Saturday nights Amerks 4-2 win over the Binghamton Senators.  He's a hard hitting player who has great control of the puck once it's on his stick.
No idea at this time who he's being called up to replace, but it's obvious the Panthers are trying to mix things up a bit to try and get something going.
On the Rochester Americans side this is starting to raise some concerns.  Some of these players will be back by the Amerks next game on Friday vs the Syracuse Crunch, but what's going to happen when the schedule isn't so light?
A reason for concern is that with another defenseman gone it puts Peter Aston in the lineup.  The team has not had any healthy scratches on offense so it'd leave the team down another man at this point.  If Brady Calla and Andrew Sweetland were showing signs of being able to contribute I wouldn't be as concerned.
We'll have to wait and see as the week goes on.