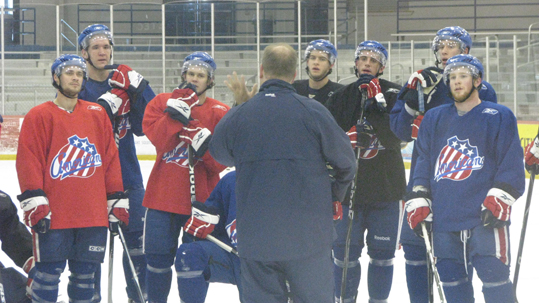 The big news out of Amerks practice on Tuesday morning was the arrival of Steve MacIntyre.  It was deja vu seeing him back on rink 1 for practice.  During the summer of 2008 the Florida Panthers signed him to play in Rochester but he was pulled off the same rink just after practice started when the Edmonton Oilers claimed him off of waivers.
There's a good reason his nickname is "Big Mac."  He's not just tall but he's big.  Some hockey players you stand next to are tall but seem like everyone else, but not this guy.
MacIntyre got a "taste" of the NHL and is going to be working hard to get back up there.  He has only played 26 games since the start of the 2008 season so he knows he has some work to do.  He wants to continue to work on his hockey skills but said he also knows what got him here.  More on him later tonight!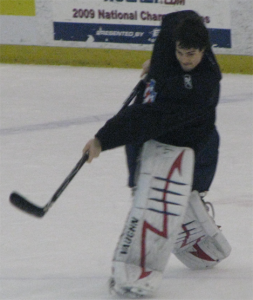 It's a different site seeing the players smiling while practicing.  They're having fun playing a sport they love and getting paid to do it.  The team is also in first place in the league, a much different atmosphere than last year.
Keaton Ellerby had a breakaway during one drill and as he skated towards the net to take his shot Benoit Groulx blew the drill dead with his whistle.  Ellerby put his head back in disgust and Groulx stood along the boards laughing.
Another sign of a fun practice is when the goalie picks up a stick and starts shooting pucks.  Alexander Salak took off his helmet and picked up a stick and took shots at Chris Beckford-Tseu with the rest of the team.  It's a funny site seeing a goalie in pads skating and taking a slap shot.
Jimmy Bonneau and Salak appeared to be talking about throwing punches in the far corner at one point.  I asked Bonneau as he got off the ice and he said, "I told him to leave the fighting to someone else."
It's not all fun and games though.  In the middle of some three on three drills Benoit Groulx did not like what he was seeing.  He blew his whistle and called everyone over to the bench and told them to get serious.  They did.
Tyler Plante skated on his own yesterday and split duties on one end with Beckford-Tseu in practice today.  He appeared to be practicing well but there's still no set date for him to return.  If there was Beckford-Tseu would be on the first flight out of Rochester.