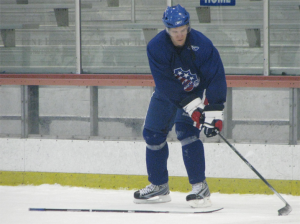 I have not been around the Rochester Americans for very long but I do have to wonder if Steve MacIntyre is one of the biggest player to ever wear an Amerks uniform.  Big Mac as he's also known stands at about 6′ 6″ and at least 265 pounds.  There are other players that are tall, but this guy is just big.  Seeing this guy on the ice and standing next to him is intimidating.
It's hard to believe that after the first regular season game the Amerks released Jimmy Bonneau and we were concerned about the team going forward without an "enforcer."  Here we are after 16 games and Jimmy Bonneau has made a case for himself to be ranked as a heavyweight and now Steve MacIntyre has joined the team.
Steve MacIntyre was a big signing in July 2008 by the Florida Panthers for the Amerks.  He was signed to a two year two way contract with the intention of him playing in Rochester.  That quickly changed on the first day of Amerks training camp September 30, 2008.  When the Panthers sent MacIntyre to the Amerks he had to clear waivers, which is 24 hours.  The Edmonton Oilers spoiled everything when they claimed MacIntyre off of the waiver wire.
That did not turn out to be such a bad thing for MacIntyre, he grew up not too far from Edmonton.  "I'll never forget playing for the team i grew up watching," MacIntyre said.
The Oilers waived MacIntyre last week since they no longer had a need for him on the roster.  I asked MacIntyre if it was nice to be with a team that felt a need for him and he said, "its always a bonus when you lace the skates up and play a few more games."  That's not a shot at Edmonton.  He went on to say, "I have nothing but good things to say for Edmonton."
A key difference I've noticed between a rookie and a guy such as MacIntyre who has been around a while is that they seem to really appreciate the fact that they have a job a lot more.  Especially the enforcers.  They don't have a three year entry level contract to find have comfort in as they work on their game.  They know they have to work a lot harder to keep there job from game to game and continue earning a pay check.
Playing in the NHL is the ultimate goal for any hockey player (at least in North America), to continue having that chance is something every player appreciates.
"This is a big opportunity," MacIntyre said.  "I got the taste for it in my mouth.  I need to work hard and be a better hockey player to go up to Florida and stay there."
If he wants to become a better hockey player along with knowing his role I think Rochester is the perfect place for him.  Amerks head coach Benoit Groulx notices hard work and consistency and the player benefits with more ice time.  In other words, if you can skate you'll get the chance to play and not just when you're needed to get into a fight.
Big Mac understands the opportunity saying, "screw up once or twice shame on you, screw up a third time and you'll be sitting learning your lesson."
"I've been around for a while and I've just got to figure out the systems and what he wants me to do and go out there and do my best," he said talking about the chances available to him from the coach.
The one thing that he will have to work on is his skating.  He's not the smoothest or fastest skater on the ice.  On a skilled offensive team like the Rochester Americans that is something that's pretty obvious.  The same thing was also said about Riley Emmerson last season but as the season went on Emmerson continued to improve.
The skill level of the Amerks is obvious and MacIntyre had read about the team prior to arriving.  "There's definitely a lot of skill out there, they're fast.  I was huffin and puffin out there trying to keep up," he said.
"I have to tune some things," he said.  "I've only played 26 games in the last two years, I've got some refreshing to do."
I'm not trying to fool anyone, he's not an offensive threat by any means.  His primary job is to be an enforcer.  A heavyweight fighter.  A player to protect the real assets of a team that win the games.  He knows his role but he does not want to just sit on the bench and only touch the ice when called upon to fight.
"I think everyone knows that I can fight.  I know I can fight.  I have to prove that I can play hockey to stay in the league and hopefully make the next step," Steve said.  "I'm here to play hockey and get better."
Jimmy Bonneau is in the same boat as MacIntyre.  Bonneau has proven he can drop the gloves when needed and play a regular shift when called upon.  MacIntyre has checked out some of his scraps saying, "He looks like he knows what he's doing and works hard, my hats off to him."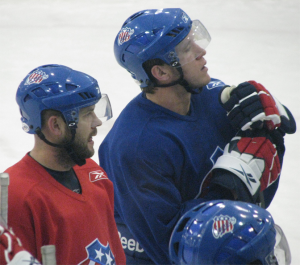 The two players don't have a prior history together but when a couple of fighters are on the same team they know they have to stick together.  They know the element that they provide for the younger guys and the more skilled players to be able to go out there and do what they need to do without worrying about all of the other crap that happens on the ice from opposing teams.
A recent game against Syracuse comes to mind when Kevin Harvey ran an elbow into Luke Beaverson injuring him and knocking him out of the lineup for a few weeks.  The play continued after Beaverson dropped to the ice and Harvey scored a goal on the same play.
A cage has to come off at some point and a suspension only lasts for so long and the season is early.  A player will never come right out and say something is planned but it's pretty obvious something will happen with Bonneau and MacIntyre in the same lineup.
Harvey is still serving a suspension and will not play in the game this Friday when the Crunch come to town, but Jon Mirasty will be playing.  Jimmy Bonneau has already fought Mirasty five times in the past two months, it'll probably be time for Big Mac to drop the gloves.
Sort of laughing about the question about Fridays game and the reason behind it MacIntyre said, "It's a game, if it happens it happens.  I'm not going to read too much into it."  He went on to say, "I'm here to play hockey and get better."
Here's a fight video from the 2003/04 season when MacIntyre and Mirasty last went at it (at least that I can find).  MacIntyre has on #33 playing for the Charlotte Checkers and Mirasty is the shorter guy playing for the Bakersfield Condors.
http://www.youtube.com/watch?v=IKRolgf_2-w
Playing hockey is the focus.  Every enforcer of any kind has to have some sort of hockey skill to have reached this level.
"At the same time you remember what got you here and what provided you that opportunity to be here," he said referring to his fists.  "Is the glass half full or half empty?  I just have to go out there and do the best I can and if it happens it happens."
http://www.youtube.com/watch?v=FsXA786gJSs
MacIntyre demonstrates his pugilistic skills with teammate Nate Saunders when he played for the Providence Bruins.