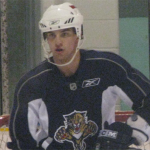 The CHL is listing that James DeLory was recalled by Rochester on Thursday from the Bossier-Shreveport Mudbugs.  The Mudbugs have played 12 games, DeLory only appeared in five of those.  He spent seven minutes in the penalty box and had 2 shots, no points.
As of two weeks ago the Mudbugs were still evaluating DeLory to see how he fit into their lineup.  This could just be a move for the Panthers to assign him somewhere else.
It sure would be interesting to have a fourth line of Jimmy Bonneau, Steve MacIntyre, and James DeLory.  These three guys skating on the same line could be Rochesters equivalent of the Hanson Brothers.
I'm sure we'll find out more on Friday at some point.