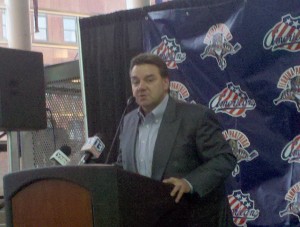 The big news of the day was the Florida Panthers announcing a preseason game in Rochester against the Boston Bruins on September 23, 1010.  A mere 10 months in advance.
Florida Panthers GM Randy Sexton was already in town following the Panthers 6-2 win over the Sabres on Wednesday night and will also be at the Amerks game on Friday night.
Any positive news is good news.  This is being done because it's something Curt Styres had asked about and the Panthers said they could do if it could be worked out.
Randy Sexton also said that if the schedule allows the Panthers could also spend a couple of days practicing here in Rochester.  It will all depend on the rest of the schedule.
Preseason games can be exciting because a lot of younger players are giving it their all to try and show the big club they have the skills to play in the NHL.  We all know there are not a lot of Florida Panthers fans in Rochester but it'll be a number of Amerks on the team so it should be a good team.  Add in the Boston Bruins and as long as ticket prices are affordable it'll be a great kick start to the season.
A few other worthy notes from the afternoon:
** It's often wondered how long Curt Styres will spend the money on players like he did this season.  His answer was, "I'll keep doing it as long as I'm having fun."  He also said that he'll keep doing whatever it takes to win.  That includes this season and beyond.
** Hearing him say that gives you the sense that if the team becomes weak in a certain area he will do what it takes to improve that weak spot.
** Affiliation Agreement – It expires at the end of next season and when asked about it Randy Sexton said the talks will happen but they have not yet.  Curt Styres said, "I am always listening."
** Styres prefers to have a partner, which is what the Florida Panthers are.  He said if it ever got to the point where he was being dictated to he would be out in front of the building with a for sale sign.
** Two ways to read into that.  1) If another team came knocking with a good deal he would listen.  2) Chances are that team will not be the Sabres.  The Sabres have been the ones to dictate to their minor league team in recent years.  3) If they changed Curt would be willing to listen.  Either way I think both sides enjoy this affiliation and if they can extend it before the start of next season they will.
** If you want the jersey off of the back of Curt Styres after a home game you need to earn it.  He said he looks for the fan that is showing the most excitement and cheering on the team.  A great reward for being enthusiastic!
The Amerks are at home Friday night against the Syracuse Crunch at 7:05pm.  Buy your tickets early, long lines are expected at the box office!