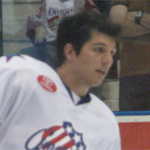 The Amerks and Crunch faced off again on Friday night and just as expected Jimmy Bonneau dropped the gloves, this time with Brett Gallant.
Once they stopped spinning around and around the punches started flying.
The "rivalry" between these two teams is different in that the Amerks have been winning all of the games, but in terms of fights it's heating up.
The "boiling point" could be on Sunday November 29th in Syracuse.
Enjoy and share!