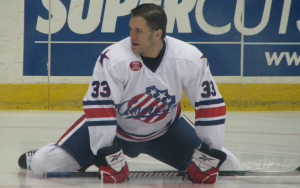 The fight everyone had anticipated finally happened at 8:14 of the third period.  Steve MacIntyre finally dropped the gloves in the corner with Jon Mirasty and the two traded a number of blows back and forth.
I was not able to make it into the locker room after the game for interviews, but Lindsay Kramer always covers these kinds of things and did a great job as always.
http://blog.syracuse.com/crunch/2009/11/rochester_continues_mastery_of.html
Fight video at the bottom!
Here's what Kramer wrote after the game:
The Crunch also got a great fight from Jon Mirasty, who played a cat-and-mouse game with new Amerks enforcer Steve MacIntyre until the 6-foot-6, 260-pound MacIntyre finally dropped the gloves for a long battle in the third.

Mirasty slipped early in the bout, popped back up and traded blows while the linesmen were occupied escorting other players to the penalty box. The fight lasted at least two or three minutes.

"All in all, it was not bad,'' Mirasty said. "I thought it was a good fight. I don't think any guy had an edge. When I went down, it was more of a slip. I popped back up."
And also:
Mirasty tried to get MacIntyre to go on their first shift together. Mirasty cross-checked MacIntyre a couple of times, but the big guy told Mirasty something along the lines of get lost.

"I respect what he does (but) theres a time and a place. You have to be able to play the game, not just fight. I learned that the hard way this year,'' MacIntyre said.

Mirasty finally got MacIntyre going after a scrum in the third. Mirasty slashed MacIntyre and then dropped his gloves. When MacIntyre didn't respond, Mirasty looked away for a second. MacIntyre then hit Mirasty with his gloves on, which angered Jon.

"I thought it was pretty cheap,'' Mirasty said. "I looked away, he suckered me with his glove on.''

MacIntyre, on Mirasty's toughness: "He's got a head like a cinder block. Jonny's a tough kid. He's tougher than a piece of shoe leather."

Mirasty yelled at a couple of fans from the penalty box, saying, "it was just a couple of ignorant fans.''

When he skated from the box to the bench, he egged on the crowd by cupping his hand to his ear.

"I was just playing to the crowd. I don't think he really beat me. They can boo all they want,'' Mirasty said.
I think Mirasty needs to watch the second video below.  It does not look like he looks away at all, MacIntyre just took a swing at him.  MacIntyre also had the clear edge in this fight with the amount of punches he landed versus the amount Mirasty landed.  A fighter is never going to say he lost, but the proof is below.
Here's the video I recorded and then one from the AHL Live feed below…
http://www.youtube.com/watch?v=aNoXtBupq6s
http://www.youtube.com/watch?v=KMsOg2_7_iQ
And another view..
http://www.youtube.com/watch?v=ykl7ie4DUE8
Share and enjoy!!