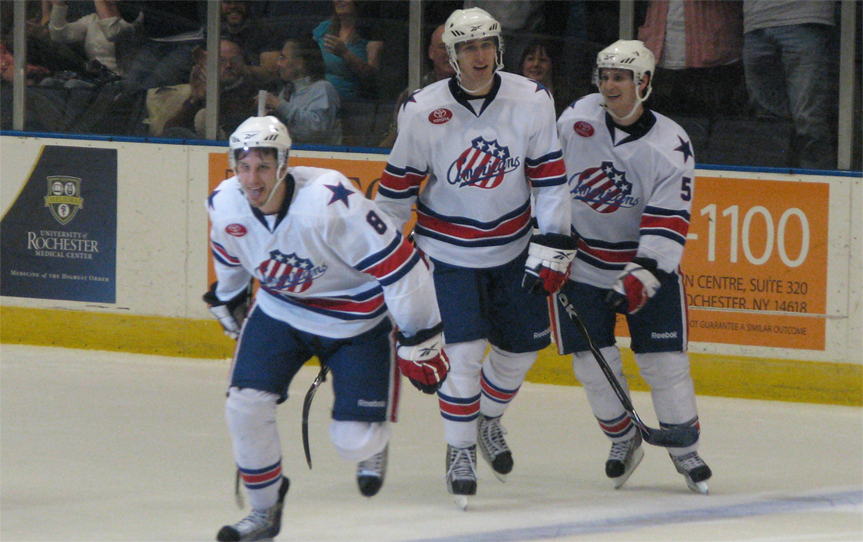 The Rochester Americans won their 5th game of the season tonight against the Syracuse Crunch and it also counted as the Amerks 14th win of the season.  I think it's time to say that this team is the real deal.
"I was worried to be honest because we have not played for quite a bit, but we had some good practices during the week and our guys showed how serious they were tonight," Benoit Groulx said after the game.  "And it paid off."
The obvious star of the game was Keaton Ellerby who scored his first hat trick and the first Amerks hat trick since 2006 when Stefan Meyer scored three in a game.  The look on Ellerby's face above is priceless.
The first goal of the game at 7:18 of the first was a great combination of two things.  Mike Duco created a perfect screen in front of Dan LaCosta and Ellerby followed through with a great wrist shot from the face off circle.
Jimmy Bonneau and Brett Gallant got into a nice scrap half way through the first period:
http://www.youtube.com/watch?v=ETGITyNUJr4
Steve MacIntyre and Jon Mirasty also got involved in an epic battle half way through the third period, will post that video as soon as it finishes uploading.
I asked about Ellerby after the game and Groulx laughed and said, "When he listens it pays off."
Shawn Matthias scored a beauty of a goal to put the Amerks up 2-1 with hard work going at the net.  He used his body to get the puck to the front of the net, the puck ended up between his feet but he still managed to shoot the puck and beat LaCosta five hole.  I had to watch the replay to see that it was really him.
Benoit Groulx talked about Matthias saying, "I like his work ethic.  I think he's one of the guys who works the most here day in and day out."  He went on to say, "Obviously having  points on the board for him is huge.  The challenge for him is to keep his focus even though he doesnt produce any points.  He's gotta realize he's useful to this team without scoring points."
Matthias received a lot of heat last season but is finding his role this year and it's showing in every game he plays.  He scored a goal tonight but in previous games when he hasn't he's been a great asset on the ice.
Alexander Salak was yet again outstanding on the ice.  At one point he made an amazing save twisting around and knocking the puck away with his blocker.  Hopefully the team is putting together a highlight reel because this guy deserves it.  His style is not typical and it's something we've gotten used to already but need to appreciate every game.
Here's what Benoit Groulx had to say about Salak:
We're getting used to it.  It's his style and that's the way he plays.  To me that shows a level of competitivness.  We're used to it.  He anticipates well.  He competes hard and he's so quick.  He's like a cat out there moving so quick.

Am i surprised?  Not really anymore.  I used to be but not anymore.  Have I ever seen a save like that?  I don't remember.  Theres many stops he made that I've never seen anywhere.
With the long stretch of games coming up he'll be getting a rest so Tyler Plante gets the chance to play.
Andrew Sweetland scored the game winning goal at 8:38 of the second period by drawing LaCosta out of the net, holding on to the puck he stick handled around his leg and put the puck easily into the net.  I've been tough on Sweetland but he's starting to show positive signs.
Ellerby's second goal of the night only 32 seconds into the third period was awesome.  Michal Repik took a shot from the right side boards and Ellerby went to the net for the rebound and it paid off.  As Ellerby was skating past a Crunch player he tripped up and shot the puck into the net as he was falling to the ice.
Benoit Groulx said the following about Ellerby:
it's about him playing with audacity. this is what we want our team to do. sometimes when you play with audacity you get caught. We'd rather have them caught once in a while than trying to do things with the puck.

Once you get to the offensive blue line you've got to find a way.  An open area.  A teammate.  Find out what you're going to do with the puck.  He's (Ellerby) not going into nowheres land.  Some guys carry the puck to the far blue line and they end up with no play, they end up chipping the puck into the corner because they dont know what to do with it.
To sum it up, Keaton Ellerby knows what to do with the puck.  Last season he was often trying to do the same things but would be caught out of position or lose the puck creating a turnover.  That's not the case this season.
Talking more about Ellerby this season Groulx said, "He's more confident playing with wilson.  They're a good duo.  They're good puck movers, they can skate and believe in themselves."
In a move that should have been expected, Alexander Salak was knocked down again this time by Alexandre Picard.  With 49 seconds left in the third period Picard got tied up with Wilson in the goal crease.  Picard fell to the ice and as he was getting back up he took a jab at the pads of Salak and knocked him down.  It's too bad Ellerby, Wilson, Taylor, Brine, and Repik were the ones on the ice.  Someone needs to do something to these guys or else their going to keep getting away with it.
The Picard goaltender interference penalty paid off for Ellerby though.  On the power play Ellerby scored his third of the game for the hat trick with assists going to Matthias and Clay Wilson.
—————
Syracuse Crunch 2 At Rochester Americans 5 – Status: Final
Nov 20, 2009 – Blue Cross Arena
Syracuse 1 0 1 – 2
Rochester 2 1 2 – 5
1st Period-1, Rochester, Ellerby 1 (Duffy, Taffe), 7:18 (pp). 2, Syracuse, Fritsche 4 (Picard, Mayorov), 12:17 (pp). 3, Rochester, Matthias 2 (Brine, Wilson), 17:37. Penalties-MacIntyre Rch (roughing), 2:36; Liffiton Syr (hooking), 7:11; Lundbohm Syr (tripping), 8:17; MacIntyre Rch (goaltender interference), 10:40; Gallant Syr (fighting), 15:07; Bonneau Rch (fighting), 15:07; Clitsome Syr (slashing), 20:00; Matthias Rch (slashing), 20:00.
2nd Period-4, Rochester, Sweetland 1 (Matthias, Henry), 8:38. Penalties-Aulin Syr (hooking), 6:14; Duco Rch (interference), 11:27.
3rd Period-5, Rochester, Ellerby 2 (Brine, Repik), 0:32. 6, Syracuse, Frischmon 3 (Fritsche), 2:11 (sh). 7, Rochester, Ellerby 3 (Wilson, Matthias), 19:25 (pp). Penalties-LaVallee-Smotherman Syr (roughing), 0:48; McBride Syr (unsportsmanlike conduct), 8:14; Mirasty Syr (fighting), 8:14; Bonneau Rch (unsportsmanlike conduct), 8:14; MacIntyre Rch (double minor – spearing (attempt, fighting), fighting), 8:14; Picard Syr (goaltender interference), 19:11.
Shots on Goal-Syracuse 8-4-6-18. Rochester 14-6-10-30.
Power Play Opportunities-Syracuse 1 of 5; Rochester 2 of 5.
Goalies-Syracuse, LaCosta 3-7-1 (30 shots-25 saves). Rochester, Salak 11-1-0 (18 shots-16 saves).
A-6,092
Referees-Terry Koharski (10).
Linesmen-Tim Kotyra (53), Derek Nansen (70).