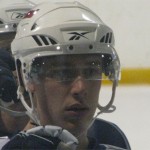 The weekend is over, post game articles have written, and that means it's time for some more player moves.  After a long month of transactions it seems like things are back in favor of the Amerks.  The Florida Panthers sent Shawn Matthias and Steve MacIntyre back to the Amerks on Monday.
Matthias had been called up since December 9th and played in 10 games for the Panthers.  In those 10 games he logged 2 goals and 2 assists.  In 15 games this season for the Amerks he has three goals and four assists.
MacIntyre had been called up for the Panthers vs Flyers game last week but did not see any real action.
The only active player currently with the Panthers that had seen some time with the Amerks is Victor Oreskovich.  Kenndal McArdle is still technically called up but is on the injured list.
Now it's time we hope the trend of call ups and injuries is coming to an end.