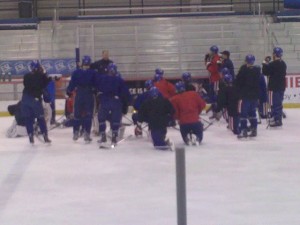 Shortly after the start of practice this morning Benoit Groulx stepped up to the board and started talking to the team. It wasn't a speech filled with yelling and anger but more of one from I would almost say the heart.  He talked to the team about playing with heart and as a team to win, not just on stats.
Obviously stats are what wins games and it has been how the Amerks have stayed near the top.  How well will those stats translate into playoff wins? We will find out in April.  The one thing that seems to have been missing from the play of the team recently is the passion and heart that seemed to be around at the start of the season.
He didn't call out any players.  He didn't start banging sticks against the glass.  He just appeared to tell the team to start playing from the heart and winning as a team again, it's what they need to do to get somewhere.
We'll see what team rides out the last stretch of the season and gets to the playoffs.
Not much else to report from during practice.
Jason Garrison is back on the ice practicing with the team and appears ready to go. The only injured players right now are Andrew Sweetland (concussion) and Mike York (knee).  We had been told York would be out 3-4 weeks and we're not into the fourth week and he still has not been seen.
Player Moves
Victor Oreskovich was called up to the Florida Panthers for their game tonight against the Carolina Hurricanes.  In the nine games Oreskovich has played with the Amerks since being sent back down he has recorded one goal and one assist.  He had added some speed to the third line.
Brady Calla was sent down to the Florida Everblades, a move that probably could have been made a while ago.  In 32 games this season with the Amerks he has only one goal and five assists.  Some time in the ECHL should help him out.  Calla was Florida's third-round (73rd overall) selection in the 2006 NHL Entry Draft.
The Amerks make their first trip back to the Glens Falls Civic Center for the first time in 11 years on Wednesday, February 10th for a 7:00 p.m. tilt with the Adirondack Phantoms.  The matchup will be the third of four scheduled meetings between the interstate rivals this season and will be broadcast live on SportsRadio 1280 WHTK and FM 107.3, Rochester's Sports Talk.
The live chat should be up right around 7pm at https://lga585.com/livechat