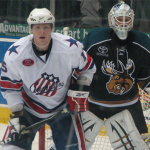 The quest for 2,000 franchise wins will have to wait for another night for the Rochester Americans as they added another loss to the standings on Tuesday night against the Manitoba Moose.
The Amerks had a 2-1 lead off of goals from Jeff Taffe and Shawn Matthias just over half way through the second period and then in an instant things took a turn for the worst.  In a span of three minutes and four seconds the Moose scored three goals and had a 4-2 lead and never looked back.
Mike Duco did score a power play goal late in the third period and just prior to that the puck had gone in and out of the net but the ref never saw it.  None of that would've made a difference, the game was over.  Everyone became frustrated and it appeared as if everyone quit playing.
A season that started with a record of 18-3 at one point has turned into a season of wondering if the Amerks will even be able to stay ahead in the standings to make the playoffs.  The turmoil on the ice has also spread into the stands.  If you were at the game you clearly heard what fans were yelling in frustration towards the Amerks bench, I'm sure the bench heard what was said as well.
Benoit Groulx gave a short 60 second post game interview and then after when the media entered the locker room everyone was still sitting in their stalls with their skates on.  Typically after a loss by the time the locker room is open for interviews half the players are already gone.  Only the players and coaches know what was said behind closed doors, but I don't imagine it was good.
Here's word for word what Benoit Groulx said after the game:
That's the story of our team lately.  As soon as we have a bad goal or something happens to our team instead of showing character and playing with more urgency, we collapse.  We fell apart.  This is what happened tonight.  I don't think our goalies had a good game in the system, obviously.  But still you've got to find a way to battle through this and we don't, that's it, pretty simple.  When you're in a hole you've got to work hard play with more urgency and it's not done.  Thank you.
Well I'd say that's better than excuses we've heard after recent losses.
Michal Repik kept it simple saying, "We stopped working.  They scored two goals back-to-back and just outplayed us."
Alexander Salak accepted his role in the loss.  "We played a pretty good game for half the game and then I let in a pretty easy goal from the corner which shouldn't happen," Salak said.  "In this season there's so many games that's going to happen for sure, but then you have to come up with some big saves to help the guys out and that didn't happen."
Salak allowed four goals on 21 shots through almost 36 minutes of playing time.  "I didn't help them today and that's it.  I have to stop some pucks there and that's my job and it didn't happen today."
After the game when asked if the sense of urgency is missing Amerks Captain Rory Fitzpatrick said, "No, I don't think so.  I don't think that's the problem at all."
Ok, so what is the problem and how did things change so quick?
Here's what Fitzpatrick had to say in full:
I don't know.  I guess if we knew we could have stopped it.  Hopefully we can get it to turn around as fast as we lost it.  We're a good team.  A team that cares and we can win in this league and win with the guys we have.  We need to change what's going on and start winning the games we should be.
The obvious follow up to that is what needs to be changed?
I think we need to become a closer team.  We've got to worry about the things we can control and that's playing hockey.  Go out there and play and play the way we're supposed to.  Our job in this business is to play hockey and that's what we as players need to do.

I think there's a lot of tihngs that go on as a pro hockey player that you have to deal with.  Whether its family or whether it's different emotions from different things, injuries, call ups, whatever your feelings are you've got to put those things to the side and play the system the coach gives us and play to the best of our ability and the hardest we can.  That's our job in here and as players thats what we're responsible for.
Jamie Johnson had a similar response when asked what's been going on, he said:
Everyone's just so frustrated right now. It's almost like we're feeling sorry for ourselves, I thinks everyone's waiting for someone else to do it.  It's just unacceptable. It starts with the older guys.  We have to be the ones to grab the bull by the horns and get it started.  I don't think anyones doing that right now, I dont think one person, me included.  We just have to not worry about anything else thats going around us, nothing.  Just go out and play the system that's there and start outworking teams.

I think we have a full lineup and we almost sit back now because we think someone else is going to do it because we have so many good players.  We can't do that.  Someones got to grab the bull by the horns and be the guy and i think it starts with the older guys, show the way to the younger guys, it starts with us I guess.
When I asked him about what's going on around them that they worry about he said some players are concerned about call ups, injuries, shifts, and even playing time.
The level of frustration is reaching a critical level.  The next three games, another on Friday against Manitoba and two over the weekend against the Portland Pirates are not going to be easy games.
I get the sense that the things the players talked about above are not anything new, they're just finally talking about them since it's pretty obvious.  If the die hard fans that made up a crowd of 2,803 were loud and vocal after the game I can only imagine what could happen if a similar performance is witnessed on dollar beer night this Friday.
Jordan Henry and Jimmy Bonneau have been healthy scratches in recent games.  When asked if anything is wrong Henry just said, "nothing, healthy, see you on Friday."
The expressions and body language during these interviews show a level of frustration, concern, and an overall sense of not being happy.  They're obviously not happy because they are losingt but you get the feeling that things are not right somewhere.  We can only be left to speculate.
"For us this whole team it was bad news today but we have to take the positive," Salak said.  "There's nothing we can do about it now."
Everyone recognizes there's a problem.  Now fans just have to hope that as Jamie Johnson said, someone grabs the bull by the horn and starts leading the way.