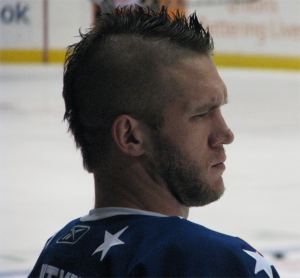 As expected, Jimmy Bonneau was suspended for one game and Steve MacIntyre is suspended pending further review.  It all started back on November 6th when Kevin Harvey said he finished his check which resulted in Luke Beaverson missing 26 games with a shoulder injury.
Bonneau was given an automatic one game suspension for his third game misconduct and he served that game on Sunday.  It was the same reason Jon Mirasty sat out the game for the Crunch against the Amerks on Saturday.
We should learn more early in the week how long Steve MacIntyre will be suspended for.  The league will need to review the play (if there is video of it), read the report from the referee and base the decision on other similar calls from the past.  The only call I'm familiar with was Kevin Harvey getting five games for his hit on Luke Beaverson.
I have to imagine they'll also take a look at what actually happened to Kevin Harvey which was nothing.
"He was down like he was done for the year and all of a sudden ready to go again," Benoit Groulx said on Sunday.
Apparently MacIntyre cross checked Henry in the neck after Harvey was chirping his mouth off and using his stick on players.  They met near the bench and that's what happened.  MacIntyre knows his size, he knows his strength, and I also think he knows all eyes are on him and the last thing he wants to do is intentionally injure another player and risk his reputation and career.
Benoit Groulx said, "It's a game of emotions sometimes and you end up crossing the line sometimes."
It would be easy to say who started it, it'd be easy to say how some should or should not have reacted, bottom line is that the Amerks went into a tough Crunch building and came out on top.  If only that would happen on a consistent basis in every game.