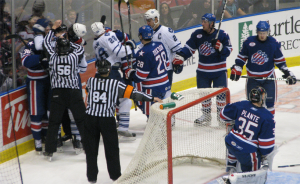 The Amerks came closer to clinching a playoff spot with a seven goal performance on Saturday evening on the road against the Toronto Marlies.  The Amerks have only scored seven goals one other time this season, a 7-4 win back on November 29th against the Syracuse Crunch.  This Rochester team seems to have a switch that allows them to show up one game but not another.  After a lousy performance during a 4-3 loss on Friday night the team rebounded with great play on Saturday.
Well, I should be careful how I use the term great play.  It's not really great that the penalty kill unit allowed three goals against.  It could be time to take Chris Taylor and Jordan Henry off of the penalty killing unit.  I don't have an answer as to who should replace them, but when something is not working it can't hurt to make a change.
"Our power play was pretty good and we matched specialty teams," Benoit Groulx said after Saturdays game.  "At this time of year you can't lose on specialty teams."
The specialty teams is something that the coaches and players are aware have been an issue and are an issue that they need to resolve quickly before the playoffs start.
Mike York commented on that after the game saying, "You don't want to fall behind in special teams and that's a situation that will win or lose you a game and especially coming around playoff time it's an import aspect of the game."
Justin Hodgman put the Marlies up with a goal at 2:47 of the first on the power play.  Skating in from the side and in front of Plante he beat Plante glove side.
Mike York followed up 42 seconds later to tie the game 1-1.  Luke Beaverson shot the puck in from the point at which point Jamie Johnson got his stick on it and then Mike York poked it in past Marlies goalie Joey MacDonald.
The Amerks took the lead at 16:47 of the first with a power play goal scored by Victor Oreskovich.  Jamie Johnson fed a perfect pass to the stick of Oreskovich who was in front of the net and it went right in.
David Brine scored his 12th of the season from John Scott Dickson and Jordan Henry.  Dickson was skating into the zone along the side boards and Brine through the slot.  Dickson passed the puck to Brine and MacDonald made the first save but Brine was able to score on the rebound.
The game winning goal turned out to be the one Clay Wilson scored at 4:31 of the second period on the power play.  Wilson shot the puck from the blue line high on MacDonald who was not able to make the glove save.  The goal was scored only four seconds into the power play.
"I was a little bit lucky, I dont usually find the back of the net like that," Clay Wilson said.  "It's usually from screens or little floaters.  It was a little bit of luck and hopefully can keep that luck going."
Tyler Plante had no chance at saving the goal scored by Juraj Mikus on the power play at 7:09 of the second period.  Alex Foster looked like he was shooting the puck but it turned out to be more like a pass and appeared to go off the shaft of Mikus' stick and into the net.
Mike York scored a highlight reel goal at 9:46 of the second period that gave the Amerks a 5-2 lead.  Clay Wilson was skating in on the right side drawing the two Marlies defenders and goalie to his side.  Wilson continued towards the net as if he was going to shoot it but instead waited until Mike York was all alone to put the puck in the net.
"I probably had another 5 or 6 seconds.  I had  along time," Mike York said when I asked him how much more time he had.  "It was a great pass from Wilson.  I think he saw me, I didn't call for it, didn't want anyone to come towards me."
Clay Wilson saw the play developing in front of him and knew exactly what to do.  Wilson said, "Jamie (Johnson) hit me high and there was a wide open lane right to him (York) for the back door."
The Marlies did not quit though and Ryan Hamilton scored another power play goal for the Marlies at 17:36 of the second period.  A rebound was in front of the net and as John de Gray tried to find the puck Hamilton was able to back hand it into the net.
Clay Wilson scored his second of the game five seconds into a power play opportunity that gave the Amerks a 6-3 lead, another goal scored from the blue line.  Jamie Johnson finished off the scoring at 3:08 of the third period for his 24th goal of the season.
Which Amerks team shows up on Sunday afternoon is unknown.  The Marlies still have not been eliminated so they'll be coming on strong.  If the Amerks play the same way they did on Saturday they should have no issues.
Saturdays game was filled with a lot of pushing, shoving and punches but no straight out fights took place.  It appeared as if the Amerks were going after them showing they were not going to back down but the Marlies looked like the ones not wanting to finish what would start.
The game starts at 3:05pm and it's also team picture day.  The first 5,000 fans will receive a 2010 team photo courtesy of the D&C.  There will also be a post game autograph session after the game.
—-
Rochester Americans 7 At Toronto Marlies 3 – Status: Final
Mar 27, 2010 – Ricoh Coliseum
Rochester 3 3 1 – 7
Toronto 1 2 0 – 3
1st Period-1, Toronto, Hodgman 7 (Mikus, Scott), 2:47 (pp). 2, Rochester, York 12 (Taffe, Beaverson), 3:28. 3, Rochester, Oreskovich 6 (Johnson, York), 16:47 (pp). 4, Rochester, Brine 12 (Dickson, Henry), 17:05. Penalties-Taffe Rch (holding), 2:38; Wilson Rch (roughing), 6:05; Simon Tor (roughing), 6:05; Engel Tor (high-sticking), 11:49; Duco Rch (roughing), 16:15; Berry Tor (roughing), 16:15; Deveaux Tor (roughing), 16:15.
2nd Period-5, Rochester, Wilson 13 (Repik, Duco), 4:31 (pp). 6, Toronto, Mikus 5 (Foster, Gysbers), 7:09 (pp). 7, Rochester, York 13 (Wilson, Johnson), 9:46. 8, Toronto, Hamilton 14 (Foster, Engel), 17:36 (pp). 9, Rochester, Wilson 14 (Taylor, Taffe), 18:38 (pp). Penalties-Berry Tor (slashing), 2:22; Calder Tor (hooking), 4:27; Bonneau Rch (hooking), 5:24; Bonneau Rch (roughing), 12:45; Rosehill Tor (roughing), 12:45; Caruso Rch (tripping), 15:43; MacDonald Tor (tripping), 18:33.
3rd Period-10, Rochester, Johnson 24 (Repik, Taffe), 3:08. Penalties-Repik Rch (hooking), 0:35; Taylor Rch (interference), 7:20; Taffe Rch (hooking), 13:24; Simon Tor (interference), 16:16.
Shots on Goal-Rochester 10-8-4-22. Toronto 10-14-11-35.
Power Play Opportunities-Rochester 3 of 6; Toronto 3 of 6.
Goalies-Rochester, Plante 9-11-0 (35 shots-32 saves). Toronto, MacDonald 14-19-3 (18 shots-12 saves); Reimer 11-6-1 (4 shots-3 saves).
A-4,308
Referees-Mark Lemelin (84).
Linesmen-Jason Finley (6), Kendrick Nicholson (56).