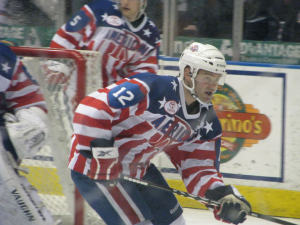 The Rochester Americans had a chance to clinch a spot in the playoffs on Sunday afternoon if they defeated the Toronto Marlies and the Lake Erie Monsters lost in regulation to the San Antonio Rampage.  Former Rochester American forward Stefan Meyer and the Rampage did their part defeating the Monsters in the final 90 seconds but unfortunately the Amerks lost in a shootout, their first shootout loss of the season.
"Last night (7-3 win over the Marlies) I thought we played a pretty solid game and today i thought we played one period," Benoit Groulx said about the game which also summarizes this team.  Inconsistent.
Tyler Plante played another great game for the Amerks making 40 saves and is certainly making the case for himself to be the goalie in the final six games and possibly into the post season.  Two of the Marlies three goals were tipped in and the third he had no help from the defense as Andre Deveraux walked right in front of the net.  Almost 15 minutes after the game ended he was still sitting in his stall with his pads on, a sure sign he was not happy with the outcome of the game.
"I'm not going to blame the goalie when your short handed and the guy walks alone short handed into the net," Benoit Groulx said after the game about that goal.  "Two guys along the board and we're losing the puck."
Jamie Johnson and John de Gray were fighting for the puck on the boards when Josh Engel poked it free and passed it to Andre Deveaux who skated in behind Jordan Henry and in on Plante to score.
"Today I didn't have a very good game defensively and its just not good enough," John de Gray said in the locker room accepting part of the blame.
Defense has been an issue all season for the Amerks but with Jason Garrison, Keaton Ellerby and Rory Fitzpatrick all out of the lineup it's been an adjustment for the team.
Talking about that Benoit Groulx said, "It's tough for us defensively missing so many guys and we know we're going to have tough games once in a while and that's one of our worst performances by our group of defensemen. They weren't physical, they were reaching all night long."
While that comment comes off pretty strong calling out the defensive players Groulx also followed up giving them a pass saying, "I'm not blaming them because for the most part everyone but Clay Wilson is sitting in the wrong chair.  They have too much ice time.  We put them in situations they're not used to playing and today we struggled."
John de Gray backed that up saying, "It's tough on guys like Henry and Willie who eat a lot of minutes."  He went on to say, "We still have a good enough team where that shouldn't be a problem."
The Amerks penalty killing has been really bad lately, a topic that keeps being repeated and no one has an answer.
"The main thing is our PK has been pretty bad right now," de Gray said.  "Planter had a good game for us and it wasn't his fault."
The Amerks started out with a short handed goal at 11:43 of the first period.  Michal Repik went into the Marlies zone and around the back boards before he fed a pass to Chris Taylor skating down the middle for his 15th goal of the season.  Put the puck on Taylors stick in that situation and he'll score.
Andrew Sweetland redirected a shot from John-Scott Dickson for his 5th of the season and it also gave the Amerks a 2-0 lead after one period.
Ryan Hamilton and Kyle Calder each scored in the second period for the Marlies redirecting shots past Tyler Plante.  A goalie can only do so much and rarely (in my opinion) has a chance other than luck when a shot is tipped or redirected.
Jeff Taffe also scored in the second period knocking in a juicy rebound past Marlies goalie James Reimer.  That goal now has Taffe at 26 goals for the season in 58 games played.
As noted above, Andre Deveaux scored the game tying goal at 11:03 of the third period on the power play.
"For the most part it's because we weren't physical in our zone.  When we're not physical down low and don't control the wall you don't get the puck and that's exactly what happened today," Groulx said summing up the performance by the team.
Evgeny Dadonov had appeared to score a goal in overtime but the referee was out of position and James Reimer did a great job at either stopping the puck or making it look like it had not gone across the goal line.  A tough break for the Amerks but it should not have come to that.
The game went into the shootout and Greg Scott was the only player to score as he went to a backhand and beat Tyler Plante.  Jamie Johnson, Evgeny Dadonov, Mike York, Jeff Taffe and Graham Mink were all unsuccessful.  It was only the third shootout this season for the Amerks and their first loss.
A few other things…..
— When asked about the status of Rory Fitzpatrick and Mathieu Roy the only thing Groulx would say is that they're injured and he does not know (or would not say) when he expects them back.
— Jimmy Bonneau had a minor injury after the Saturday night game against the Marlies but expects to be able to play on Wednesday.
— Carl Hudson had been asked to play on Friday night against the Binghamton Senators but Hudson did not feel confident at the time in playing.  He had not played recently and asked for a couple more days which he got.
Rochester travels on Wednesday to play the Grand Rapids Griffins.  The Griffins are sitting in last place but defeated the Amerks on March 14th by the final score of 3-2.  The two teams have played four times and split those games 2-2 and will meet again on April 7th.
————-
Toronto Marlies 4 (SO) At Rochester Americans 3 – Status: Final SO
Mar 28, 2010 – Blue Cross Arena
Toronto 0 2 1 0 – 4
Rochester 2 1 0 0 – 3
1st Period-1, Rochester, Taylor 15 (Repik, Wilson), 11:43 (sh). 2, Rochester, Sweetland 5 (Dickson, Oreskovich), 13:22. Penalties-Henry Rch (tripping), 9:59; Foster Tor (goaltender interference), 14:20.
2nd Period-3, Toronto, Hamilton 15 (Ondrus, Foster), 5:44. 4, Rochester, Taffe 26 (Mink, Repik), 11:23 (pp). 5, Toronto, Calder 13 (Brent, Mikus), 18:11. Penalties-Repik Rch (holding), 0:51; Duco Rch (cross-checking), 6:43; Deveaux Tor (instigating, fighting, misconduct – instigating), 9:49; Hudson Rch (fighting), 9:49; Henry Rch (roughing), 14:29; Brent Tor (charging), 19:49; Oreskovic Tor (fighting), 19:51; Henry Rch (fighting), 19:51.
3rd Period-6, Toronto, Deveaux 15 (Engel, Foster), 11:03 (pp). Penalties-Taylor Rch (high-sticking), 4:14; Wilson Rch (hooking), 9:24; Hotham Rch (hooking), 11:53; Dadonov Rch (tripping), 19:08.
OT Period- No Scoring.Penalties-No Penalties
Shootout – Toronto 1 (Brent NG, Engel NG, Scott G, Hamilton NG), Rochester 0 (Johnson NG, Dadonov NG, York NG, Taffe NG, Mink NG).
Shots on Goal-Toronto 5-14-19-5-1-44. Rochester 9-8-6-4-0-27.
Power Play Opportunities-Toronto 1 of 8; Rochester 1 of 3.
Goalies-Toronto, Reimer 12-6-1 (27 shots-24 saves). Rochester, Plante 9-11-1 (43 shots-40 saves).
A-4,465
Referees-Chris Ciamaga (41).
Linesmen-John Murphy (71), Dan Murphy (21).