The Rochester Americans won their fourth Calder Cup in 1983 and just from the start of the video it's interesting to see some similarities nearly 30 years later. Â The beginning of the video talks about Scott Bowman and the "youth movement" of the Buffalo Sabres and Rochester Americans, gone were the high scoring veterans and they took a chance on veteran goaltending. Â Something many current Amerks fans have discussed this summer, the lack of early high scoring free agent signings but a great signing in veteran goalie Drew MacIntyre.
Darcy Regier recently talked about waiting to see what NHL players were going to be looking for places to play that would take a two way deal. Â Back in 1982 late during training camp the Buffalo Sabres called upon Yvon Lambert and told him he could either retire or play for the Amerks.
"I had to say yes instead of quitting," Yvon Lambert said. Â He was given a 20 day trial and as the narrator in the video says, "Outlived the 20 day trial and eventually became the leader everyone had hoped for."
That's just the first few minutes of the video.
The point totals are crazy just from the top 10 on that team: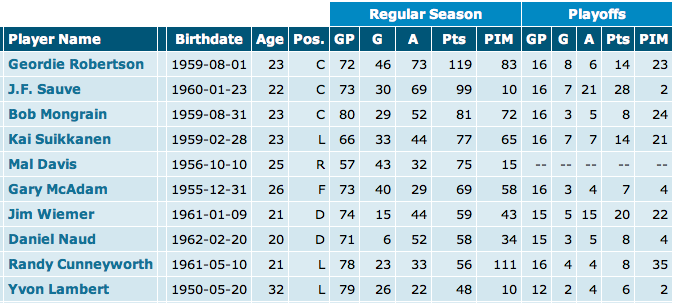 There's obviously a lot more in the 23 minute video that had been put together by WHEC, sit back and enjoy.
"All shared the same dream, the 1982/1983 Calder Cup."