The first of many free agents signed during the offseason by the Buffalo Sabres were three players who will have a big impact on the Rochester Americans.
They signed goaltender Drew MacIntyre as well as forwards Derek Whitmore and Colin Stuart.
MacIntyre was one of the top AHL free agent goaltenders available so it was a surprise (based on previous years) to see a top player signed for an important position.
He's played in 261 regular season and 53 playoff games in the AHL, 46 regular season and six playoff games in the ECHL, but only 2 NHL appearances. Â He knows the game. Â The only season he had more losses than wins was in 2004/2005 with the Grand Rapids Griffins, his first stint in the AHL.
Last February the Atlanta Thrashers traded MacIntyre to the Montreal Canadiens in exchange for Brett Festerling, a move that had MacIntyre playing for his fifth American Hockey League team in seven seasons. MacIntyre has played in the AHL Western Conference his entire career playing with the Grand Rapids Griffins, Manitoba Moose, Milwaukee Admirals, Chicago Wolves and Hamilton Bulldogs.
"I've been in the West the whole time," he said. "I see all the same buildings, I still haven't seen half the teams in the East."
"I was really hoping to sign in Montreal, I was hoping to get the backup job but they went another way. I could have went to Hamilton but it's all about opportunity in the NHL and I didn't see that there.
"I didn't have a lot of options, mostly number three options in the AHL. I chose this one."
Number three options, meaning in order it is: Ryan Miller, Jhonas Enroth and then MacIntyre.
Heading into training camp he was realistic and knew he wasn't going to take the backup role away from Enroth but he's hoping to prove himself and see some games or as he said, "at least one game."
To see some time with the Sabres it'll take either a Ryan Miller injury or some superb stats here in Rochester to earn a recall backing up Miller.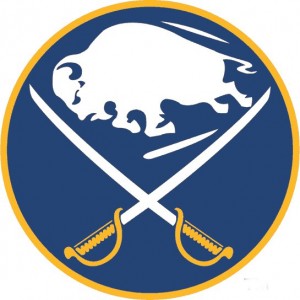 "I never really had Buffalo calling me before and now they were the first team calling and showed a lot of interest in me," MacIntyre said. "At this time in my career that stuff really matters."
Other than being the first team calling him, MacIntyre was drawn to the Sabres organization for their desire to win, including the vision of the Rochester Americans winning the Calder Cup.
"I didn't want to come to an AHL team and have them just care about developing, at this point in my career I want to win and they want to win here," he said. "I wouldn't have come here if they didn't want to win."
To hear a bold statement like that speaks volumes to how the philosophy has changed within the Buffalo Sabres and that it has spread to the Rochester Americans. Yes, developing has and will always be a priority but winning championships is something that ownership is determined to make happen.
"I looked at the new ownership and they really want to win," Drew said.
The fans want a winner too.
I've attended a lot of practices over the past four seasons and have seen head coaches Randy Cunneyworth, Benoit Groulx, Chuck Weber and now Ron Rolston in action. Last week at one of the practices while the team was huddled by the boards I saw something I'd never seen before, the goaltender called up to the front. Â Was he sleeping while the coach was talking? Â Was he talking to another player and not paying attention? Â No, he was called up to talk to the team.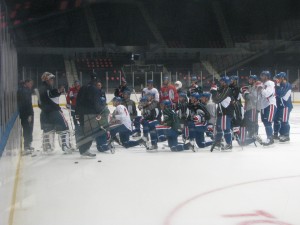 After practice I asked Rolston about that situation. He explained, "We were doing a drill where the goaltender has to break us out and handle pucks back there (behind the net). We wanted to make sure what our communication was going to be once we get back there and what he likes as a goalie with the defensemen talking to him, especially not really being aware of where the opposing team is. I wanted him to come up and go over with the defensemen with what he likes to hear from the defensemen to break the pucks out."
Communication is a huge part of every team sport, especially in hockey. That's a given but it's something that is constantly worked on both on and off the ice. It's something that Rolston has shown early on with actions like that.
"As I've said before, if you're going to be a solid team you've got to be good from the goal out," Americans Coach Ron Rolston said. "I'm really comfortable with both of the goaltenders (MacIntyre and David Leggio) here in Rochester."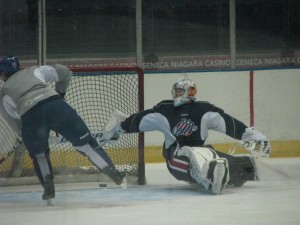 Watching MacIntyre in practices I also noticed something else about the way he played. He was using his stick not only to play the puck on the ice but he seemed to be using it to block shots as well, more than most goalies I've ever seen. It wasn't anything reckless and wild but it was noticeable.
"I'm definitely not shy to do it," MacIntyre said. "I don't do it all the time but in practice it's time to practice those things. I don't do it as much in the games but I don't want to be predictable, I don't want the shooter to know what I'm going to do."
Practicing different ways of doing things, not being predictable and communication? Three quality traits that have been missing in goaltenders in recent seasons.
When it comes down to it though Drew said he likes to keep things simple. "I've grown as a goalie, he said. "My biggest thing is my battle, I'm not going to give up on anything."
MacIntyre will not be playing in the Amerks first game of the season on October 8th in Hamilton because he's currently overseas with the Sabres. Â He's not expecting to play but he knew going into it that it would be a cool experience. John Vogl of The Buffalo News is traveling with the Buffalo Sabres and wrote this about MacIntyre and his experience.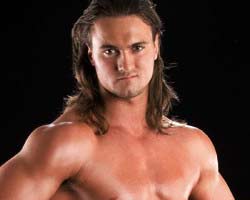 Unless you've paid attention to the visiting teams passing through Rochester in recent seasons the other place that the name Drew MacIntyre will sound familiar is because there's also WWE wrestler named Drew MacIntyre. He's one of the current superstars appearing often on RAW and Smackdown.
Asked about that MacIntyre laughed, saying, "It's pretty cool, I was the biggest wrestling fan growing up. Friends and family will often do Google searches to find information about me and often find the wrestler instead."
A few years ago the WWE wrote an article asking questions from the hockey player Drew MacIntyre and the wrestler Drew MacIntyre and put them side by side. I've searched high and low on the internet but have not had any luck finding it.
One place you will not find Drew MacIntyre is online. "I'm the least techy person you'll ever meet in the world, no Facebook or Twitter," he said.
If you're curious about what is on Drew MacIntyre's helmet you can read my previous article about that here.