David Leggio might be a new name to some Rochester Americans fans but the 27 year old undrafted goalie has traveled the world with success and plans to continue that here in town. The Williamsville, NY native is living the dream playing as a prospect for his favorite team growing up, the Buffalo Sabres. He's played in Florida, Finland, Portland and now back closer to him pursuing his dream of playing in the National Hockey League.
Growing up in the Buffalo area he was also a Sabres fan and has the same favorites growing up that most of us did during the 1990's. When he was young he remembers watching Alexander Mogilny and then Pat LaFontaine. Grant Fuhr was a favorite goalie to watch and then Dominik Hasek during his era in Buffalo. As he's gotten older Miikka Kiprusoff is a goalie he's aways liked to watch and has shared ice time with over a recent summer.
Some kids get on the ice for the first time wanting to be a goalie but that wasn't the case for David Leggio. He only moved into the goalie position after he was cut as a forward from the mite travel team when he was eight years old, well more like he didn't make the team out of tryouts.
"When you're eight you don't know you're at tryouts," he said. "Someone said you want to play goalie? I said sure and that's how it started."
There's always a kid in a neighborhood that takes the beating by the other kids, not in the bullying fashion but the kid forced to play goalie because no one else wants to. The kid given the football as running back and always tackled hard. David Leggio was that kid in his neighborhood, especially with cousins about 3-4 years older living nearby and it prepared him for his current profession.
He graduated high school from St Joseph's Collegiate Institute in Buffalo, NY in 2002 where he was their goalie. He also played as a forward for two games in high and scored two goals.
Prior to this past Tuesdays game I teased a misleading headline talking about "Leggio switching positions" because of the way he was passing pucks to TJ Brennan during warmups at a previous game, as it turns out it's a position he could easily move back into.
The next stop for Leggio after graduating high school was going to Clarkson University to play hockey and study for a business degree. "I was a late developer and it was my best option, I favored education," he said.
"I played for Todd Marchant's father Pete when I was in peewee's and just knowing Todd went there and following his career from when I was young, that made Clarkson one of the destinations I wanted to go to."
During the summer months David Leggio trains other goalies so once his career as a professional goaltender is over down the road it's likely something he hopes to continue with in life.
Going Pro..
He got his first professional experience signing an ATO (amateur tryout) with the Binghamton Senators at the end of the 2007/2008 season and played in the last game of the season in relief of Jeff Glass against the Hershey Bears. He had just over 29 minutes of ice time and allowed two goals on nine shots, the Bears won the game in overtime.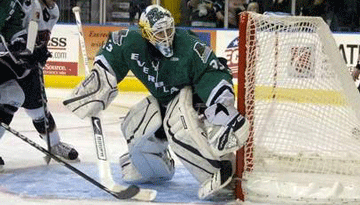 In the summer of 2008 through the Carolina Hurricanes he signed a two way contract to play between the Albany River Rats and Florida Everblades. He only played one game with Albany that season where the Wilkes-Barre/Scranton Penguins lit him up scoring seven goals on 33 shots.
During that 2008/2009 season he was the number one goalie in the ECHL playing in 39 games for the Florida Everblades with a record of 27-7-3 with a 2.26 GAA and 0.916 save percentage.
The Florida Everblades were also the number one team in the regular season leading the league in points, a great achievement for a team but it seems like a curse (Presidents Trophy in the NHL). "We had a very good team but ran into a hot South Carolina team in the second round," he said. "We underachieved but it was a good experience."
That experience and great season with the Everblades got him noticed by a team on the other side of the world, TPS Turku from Finland. TPS Turku had talked to Leggio during that year and made it clear they were going to offer him a contract after the season was done.
"Coming out of the ECHL that would be my best chance to go and play at a higher level," he said. "If I signed with an American League team I'd be fighting just for the AHL spot and if I went to Finland I would get to go in one of the best leagues in the world."
One of many reasons for any goalie to go and play for TPS Turku is to be able to train with one of the best goalie coaches in the world, Urpo Ylonen. Who is Urpo Ylonen you ask? Ylonen was inducted into the Finnish Hockey Hall of Fame in 1988 and to the IIHF Hall of Fame in 1997. SM-liiga (name of the league that TPS Turku is in) has named the goalie of the year award after him; the Urpo Ylonen trophy.
Urpo Ylonen has coached Miikka Kiprusoff, Antero Niittymaki and even former Amerks goalie Alexander Salak. When you watch Leggio play you may notice some similarities to Salak in how he plays.
"When I was there I was training with Kiprusoff and Nittymaki when they were around in August that summer, that was probably the biggest thing for me," Leggio said. "A huge stepping stone in my career so far."
Not a bad start to a pro career. Getting his feet wet in the ECHL and earning the honors of being the number one goalie and then going to Finland to be coached by one of the best goalie coaches in the world before coming back to North America.
Buffalo Sabres Era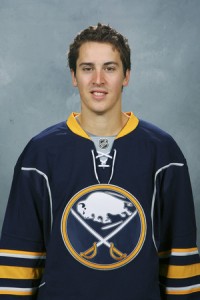 In 2010 after David got back from the World Championships the Buffalo Sabres said that they were interested in him and but also looking at a few others guys. The Sabres had asked if he signed anywhere in Europe, which he hadn't, and he was also talking to a few teams. As the summer progressed Buffalo offered him a deal to start the season with the Portland Pirates.
"That was my goal, to go to Finland and try to have the chance to come back here," he said. He certainly earned it.
Leggio split time with the Pirates during the 2010/2011 regular season playing in 36 regular season games and nine playoff games. During the regular season he went 22-12 with a 2.80 GAA and 0.911 save percentage. He went 5-4 in the playoffs before Portland was eliminated in the second round.
When Terry Pegula bought the Buffalo Sabres the talks almost instantly began to circulate that he would try and buy the Rochester Americans. I asked Leggio when he found out he'd be moving closer to home and he said, "there were rumors in Portland. I heard publicly they were going to stay in Portland, heard rumors about the Amerks, we really had no idea until the deal was down."
Leggio talked highly of Portland and that it was a great place to live and play but living closer to home isn't a bad thing.
"I'm really happy to be in Rochester, especially close to home. Family and friends have season tickets purchased," he said. "They can come and watch anytime they want. In the past I was in Florida, Finland and Portland.. this year if you're a friend or family member and don't come you don't have an excuse."
One of the things I've noticed early about Leggio is how well he plays down low and is able to stay in position to stop the second chances.
"I've always been pretty good down low," he said. "When in tight you have to take up the bottom portion of the net and try to get your hands forward and smother the puck. You always want to start from the middle out, the puck starts on the ice theoretically and has to go up to go anywhere."
Those skills are improved by coaching which is another reason to be closer to home and the Buffalo Sabres.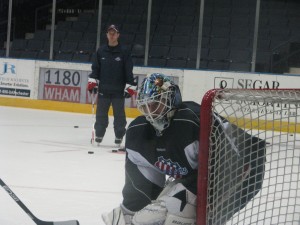 Bob Janosz is the Rochester Americans goalie coach and is on the ice every practice with the team going through drills. Jim Corsi, the Buffalo Sabres goalie coach, visited Portland a few times during the 2010/2011 season but because of the distance it wasn't easy.
"It's only been my second year where I've had a goalie coach throughout the whole season, in Finland and now this year," Leggio said. "It's a really huge asset for the goalies to have a guy watching you everyday and helping you work on things and telling you things you need to work on."
"At my position you can watch video, you can do whatever, but you can only assess yourself so much, you need another set of eyes and someone else who's an expert in the field to be able to tell you 'I think you need to improve this' or notice you're doing this. Sometimes you just don't see that, a lot of things you don't see that you need to improve on and just it just pushes you that much harder."
The lack of a goalie coach for Alexander Salak during the Rochester Americans 2009/2010 season is one of the reasons many people think he faded as the season went on.
Prior to games the only routine Leggio has is to eat some oatmeal about three hours before the game and listen to a couple of songs that as he says, "remind me of times at Clarkson or along the way. For one reason or another there's stuff in the playlist and I can't get rid of them no matter how old they are."
He wasn't willing to share what's on the playlist other than saying there's a couple of Eminem songs on there.
"Overall nothing crazy that I have to do," he says.
Goalie Helmet
I've written before that goalie helmets are one of the only places on the playing surface that players have a chance to be original and show off part of who they are and David Leggio isn't any different.
Like a lot of other goalies in the world, his helmet was designed by David Gunnarsson out of Sweden (Daveart.com).
The helmet features the Rochester Americans logo, Buffalo Sabres logo, the picture of a soldier killed in Iraq, Rick Jeanneret, a chicken wing and an eagle.
The last Amerks goalie to have the Amerks logo on his helmet? Ryan Miller.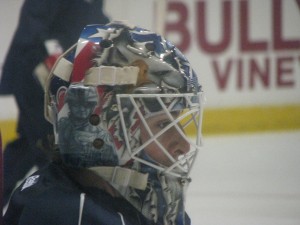 "The helmet is a combination his ideas and mine," Leggio said. "Dave wanted to put on an eagle coming through the Americans logo and I wanted to put on my friends dad Terrence K. Crow who was killed in action over in Iraq in 2005 so I wanted to put soldier on there, something to show respect to his family."
More on Terrence K. Crow:
44, of New York, N.Y.; assigned to the 10th Battalion, 98th Regiment, 4th Brigade, 98th Division, Army Reserve, Lodi, N.J.; killed June 7 when his unit was attacked by enemy forces using rocket-propelled grenades and small-arms fire in Tal Afar, Iraq.

BUFFALO, N.Y. — A lieutenant colonel with the Army Reserves from western New York was killed by hostile fire while training Iraqi security forces near the Syrian border, military officials said Wednesday.

Lt. Col. Terrence Crowe, 44, of Grand Island, was one of four U.S. soldiers killed in three separate attacks Tuesday. He is the fourth member of the Rochester-based 98th Division to die in Iraq.
"On the other side, a chicken wing for Buffalo was my idea along with the Buffalo Sabres logo. I was also thinking what I could put on there that I've always liked about the Sabres and I went with Rick Jeanneret," Leggio said. "He's in there on the logo (back corner below). Growing up for me players come and go but he's always been there, always been exciting the fans, everyone in Buffalo loves him."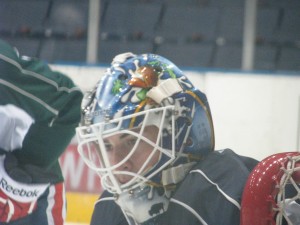 Competition with Drew MacIntyre
The Amerks are considered to have one of the best goaltending duo's in the American Hockey League this season between David Leggio and Drew MacIntyre. Here's two goalies at the top of their game with the dream of playing in the National Hockey League. It's inevitable that Ryan Miller or Jhonas Enroth will have some downtime this season which will require a call up from the Amerks. If the Sabres had to make that decision right now they'd likely have to flip a coin to decide, both have played some great hockey (they get a pass on the first two games of the season).
When asked if the two of them will be having some friendly competition Leggio said, "I think we will. We're both older and will do it in a respectful way. It's healthy competition, we are going to push each other to both give our absolute best efforts everytime that we're in the net. It's a good thing, a good relationship."
Amerks coach Ron Rolston has always said that he believes winning starts from the goalie on up. The season is still young but Leggio and MacIntyre will certainly be the anchor for this team that he believes in.
——-
You can read about Drew MacIntyre's story here and his helmet here.