A wonderful Sunday evening game ahead of us, the third game in three nights for the Rochester Americans and Adirondack Phantoms. Â The Amerks had a third period collapse on Saturday afternoon that resulted in a 5-4 overtime loss to the Toronto Marlies. Â It's a game that the team knows inside they they squandered but at the same time they're already focusing on the game today.
The Phantoms were in Portland on Friday where they won 3-0 and then lost 5-2 in Albany on Saturday night.
Marcus Foligno will be back on the ice after serving his two game suspension. Â Chris Clackson was sent back to the Gwinnett Gladiators after filling in on the roster.
It'll be interesting to see what this young team looks like on the ice today. Â Sunday games in the AHL are typically snoozefests between tired teams. Â The Amerks didn't play into Saturday night so other than fatigue from the game they were able to get a good nights sleep in their own homes.
They worked hard to come from behind on Friday night before losing in the skills competition (shootout) and then the late game collapse yesterday so they should be fired up and ready to put a win under their belts.
Based on the pattern of rotation by Rolston, Drew MacIntyre will get the start tonight.. that could obviously change. Â For more recent updates watch the Twitter sidebar on the site or follow along @LetsGoAmerks.
Gamesheet for tonight/click to enlarge: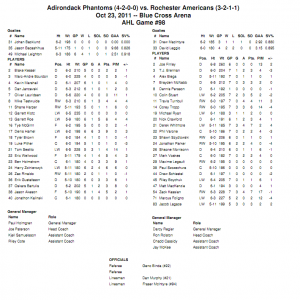 Quick recap of 5-4 loss to the Marlies:
Derek Whitmore scored two goals in the game and Corey Tropp and Jacob Lagace scored the other two. Â Travis Turnbull had two assists in the game. Â Zack Kassian had an assist and also put five shots on net.
The Amerks had a 4-2 lead with a three minutes and 4 seconds left in the third period when Joe Finley shot the puck over the glass earning a delay of game penalty and put the Marlies on the power play. Â The Marlies pulled goaltender Ben Scrivens to have a 6 on 4 power play and Ryan Hamilton scored with a minute 33 seconds left in the game to make it a 4-3 game. Â Scrivens still on the bench and an extra attacker on the ice it only took another 34 seconds for Darryl Boyce to tie the game 4-4 and send it into overtime.
Mark Voakes had also broken his stick before that fourth Marlies goal was scored which gave them an extra advantage.
Joe Colborne scored at 2:28 of overtime for the win.
Game sheet from Saturday vs Toronto Marlies:
Rochester Americans 4 at Toronto Marlies 5 (OT) – Status: Final OT
Saturday, October 22, 2011 – Ricoh Coliseum
Rochester 2 1 1 0 – 4
Toronto 1 1 2 1 – 5
1st Period-1, Rochester, Whitmore 2 (Kassian, Voakes), 0:51. 2, Toronto, Crabb 4 (Colborne), 11:04. 3, Rochester, Tropp 3 (Turnbull, Varone), 11:27. Penalties-D'Amigo Tor (tripping), 1:10; Kassian Rch (hooking), 6:40; Finley Rch (cross-checking), 17:32.
2nd Period-4, Rochester, Lagace 3 (Turnbull), 10:41. 5, Toronto, Wilson 1 (Zigomanis, Hamilton), 18:41. Penalties-Morrisonn Rch (holding), 0:24; Boychuk Rch (hooking), 5:13; Holzer Tor (cross-checking), 7:43.
3rd Period-6, Rochester, Whitmore 3 Â  1:26. 7, Toronto, Hamilton 1 (Zigomanis, Colborne), 18:27 (PP). 8, Toronto, Boyce 2 (Lashoff, Scott), 19:01. Penalties-Mikus Tor (interference), 9:13; Finley Rch (delay of game), 16:54.
OT Period-9, Toronto, Colborne 4 (Blacker, Crabb), 2:28. Penalties-No Penalties
Shots on Goal-Rochester 6-12-6-3-27. Toronto 7-10-13-1-31.
Power Play Opportunities-Rochester 0 / 3; Toronto 1 / 5.
Goalies-Rochester, Leggio 2-2-0 (31 shots-26 saves). Toronto, Scrivens 3-1-0 (27 shots-23 saves).
A-2,642
Referees-Jean Hebert (43).
Linesmen-Matt Traub (88), Mike Cvik (88).