It's a Friday and the Rochester Americans are back in action with two big games this weekend against the Toronto Marlies, the only other team in the North Division that appears to be ready to compete with the Amerks for the top spot. Â The puck drops at 7:35pm but get there at 6:30pm for "Happy Hour" with $2 beers.
It's still too early in the season to be staring at the standings but it's better to do it now than trying to squeeze out every point possible in March. Â The Amerks have a game in hand on the Marlies and are two points ahead of them in the standings.
When it comes to games in the division the Amerks have earned points in seven of their eight divisional games. After losing the first game of the season against the Hamilton Bulldogs they have earned two wins against Grand Rapids and one against Lake Erie. Â They have lost two games in overtime/shootout against Hamilton and they have one overtime loss in Toronto.
The season started out rocky and the five game losing streak now appears to have been a good thing because the team was able to take something away from that and improve and believe in themselves. Â The Amerks have now won four straight and looking to extend it. Â The roster instability to start the season due to injuries now seems to be settling down and has every playing working hard knowing that they have to earn a roster spot, it won't just be handed to them like it was at the start.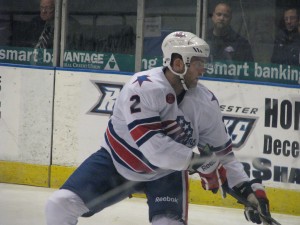 Joe Finley is proof of just that. Â He started the season watching from the stands and is now on the top defensive line with Shaone Morrisonn. Â He even had a short move up to playing as a winger to get some ice time. Â He's a former first round pick determined to make his way back to the top.
This is a great group of players that seems to be getting along very well on and off of the ice. Â There hasn't been any controversy. Â Out of 16 games played the only one that's been horrible was the home opener. Â The crowds are getting behind the team. Â The coaching staff are being great at obviously leading the team but also allowing guys to take care of business when needed. Â Joe Finley doesn't have to fight and he's not expected to but he's also not going to be punished for taking action to stick up for a teammate or himself.
Notice that our goalies haven't been knocked over or run into every game like the last four seasons? Â Hopefully I didn't just jinx them.
The team will be without TJ Brennan and Corey Tropp this weekend. Â Brennan was called up on Thursday and Tropp on Wednesday. Â The Sabres are on the road in Carolina and with the Amerks game Saturday at 3pm in Toronto it'd take a miracle for either to return by then. Â Tropp is filling in for Cody McCormick who's out injured and Brennan is possibly filling in for Mike Weber. Â There's also the chance he's just an extra body in case anyone else gets hurt.
A good thing is that the Amerks have an abundance of defensemen.  There were eight defensemen suited up for the game on Wednesday night.  TJ Brennan has been playing well but this team is motivating itself to continue to play better and everyone is battling hard to step up their games.
Drew MacIntyre is still with the Sabres as well backing up Jhonas Enroth. Â MacIntyre saw some playing time on Wednesday after Enroth caught a cold from the wind of five pucks going past him into the net. Â This gives David Leggio his first chance at consecutive starts in net and is coming off of a solid game this past Wednesday. Â There's no reason to doubt Leggio can carry this team for a while if needed.
To win against the Marlies the Amerks need to continue what they've been doing, play a strong defensive game restricting the amount of quality shots that get through to the goalie and capitalizing on every offensive opportunity. Â It's impressive the way guys like Colin Stuart, Zack Kassian, Paul Szczechura and Derek Whitmore can take off in a flash down the ice.
Things are going well for a change. Â The players are smiling. Â The fans are smiling. Â Things could be worst so get to the game and root for the home team.
On the injury front…
Michael Ryan is expected back Thanksgiving weekend. Â He's back to skating with the team and is wearing a cage to protect his face. Â The reason he was out has not been made official but if his face is covered it's easy to make some assumptions. Â It doesn't really matter anymore, just great to hear that he's coming back. Â When he's playing he's an offensive threat.
Jacob Lagace missed the game on Wednesday after taking a shot to his leg and his playing status is probably.
Dennis Persson is out for a while, so long that no time frame is being given.
Travis Turnbull is doubtful for this weekends games. Â Sounds as if he definitely got a concussion when Tim Conboy dropped him.
The "Injuries" page at the top is always being updated, click that for all the latest at any time!
See you at the game!