The Rochester Americans won in overtime Friday night after Brendan Guhle turned on his after burners to score on a breakaway. If only the team could have the first minute of regulation back. And also the last but this team operates with the mindset of it's all about how you respond and they responded yet again.
Talking about the first goal Chris Taylor said, "Nothing we can do, just how our response was and that was good. I really like our response and did a really good job with it."
"We were still a little sloppy there at the start of the first period and we got better as the game went on for the most part," Brendan Guhle said after the game. "Even as they scored that late goal we battled back and won the game."
"I thought we responded really well. We stuck with it," Sahir Gill said after the game. "Just the way we responded to the first goal and where we came out in overtime and got the job done."
Sahir Gill had scored the second goal of the game for the Amerks to put them up 2-1 before the Sound Tigers scored with 36 seconds left to play pushing the game to overtime.
Sahir Gill and Brendan Guhle are equals as teammates and have come from different paths. Guhle played junior hockey in Canada and is a second round draft pick in his rookie season. Gill went to college, was never drafted and has had to tough it out simply trying to get playing time.
To head coach Chris Taylor it doesn't matter what type of contract you're on, "I always believe that doesn't matter if you're on NHL contract or AHL contract that everybody gets a chance and until you let your chance go then you keep going."
Sahir Gill is leading the Amerks in goal scoring with 12 goals in 35 games, he also has 12 assists. In his fifth season in the AHL it's his best and part of that credit goes to Chris Taylor.
Chris Taylor was familiar with Gill from the 2016/2017 in Wilkes-Barre/Scranton as an assistant coach when he often had to tell Gill that he wasn't going to be playing. Taylor talked about Gill and in general everyone from the Penguins that was brought over saying, "I knew what type of people they were in the dressing room, if they had to get sat out I knew what type of people they were around everyone else." Taylor also said, "When he started off here I knew what type of player he was and wanted to put him in those situations that he could and he's done a great job. Not only that he's reliable defensively."
Gill talked about knowing Taylor saying, "He was familiar with the way I played. A guy I worked with a lot last year and I think he knew what kind of style of play I could play and I'm fortunate enough that he's given me a role that I've been able to build on. He's a positive guy, wants everyone to have confidence, play with confidence out there and it's just been a lot of fun to go out there every day and have a role on the team."
"We're going to keep him going. Deserves to be on the power play, deserves to be on that line where's he at," Taylor said. "He's going to stay there until he falters himself than that's the only reason. No ones going to push him out. Only he can push himself out. That's what we created in our dressing room, everybody gets a fair chance here."
The three letter word fun was mentioned again when Gill answered why he thinks he's had success saying, "The environment and coming in every day. When you're having fun you can go out there and play with a little confidence. I've been fortunate to play in good situations on the power play and with some good players five on five and just trying to get to the net and good things usually happen there."
Gill recognizes where he's at in January in terms of scoring but also said, "That's not something I really try to focus on too much. When you start worrying about that it's when details of your game start getting away."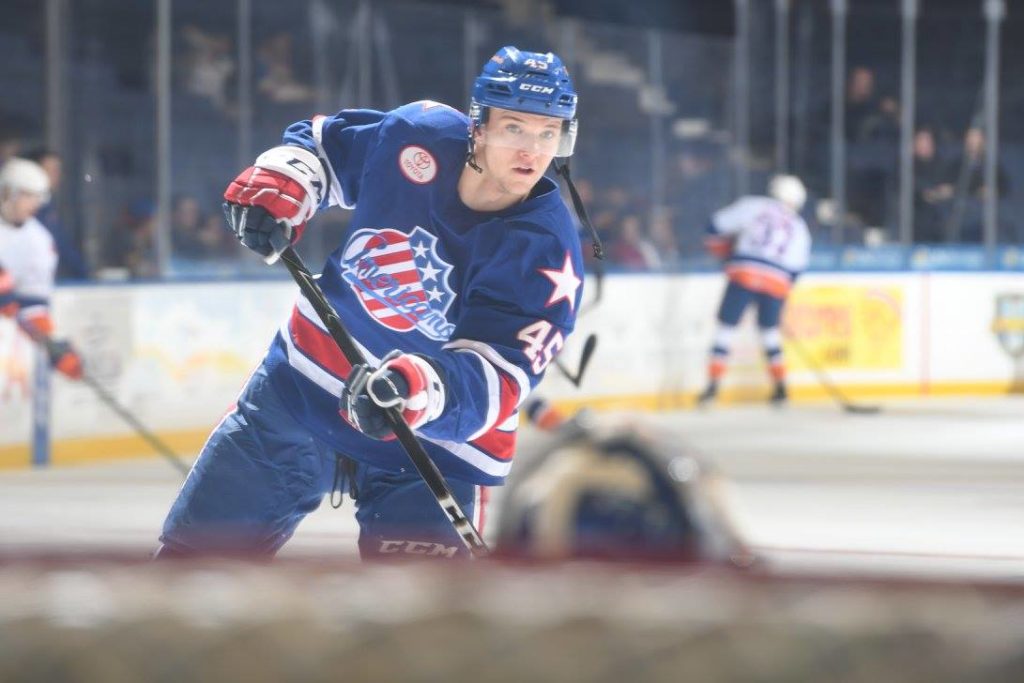 Brendan Guhle scored a breakaway game winning goal in overtime by turning on the after burners, something Chris Taylor would like to see more of from him.
"I just turned on the after burners a little bit and went after it," Guhle said. "I figured since it was bad ice and overtime I would try that move, done it a few times before in juniors."
Taylor talked about Guhle's speed saying, "I think that he doesn't choose to go enough. There's times that I think he can be a little be a little more aggressive. I think he's a little tentative and doesn't want to make mistakes and that's understandable for a young guy. He cares about this team. I do believe that he has a lot more opportunity to use his speed and get up in the play more."
"When I see a chance I'll go. You have to pay attention to the score of the game too," Guhle said. "If you're winning by one or two goals you have to be a little careful and know who you're out there against. There's a lot that goes into it."
Taylor added, "He's young, he's learning, developing and getting better every day."
Scoring recap from the Amerks 3-2 overtime win vs Bridgeport Sound Tigers…
Bridgeport set the tone only nine seconds into the game when Anthony Beauvillier scored his first goal of the season. Amerks won the face off, Casey Nelson missed a pass from Brendan Guhle after it took a bad bounce off some bad ice and the Sound Tigers jumped all over it.
Pretty good start to this one, huh?!? 😱 pic.twitter.com/NyN4jgmWCl

— Bridgeport Sound Tigers (@TheSoundTigers) January 6, 2018
Garret Ross tied the game at 5:13 of the second period with a one timer off a pass from Hudson Fashching.
.@Hfasching22 sets up Ross for a one-time feed to tie the game! pic.twitter.com/sue3sEFY5H

— Rochester Americans (@AmerksHockey) January 6, 2018
Sahir Gill put the Amerks up 2-1 at 9:54 of the third period with the type of goal this team has been trying to score, a second chance, greasy goal just sitting in the crease.
‼️‼️‼️@SahirGill28 ‼️‼️‼️ pic.twitter.com/RS2lK4K83D

— Rochester Americans (@AmerksHockey) January 6, 2018
Unfortunately Anthony Beauvillier would score his second goal of the season and second of the night to tie the game up 2-2 with only 36 seconds left in regulation.
🚨 #SoundTigers GOAL! 🚨

BEAU TIES IT WITH 36 SECONDS LEFT!!!! pic.twitter.com/b3W40Tu6PI

— Bridgeport Sound Tigers (@TheSoundTigers) January 6, 2018
Talking about that goal Linus UIlmark said, "I think it went bar down or something, just have to hand it to them and say congratulations and just keep moving forward. I'm not thinking too much about that. Sometimes they're going to score, I can't be out there having shutouts every night."
The game went into overtime and seeing a loose puck Brendan Guhle turned on those after burners mentioned above to win the game in overtime.
Watch it again. Out of nowhere @guhles_ turned on the after burners to lead the #Amerks to an overtime win! pic.twitter.com/QngcaWkj9I

— Let's Go Amerks (@LetsGoAmerks) January 6, 2018