The obvious story line of Friday night was the one game professional tryout contract that Brian Gionta signed to play for the Rochester Americans. Within the first minute of the game he had the games first scoring chance rushing the net. There was a buzz of energy in the building every time the puck touched his stick and when he scored the building erupted in a way we haven't seen in a long long time.
There's two other story lines as well:Â The crowd of 9,836 was only 805 short of a sell out crowd but also the Amerks lost again.
Starting with the good news story line: Team USA Captain Brian Gionta scores for the Rochester Americans!
Kevin Porter and Alexander Nylander won a battle for the puck along the boards, Porter spotted Gionta on the far side and sent him breaking in on Garret Sparks where he buried a back handed goal.
(All pictures except the one at the bottom by Amerks team photographer Micheline Veluvolu)
It was a great moment. The crowd of almost 10,000 erupted. Chants of USA spread throughout the crowd. It was loud, people were jumping up and down, high fives and some even had tears of happiness down their cheeks. A memorable moment in Amerks hockey history.
"Sends chills up your back when something like that happens," Brian Gionta said after the game. "Great play on the wall by Alex and then Ports found with full speed. Great play by those two. I thought the fan support was great tonight. Good full building and great support for these guys but I wish we had a better outcome though."
Kevin Porter earned the primary assist on the play and enjoyed the moment. He said, "That was pretty awesome, the crowd got into it. The USA chants, that was pretty cool. We obviously would've hoped for a better outcome but a pretty cool experience and a pretty good hockey game."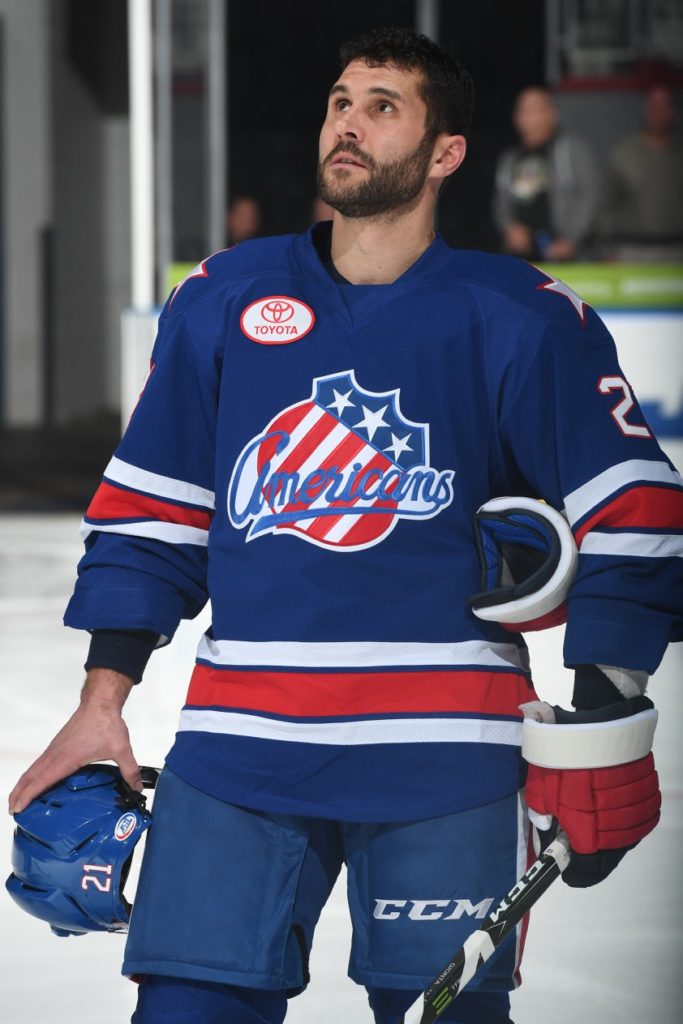 "Unbelievable for him and for everybody here in the community supporting him," Chris Taylor said after the game. "Captain of the Olympic team, a pretty big honor and we're very fortunate to see what we saw tonight and we're just disappointed we didn't get two points."
It all seemed natural for Gionta to be playing in a game since I've seen him practice almost every day with the team. It'll be interesting to see what happens after the Olympics. The coaches and management haven't hid the fact that they'd love him to join the team for the rest of the season. He's meant a lot to the Amerks team and even if it was only one game he's a Rochester American, not just a gimmick.
Chris Taylor went into great detail after the game saying, "For me he's been huge. This whole organization acknowledges that. What he's done for us, what he's done for the young guys, what he's done for the the coaching staff, what he's done for the trainers, everything. His whole vibe around the rink has been great. We're so fortunate to have him. That was my biggest thing after the game, we wanted to thank him for what he's done for us. I don't know if we'd be in this position if it wasn't for him. We've had a good year so far and a large part of it's got to do with him. He's one of those guys that brings a great atmosphere to the rink, brings knowledge and he brings how to be a pro and that's what we're trying to teach everybody here."
Gionta was as equally thankful for the organization. It's not normal for a team to have a full time practice player. Him playing meant that someone wasn't going to be able to play and he was beyond appreciative for that.
"I appreciate the things they did and the support that they gave me and it means a lot to me," Gionta said. "Was fun to battle with these guys that I've been practicing with all year."
A couple of videos of the sights and sounds of the goal..
From up high in the balcony:
A view from up high in the balcony of @Giostyle21 racing down the ice, scoring and the crowd erupting. A memorable moment in @AmerksHockey history! pic.twitter.com/VRHBSjxB0Z

— Let's Go Amerks (@LetsGoAmerks) February 3, 2018
Brian Gionta goal! Blew the roof off the place #Amerks @DandC pic.twitter.com/a9nU7J66TA

— Andy Lipari (@alipari27) February 3, 2018
****
More partial good news: the crowd of 9,836 was only 805 short of a sell out crowd.
A big reason for the large crowd was Hometown Heroes night honoring the first responders, military and veterans. Unfortunately that'll all likely be lost with the Gionta news. There's no doubt that his name helped sell a couple thousand more tickets with the hype that was generated.
Amerks Captain Kevin Porter said, "Was a great crowd, hopefully they keep coming. Wasn't the outcome we wanted but it was nice to have that crowd here supporting us."
With the big crowds also comes big complaints. Traffic in the downtown core, long lines at will call and the box office. If crowds this size were normal those things wouldn't be an issue. This happens at least once a season. When thousands show up within a short time span there'll be issues. There's a lot of parking available but the main focus on the Civic Center garage always creates gridlock.
Awesome to see a big crowd, hopefully people will keep coming back and if they do it'll give the team and city reasons to fix the once a season problems.
****
Now for the bad news. The Amerks lost again to a division team.
Linus Ullmark hasn't won a game since coming back from Buffalo. He's 0-3-1-2 since returning. There's no way the losses are being pinned on him, it's just one of those stats that matches up to a certain moment. It doesn't help that key defensemen Brendan Guhle and Andrew MacWilliam are injured or that Casey Nelson is with the Sabres.
He kept the Amerks in the game and it could've easily been 7-2 at the end of 60 minutes.
The North Division is a 4 team division for the rest of the season and right now the Amerks record from within isn't looking good. The four teams are Toronto, Syracuse, Utica and of course Rochester.
Here's the records of those teams against each other:
Toronto: 12-4-0-0
Rochester: 6-7-2-3
Syracuse: 8-10-1-0
Utica: 11-7-1-1
Toronto is a league leading team and it showed in the way they played from start to finish. They found a weakness of the Amerks by getting the puck down low and were able to score three goals from it.
The first goal by Toronto was a simple back hand to the net by Richard Clune that went off Ullmarks pad and into the net.
After the game Kevin Porter said, "They're a good hockey team. We're right there with them but we're making a couple of mistakes and if we limit those we should come out on top. We're going to keep working hard and it should be good hockey games with them the rest of the year."
Chris Taylor said, "We started off ok. I didn't really like the end of the first but then I thought we took over the 2nd and kind of sat back in the third. I liked their effort. A great atmosphere in the building and great for that but we're disappointed we didn't get two points."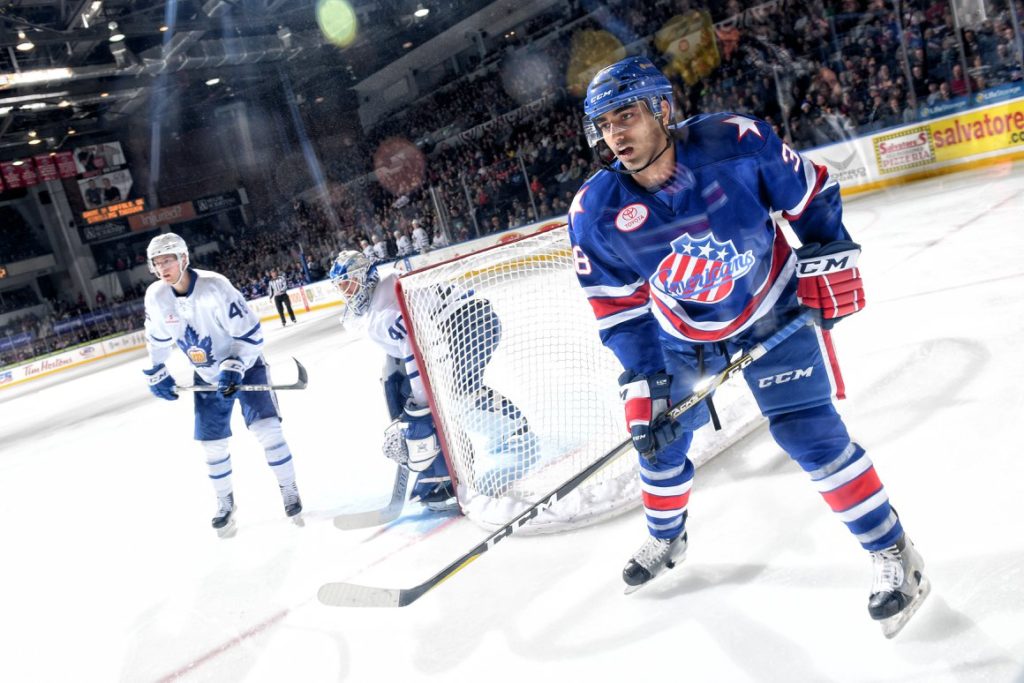 (Just a picture of Atwal, not related to when he scored)
Arvin Atwal had scored the Amerks first goal of the game and it was also his first American Hockey League goal. Kyle Criscuolo setup a nice screen in front of Sparks, Atwal skated in from the blue line and shot it from just inside the face off circle.
Let's take a look at an actual picture of the air that Criscuolo got on the screen. That's impressive!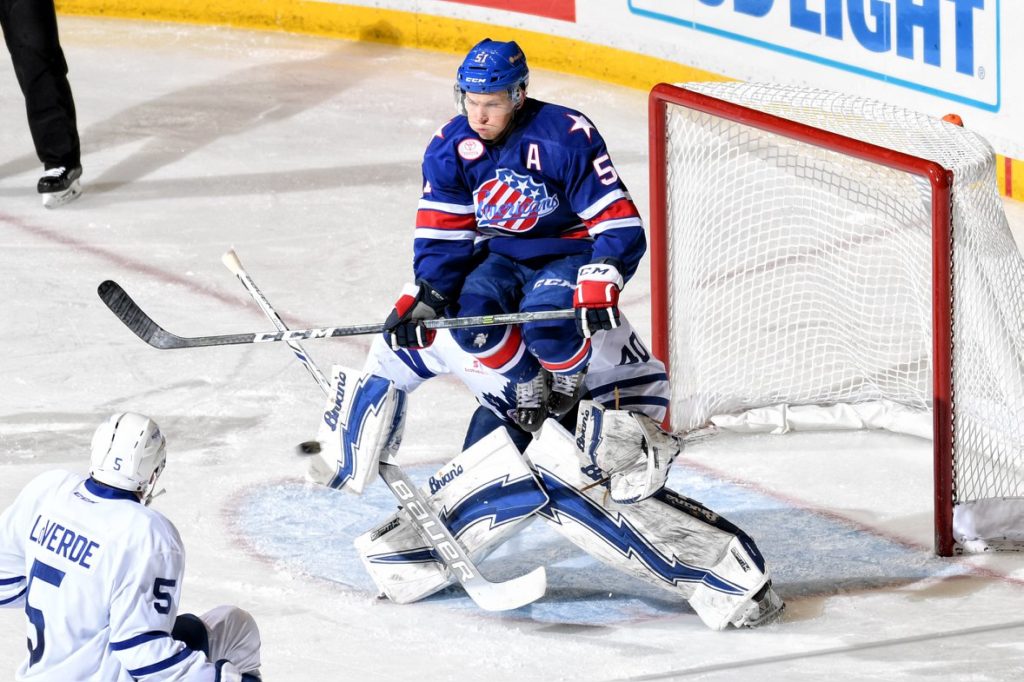 Stick tap to Stuart Percy for grabbing the puck as a souvenir for Atwal!
Taylor praised Atwal after the game saying, "He played very well tonight for a guy that's coming up. He handled the pressure really well. He battles. One of those guys that has no fear and I like his energy."
It only took 49 seconds for the Amerks to score again when Gionta buried his shot.
Andreas Johnsson killed the excitement though by scoring 41 seconds after Gionta and making it a 2-2 game.
After the game Chris Taylor said, "We're scared to lose and we should be wanting to win and that's playing on our heels. We didn't play on our toes. We talk about it all the time. We want to play to win, we don't want to play to get to overtime. We play to win and unfortunately they got a goal at the end. A couple of miscues and inches from a stick getting deflect but that happens and that's why they're at the top of the division."
It was a 2-2 game until 4:33 left in the third period when Miro Aaltonen was hanging out in front of the net and scored off a pass from Andreas Johnsson. He made it look so easy.
"The guys were excited, they responded, they worked hard, wasn't a lack of effort with not getting two points," Chris Taylor said. "We came up short and again they're a really good hockey team but we know we have to get better to face them."
Vincent LoVerde gave the Marlies the commanding two goal lead late in the third period. Miro Aaltonen saw him in the slot, sent the pass and LoVerde put enough power behind his shot that it's surprising it didn't go through the net.
****
With about seven minutes left in the third period Linus Ullmark took a blistering shot off his left shoulder / collarbone area. He covered the puck and he went down. The shot left a massive welt on his shoulder and after a short talk with the trainer he stayed in the game.
"He's competitive, he wanted to be in the game, he didn't want to come out and again that's maturity on his point," is what Chris Taylor had to say after the game about that moment. "That's why he is where he is right now and he's developing as we speak. He could've easily come out but he didn't. He stuck it out and wanted to be in there and I love that about him."
While Ullmark was down on the ice I was watching the bench and Adam Wilcox didn't seem phased in any way. He was just sitting back like nothing was going on.
Mentioning the demeanor of Wilcox on the bench Taylor laughed and said, "I think he was hoping he'd stay in. It's a tough position, obviously at that point. A 2-2 game, packed building and playing the top team in the league. I wouldn't want to move either. Was hoping Linus would get up and the competitor as he is he did get up."
The Amerks hit the road for a game against the Binghamton Devils on Saturday evening. Follow us on Twitter @LetsGoAmerks for game updates, conversations and more!
Thanks for reading this far!!