The 2018 Calder Cup Playoffs start for the Rochester Americans tonight after what felt like the longest week of the season. It was a fast paced week of intense practices that had more urgency than I've seen all season. The drills weren't any different than usual but it was a constant cycle with short water breaks.
In playoff hockey words don't win games, actions do. There's a lot of words to preview what's to come in this five game series vs Syracuse. Once the puck drops it'll be about actions, not words.
A number of Amerks fans will be making the drive to Syracuse for game one tonight and game two on Saturday. It's a short 90 minute or less drive depending where you live in Rochester. Think about going! [ Ticket Info ]Â Game three will be back in Rochester on Wednesday April 25. Game 4 if necessary on April 27 in Rochester, game 5 if necessary April 28 in Syracuse.
Expectations:
Defeat the Crunch and exit the first round or it's a bust. Early in the season when the team was having success and realized they were in a good position in the standings they put a playoff run on themselves. Fans expect it but so do these players. This isn't a rookie team filled with young players, it's a mix of some rookies, veterans and second and third year players with the ability to win. There are no moral victories just for making the playoffs.
Amerks GM Randy Sexton talked about this season as a whole and he said, "We're pleased, we're not satisfied but we're pleased with the progress thus far." I asked him what would bring satisfaction and he mentioned Syracuse being a tough team to play against and added, "Satisfaction for us really will be having a long hard series but most importantly seeing each and every player on our team get better. To have success in the regular season is and was important and we've had that and our guys have all improved. This is the second season, this is the post season. We need to see that continued improvement and development in each and every one of our players and our staff."
They're playing for the City of Rochester, for the team and the ability to increase their value in post season contract talks. The mindset within the room is that individual success follows team success.
"I think we're confident," Chris Taylor said when asked about his gut feeling. "I think our leadership group will calm guys down if something happens. We're going to get scored on, it's how we respond from that. We're not going to get all the calls the right way with refs and stuff. I think we have a good leadership group that will calm each other down especially in the dressing room between periods. We believe in each other and that's the biggest thing for me is that everybody believes in each other. Everybody likes each other and we're doing it for each other."
Linus Ullmark has one thing on his mind on his professional life this season, "It's all about the trophy at the end."
[ Playoff week LGA article: Time for Bailey, Baptiste and Ullmark to Lead in the Playoffs ]
Randy Sexton talked about his personal excitement for the second season saying, "I told our coaches I'm more excited for this round of playoffs than any round in Pittsburgh except the finals. My role here obviously is a little more intense."
Game Plan:
Roll four lines, keep it simple, don't turn the puck over. Anyone who follows a hockey team on a regular basis could say that off the top of their head.
"They're not going to turn pucks over. They're not going to have a lot of mistakes, we need to do the same thing," Kevin Porter said after practice this week. "If we start turning the pucks over and start making mistakes they're going to capitalize on us."
Chris Taylor talked about the first round being a five game series and said, "You don't have time to make mistakes. You don't have time to comeback so you have to be ready for game one. It's tough on the road but we've been a pretty good road team all year."
"I'm sure we'll have some Amerks fans in Syracuse which will be great."
The Lineup:
Everyone knows who is playing and the line pairings appear to be set. They'll be rolling four offensive lines and based on the way the season ended there's no first, second, third, fourth lines. It's four straight. For a more in depth write up on Chris Taylor's thoughts on the offensive lines there's an awesome Sabres.com article with Duffer – read it here.
Depth has been talked about since last summer and it's what has carried the team to the playoffs. There was a lot of different goal scorers all season and when one player was in a scoring drought someone else picked up the slack. The only injury right now is Sahir Gill with a "lower body" injury that happened in the 2nd to last game of the season. Based on the history of walking boot injuries it's doubtful we'll see him until the third round. Justin Danforth is still on the injured list but once he's healthy he'll join Cincinnati Cyclones in their playoff run.
There wasn't a 20 goal scorer for only the second time in team history but they did have seven players score 15 goals or more. The scoring has been spread out which should be to the Amerks advantage – there isn't one specific threat that a team needs to watch for. You can't look at the four lines in a standard way and think the fourth line is going to be sitting on the bench for extended times. Chances are good that Sean Malone will play almost as much as Kevin Porter.
Comparing the lineup on opening night to game one of the playoffs they are very similar. Steve Moses quit the team, Danny O'Regan was acquired in the Evander Kane trade. Nylander started the season injured. Colin Blackwell worked his way up the lineup and Sean Malone went from a healthy scratch to playing 73 straight games.
On defense MacWilliam has proven to be an anchor. Tennyson started the season in Buffalo and his special teams work is what appears to keep him in the lineup over Paetsch. Barry Goers had his season cut short with an injury in November. Stuart Percy arrived a week after the season started. Will Borgen has been impressive on the blue line and there's no doubt next season he'll be in that top six.
17/18 Opening Night
2018 Playoffs
Offense:

Porter, Bailey, Baptiste
Criscuolo, CJ Smith, Moses
Fasching, Gill, Ross
Cornel, D Smith, Blackwell

Scratches: DMB, Malone, Krause,
Karabacek

Defense:

Paetsch, Nelson,
Redmond, Guhle
Goers, Fedun

Scratches: MacWilliam, Allen

Ullmark
Wilcox

Offense:

Bailey, O'Regan, Porter
Baptiste, Blackwell, Nylander
Griffith, Criscuolo, CJ Smith
Ross, Malone, Fasching

Scratches: D. Smith, Krause and Cornel

Defense:

Guhle, Nelson
Redmond, Tennyson
MacWilliam, Fedun

Scratches: Paetsch, Percy and Borgen

Ullmark
Wilcox
It's a deep Amerks roster that will rely on each other to win hockey games. The skill is there. The same question can be asked of any team with high expectations, can they pull it off and play a near perfect game? They'll have to.
Season series vs Syracuse:
Syracuse had the slight advantage with a 6-2-1-1 record over the Amerks. Flip it around and Rochester was 4-5-1-0. The Amerks dominated the first two games of the season, Syracuse won the next two games and from there in the remaining six games the rosters weren't comparable. Injuries, call ups, etc. Rochester won the last game of the season with a moral victory but again, neither team had their full roster.
Raw Charge wrote a round one preview from the Syracuse/Tampa side of things – Read it here
Here's more stats from The AHL on how the teams stack up against each other: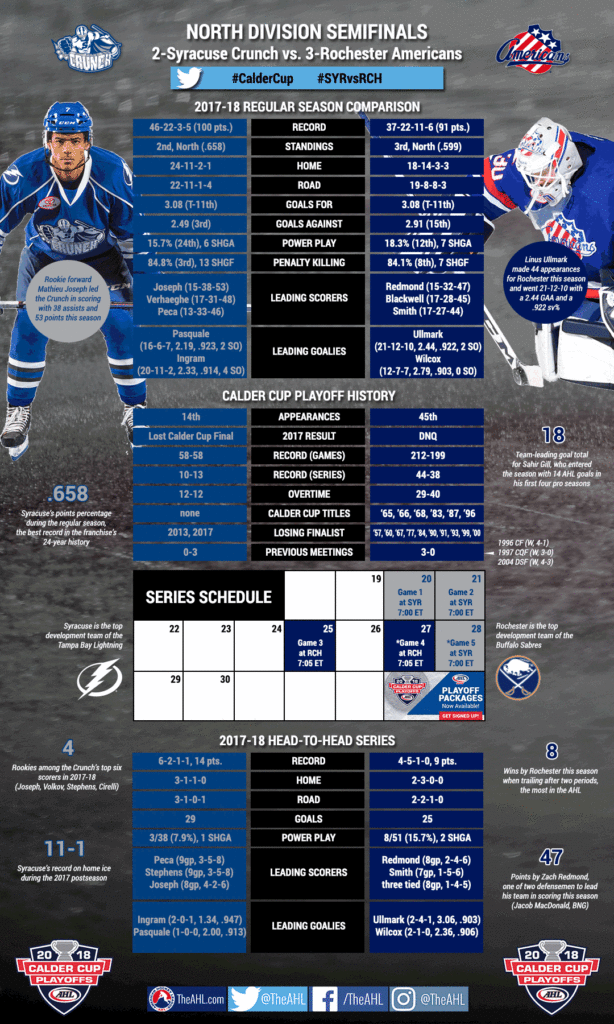 After playing each other 10 times this season and many more times for some of these guys over the last year or two means that there isn't any love lost between them. This is as close as it'll come to a rivalry.
Justin Bailey said, "You grow to not like teams you play often, it'll definitely be a fast paced game."
Casey Nelson talked about no love being lost with Syracuse saying, "It's a going to be a battle, an absolute war out there and I know we have the guys that can go out there and get the three games."
Additional playoff articles: