Rookie forward Victor Olofsson of the Rochester Americans has broken a couple of windows at his parents house growing up and when asked about the garage door he said it's not beautiful. The damage appears to have paid off after this weekend when Olofsson scored two game winning goals with the quick shot he's known for. He used a wicked back hand shot with 60 seconds left in the game on Saturday followed by blazing through three defenders in overtime on Sunday scoring bar down.
Look back at most reviews of the Sabres draft in 2014 and it'll focus on Sam Reinhart, Eric Cornel and Jonas Johansson. Olofsson was picked 181st overall in the 7th round out of 210 players in the draft there'll be a short mention his speed and shooting capabilities but little in depth about projecting him into an NHL lineup. Olofsson wasn't even at the draft, he found out he was drafted when he received a phone call from his dad while golfing with a friend.
Fast forward to the October 2018 and he's leading the Amerks in points and is tied in the AHL for the lead in rookie scoring with 8 points (3G+5A). Die hards have known him, now he's household name for hockey fans in Rochester and Buffalo.
There's always a questions about players adjusting to the North American game and after five games they've all been addressed on the ice, Olofsson has adjusted with ease.
Early season success leading the Amerks to three straight wins has earned Olofsson the CCM / AHL Player of the Week honors and at this rate it won't be his last.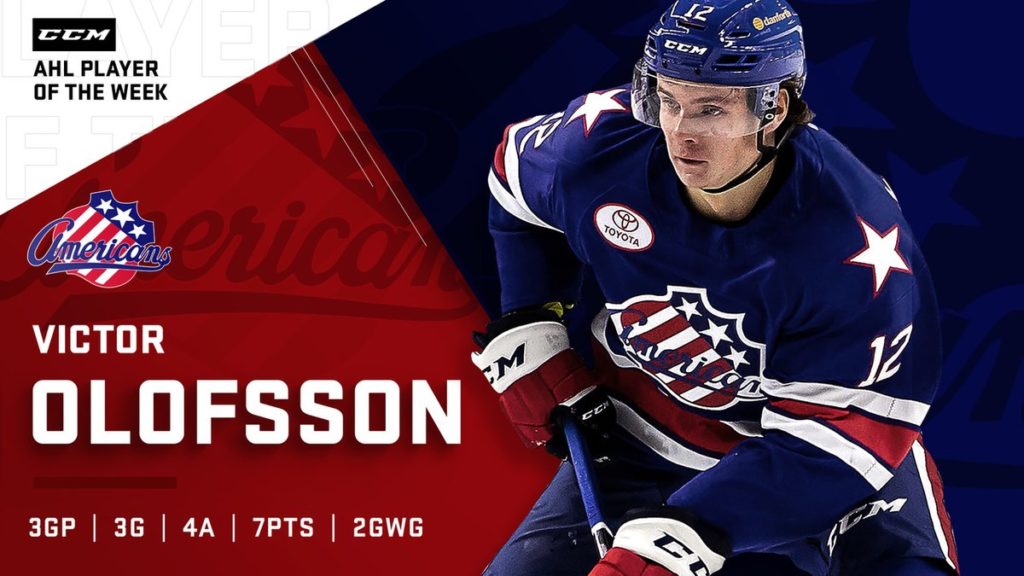 One of the first things he said that has stood out so far playing in this league is that it's obviously a lot tighter and you don't have much time with the puck.
"The game itself is I would say you go more straight forward here," he said. "Maybe a little but more puck possession than back in Sweden which i'm used to. There's a little bit more just take the puck straight forward sweep it in, sweep it out." Compared to Sweden he said, "if you don't have anything you might take the puck back, regroup and go back up the ice again. That's probably the biggest difference."
Asked about the physical style of play in the American league he shrugged it off as just coming with the smaller ice surface and that he's prepared for it. He hasn't hesitated skating up the ice, through other players or challenging for pucks along the boards.
Danny O'Regan has skated on a line with Olofsson through each of the five games and when asked if it takes some time to build chemistry he replied with, "There's always a little bit of a feel out process but i think it's been pretty quick with both him and Aspy (Rasmus Asplund), they're very easy to play with. Unselfish players and they're smart and know the game well. With guys like that it's pretty easy to mesh with it."
Chris Taylor talked about what he's thought of Olofsson so far saying, "I think he's doing a good job. It's a totally different league than what he's used to. He's finding the net right now but there's some things he needs to improve on. Some wall play and trying to get inside of players. We're doing video with him everyday and trying to get him better. We're trying to get him to a place that he feels a lot more comfortable on the ice."
"I don't think anyone has seen his speed as of yet right now because i think he's still a little hesitant on what he can do," Taylor added. "That will come with confidence."
Olofsson said the feedback from the coaches so far has been to just try to take as many pucks as he can to the net along with find some loose pucks and rebounds. "I'm starting to feel pretty good," he said. The advice he's been given so far from coaches and management to make the next step in reaching the NHL is to keep working on playing on the inside, get to the net as much as possible and find open ice to shoot.
It's still early but the last time Rochester saw a player emerge like this as a natural goal scorer with a shot like this was Dixon Ward during the Amerks 1995/1996 Calder Cup winning season. Ward finished the regular season with 38 goals and 56 assists in 71 games. In 19 playoff games Ward had finished with 11 goals and 24 assists.
"He has a great shot obviously but we just don't want him to just be known as a guy that has a good shot," Chris Taylor said when I asked about it. "We want him to have all aspects of his game. His skating, drive pucks hard and even his passing. He's a good passer and those guys with great shots need to learn how to pass the puck even better because now everyone focuses on them and then someone else can be open."
Passing the puck came natural over the weekend with two assists. A secondary assist sending the puck up the wall to Guhle who setup Redmond along with faking this shot below to setup Alex Nylander with a one timer.
Pass pass shoot!! Nylander tied it up 3-3. pic.twitter.com/eHOSORRorS

— Let's Go Amerks (@LetsGoAmerks) October 13, 2018
Olofsson was pretty modest when asked about his shot. He said it's something that has been a little bit of natural ability along with practice. Practice that included broken windows and a beat up garage door as a kid. I asked him if he'd buy his parents a new garage door with his first NHL paycheck and he laughed saying maybe.
Sniping a puck with a back handed shot isn't easy but Olofsson made it look easy on Saturday afternoon.
Game winner for #Goalofsson for the #Amerks come back win. pic.twitter.com/U6hNKW5kc1
— Let's Go Amerks (@LetsGoAmerks) October 13, 2018
Olofsson scored this shot bar down after skating through three Sound Tigers players in overtime on Sunday.
Closer look as @vickeo goes through three players and pulls off that shot. Wow! pic.twitter.com/MO8y0TbHfX

— Let's Go Amerks (@LetsGoAmerks) October 14, 2018
Second year forward CJ Smith had some excitement when asked what he thought of Olofsson shooting the puck. He said, "I don't even know how to describe his release, it's incredible. I don't know how you shoot the puck like that. He'll learn how to find some time and space and when he does I think he's going to be a pretty lethal scorer out there."
Line mate Danny O'Regan said, "If i see him open in the slot i'm definitely going to pass it to him."
Teams scout the opposition and after back to back game winning goals, three straight games with a goal and three straight multiple point games it's safe to say that Victor Olofsson has moved right to the top of players to watch for in the American league.
Olofsson has been through five development camps with the Sabres and even though those are in Buffalo he feels familiar with the region. Off the ice Olofsson said that it's not much different than what he's used to. Work hard in the gym, a lot of time playing Fortnite with friends and teammates, music (rap and country) and in terms of favorite hockey movie the choice is Youngblood. He's only been in Rochester for a short time but wasn't familiar with what a garbage plate is. Like most new people to Rochester there was little interest after having it described.
For anyone reading that isn't familiar with the Rochester delicacy known as a garbage plate it's a plate with the most common ingredients being home fries, macaroni salad, two cheeseburgers and topped with a unique meat hot sauce, mustard and onions.
Linus Ullmark lived in Rochester for three years and never ate one. We won't blame Olofsson if he doesn't either.