Welcome to a new series I have planned through the rest of the season in which I'll highlight the last five games (the last segment will be six games) showing off the stats, standings, highlights, transactions and whatever else took place prior to the next five games. The goal is to post these the day of the next game of a five game set. There'll be an evolution to all of this especially in the way stats are presented. A little different than a weekly format to give us a better snapshot of trends as the season goes.
After starting the season with two depressing losses the Amerks are on a three game winning streak, the last two wins were third period comebacks. Victor Olofsson was named the AHL/CCM Hockey Player of the Week for his outstanding performance with 3G+5A including two game winning goals. The team was all over the place in the first two games and since then has played as a team and it's showing by the results.
Articles (that aren't game recaps) in case you missed them
Wins and Losses – Games 1-5
Leaders in the last five
Victor Olofsson (3G+5A)
Lawrence Pilut (2G+5A)
Zach Redmond (2G+5A)
Alex Nylander (1G+4A)
CJ Smith (3G+1A)
More than Just Points
Victor Olofsson had been hyped as a player with a wicked shot and in the last three games he has delivered. He also showed off a quick pass to Alex Nylander for a five on three power play goal.
Lawrence Pilut started the first period of the first game of the season all over the ice, not in a good way, but ever since then he's showed off why he was the best defenseman last season in the SHL over in Sweden. Chris Taylor compared him to Nicklas Lidstrom the way he can use his stick to make plays and isn't relying on a physical game with body on body.
Adam Wilcox has two of the three team wins with Scott Wedgewood getting an unfair deal having ten goals scored against (he didn't have much help) in the two losses. The two goalies have played well and received help the last three games compared to the first two.
Andrew MacWilliam returned to the lineup after sitting out the first two games with a carry over suspension from the 2017/2018 season. The team seems to play a better defensive game when he's in the lineup compared to when he isn't.
Alex Nylander has looked like an improved hockey player through only five games. He's made mistakes (so has everyone else) but he's also making plays and winning puck battles that he would have backed away from the last two seasons. He's a third year player who should just be entering his rookie season in the league.
Goals and Shots
Pretty simple. Score more than the other team in the third period and you'll probably win hockey games. That's what the Amerks did in the last three games and they earned their first three wins of the season.

There's one thing that stands out by shot counts by period and that's the third period of game two vs Charlotte when they had 20 shots in the third period. In that period they only allowed six shots as well. There wasn't anything positive one could really say about the first game of the season but by the third period of game two they were looking like a different hockey team and it carried over into the next three games.
Again, I'll figure out a better way to present these stats and also make it easier to know by line which game the stat is from.
Special Teams
Power play is ranked 4th in the league at 31.8%
Penalty kill is ranked 24th overall in the league at 72.7%
Lawrence Pilut and Zach Redmond have two power play goals each. CJ Smith scored a short handed goal.
Syracuse had eight power play chances in game three and the Amerks were successful when they needed it in the second and third periods. One of the many things that has fueled this team in three straight wins has been timely power play goals when they needed them and then successful penalty kills at crucial parts of a game. Late in the third period in the fourth game against Bridgeport they were able to kill off a five on three when the game was tied 3-3.
PP and PK in games 1-5 by period:

Standings
Heading into the sixth game of the season the Amerks are in a four way tie for first place along with Binghamton, Utica and Cleveland. Just a reminder that Syracuse started last season near the bottom of the league before coming on strong and finishing second in the division.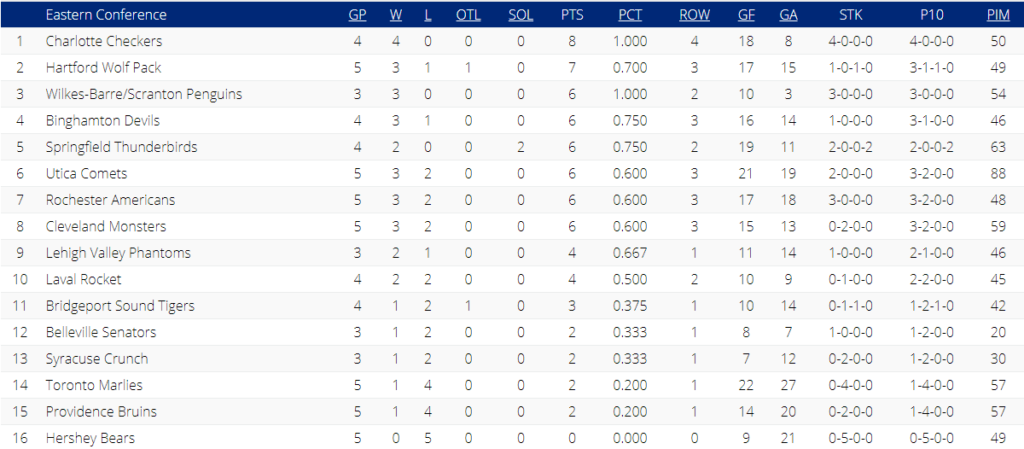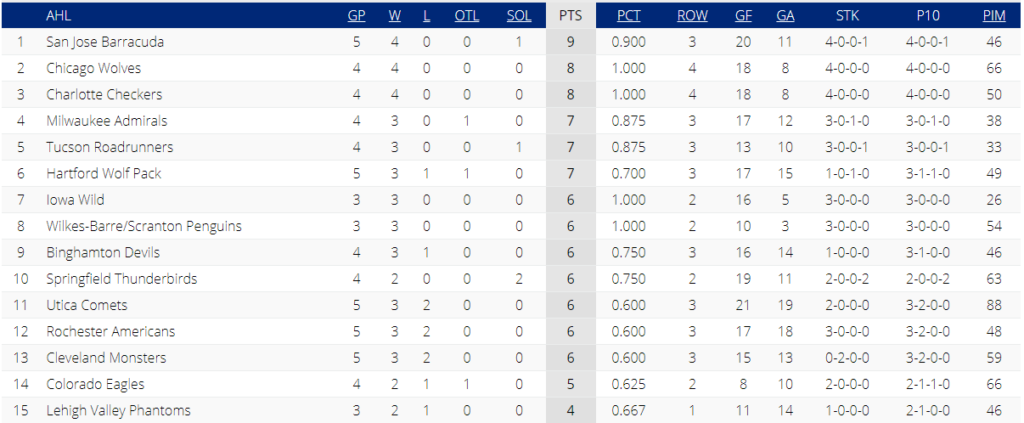 Highlight Goal
Rochester was down 2-1 going into the third period on Sunday October 14 at Bridgeport. Zach Redmond scored 60 seconds into the third period. Victor Olofsson skated through three Sound Tigers players to win the game in overtime. It was his second game winning goal in as many games.
The Next Five – Games 6-10
The defending Calder Cup champion Toronto Marlies are off to a rough start with only one win in five games. Their only win was a 7-3 game vs Utica to start the season. Since then they've had losses to Binghamton, Cleveland and back to back games vs Utica. Since opening night Utica has only lost one other game and that was a one goal game vs a quality Charlotte Checkers team. With 10 points on the line versus divisional opponents in the next five games there's a lot on the line early in the season. These games will be a great indicator on how teams match up within the division.
Wednesday 10/17/2018 at Utica Comets 7:00pm
Friday 10/19/2018 vs Toronto Marlies 7:05pm
Saturday 10/20/2018 at Belleville 7:00pm
Friday 10/26/2018 vs Utica Comets 7:05pm
Saturday 10/27/2018 vs Laval Rocket 7:05pm
Injuries
Myles Powell – Unknown – day to day
Andrew Oglevie – Unknown – day to day – Only played the first period on 10/13, didn't play on 10/14.
Jack Dougherty – Lower body – day to day – Believed to have blocked a shot on Wednesday October 10 vs Syracuse.
Sean Malone – Knee – six weeks (late October) – Occurred late in the second period of the Sabres preseason game vs Columbus on Sept 17. Expected to return at the end of October.
Transactions
Matt Tennyson was assigned to Rochester on 10/15/2018
Highlight Videos
This series will be a work in progress as the season goes on and I manage to prevent stats in a better way. For now it's a simple glimpse into the last five games and we'll use it as comparisons going forward.