It was only a matter of time before the abundance of Swedish players on the roster would lead the team to a win and that's what happened on Wednesday night.
Jonas Johansson (third star) had 25 saves in his first win of the season with Rochester, Rasmus Asplund (second star) had three assists, and Victor Olofsson (first star) scored the first goal of the game with his stellar shot. Alex Nylander had an assist as well and continued his streak of playing a great two-way game.
From Tuesday: Alex Nylander is Playing a Confident Game this Season
The power play was held without a goal for the fourth straight game, which now makes it 3/45 in the last 13 games, but the team made up for it with five goals scored by five different players and seven players tallying assists in the game.
Getting back to a team effort and relying on the details that brought them success to start the season was the talk of practice this week and it paid off in the win.
"I liked how we started tonight. We were ready to play and we took it to them right away. It was evident we were ready to play and we were committed to the game plan," Chris Taylor said after the game. Asked if it was a matter of the team caring and working for each other more than the last couple of games he said, "we did some right things out there and executed."
"We started simple and stuck to the game plan," Andrew MacWilliam said after the game. "Just getting pucks behind their defense, forechecking hard, forwards did a great job tracking back and when we play like that we're a good hockey club and it's fun to watch."
Andrew MacWilliam scored what would turn out to be the game winning goal, only the fifth goal of his career through 323 professional games. He ended a drought of 137 games without a goal. He's also not relied on to score goals, he's a pure defensive defenseman. There appeared to be a slow whistle after the goal was scored and MacWilliam joked, "maybe because it's been so long and they were confused?"
A shot from the point appeared to bounce off of two different Utica Comets players and into the net. Assists to Rasmus Asplund and Victor Olofsson who had worked the puck around the boards to the point.
Rasmus Asplund has played great hockey all season contributing in games but the points haven't been there. That work paid off on Wednesday night with three assists. A pass to Olofsson at the hash marks, won a puck battle along the wall getting a pass to Andrew MacWilliam, and won another battle with 15 seconds left to clear the puck out of the zone and Wayne Simpson scored an empty netter.
The Comets took notice of the way Asplund was playing and were all over him every shift. Asked about that he said, "I didn't notice that at all, I just played my game and tried to play the way I should out there."
In the first 19 seconds of the third period Asplund was on the receiving end of a big hit from Zack MacEwen, Andrew MacWilliam took exception to that and immediately stepped in to drop the gloves. A sign of teammates taking care of each other.
"I thought that was Asplunds best game of the year," Chris Taylor said when asked about him. "I thought he was in guys hands all the time, I thought he was on the puck all the time, he was touching the puck first, he was just everywhere tonight."
ICYMI from November: One Point isn't Good Enough but Asplund is Still Playing Great Hockey
"Sometimes you have a great game and you get no points and you feel like did I really help the team tonight? He got rewarded for his play tonight," Taylor added. "The same with Tennyson, he's played well for us all year and even last year when he came down I thought he played really well, just didn't get rewarded with points."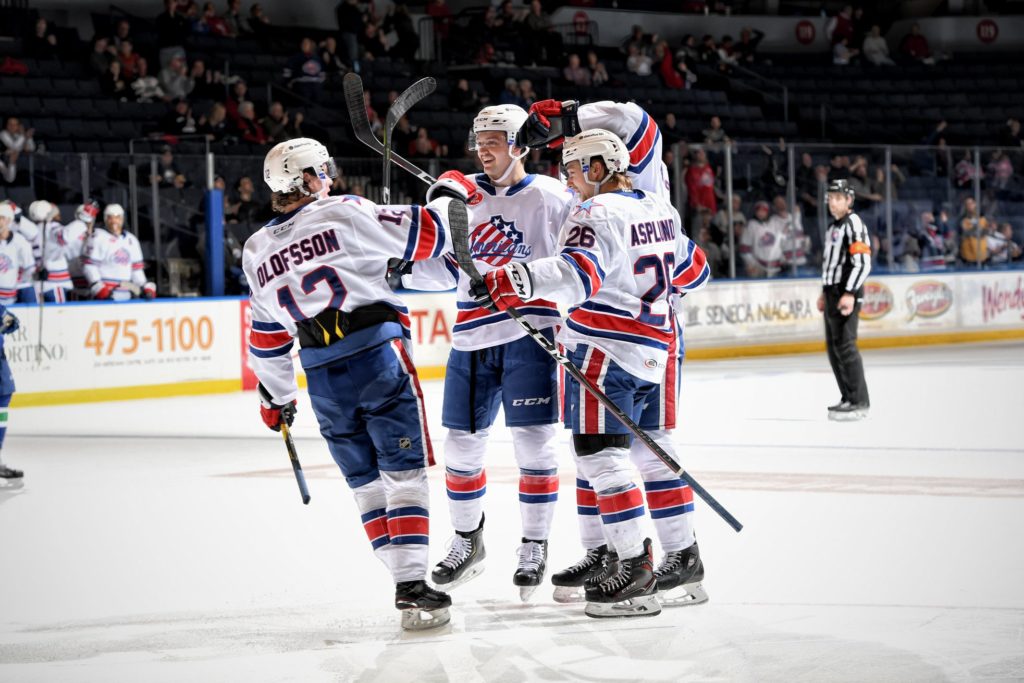 Matt Tennyson almost had a classic Gordie Howe hat trick (goal, assist, and fight). Alex Nylander sent a pass to the middle of the ice that may have been intended for Sean Malone but it went off of Malones skate to Tennyson who shot the one timer. Tennyson had an assist on the last goal of the game working the puck up the boards to Asplund. He also had a roughing penalty for mixing it up with Tanner MacMaster. There weren't any actual punches thrown so the refs handed out roughing calls.
Jonas Johansson was called up this week and was ready to play. In 12 appears with Cincinnati this season he had a record of 7-3-1 with a .912 SV% and 2.49 GAA.
"I'm not sending a message, definitely not," Taylor said when asked if this was sending a message to the other goalies. "Decision in the organization that we wanted to see Jonas come up because he's played well and he's a big part of our organization and we wanted to give him a game."
After the game Johansson said, "I was a little nervous before, it's a big deal coming up here for me. This is where I want to be. I tried to stay calm throughout the game." when asked if he was surprised about the move he added, "I tried to stay ready if it would happen. I don't want to say I was surprised by it but I wasn't really expecting it either."
All 18 skaters contributed in some way playing in the defensive zone which helped limit the Comets scoring chances. Watching Johansson as plays developed it was interesting to see him use his height as an advantage. Asked about that he said, "If you are a tall goalie you can use it as your advantage, instead of looking through the seems you can look above the seems. If you can do that it's on your plus side."
The decision will be made on Thursday about the goalie situation and what the next step is.
Things got a little tense with just under six minutes to go in the game when Utica pulled goalie Thatcher Demko when they were still down 3-0. Four goals over the last 4:14 of the game changed the atmosphere in the building from this is a win to the Comets having a chance. Utica scored twice, Rochester scored twice.
Reid Boucher found some open space and sniped a shot by Johansson. Only 22 seconds later Wayne Simpson spotted CJ Smith wide open in the neutral zone to take off for an empty net goal. Jonathan Dahlen scored 68 seconds later with 2:44 left in the game as the Amerks were scrambling defensively. Wayne Simpson scored a short handed empty net goal with 11 seconds left in the game to end the late game scoring.
Amerks have won three of the last four games and will have an opportunity to continue the pace with a home game Friday vs Springfield and then on the road in Syracuse on Saturday night.
Here's the goal scoring in tweets as they happened: