A familiar name to Buffalo Sabres fans made sure his name was repeated after every Cleveland Monsters goal which carried his team to a 4-3 shootout win Friday night in Rochester. Gerbe had a primary assist on all three regulation goals and then scored the only shootout goal.
The game had the chances to be a Friday night highlight reel for the home team after Dalton Smith scored the first goal for Rochester and then later in the second period a big fight featuring Will Borgen. Andrew Hammond made some great plays but those three things weren't close to being enough to win.
Losing Rasmus Asplund to an upper body injury (shot off his right arm) two minutes into the game was a factor but not the reason the team lost. Gord Dineen said that Asplund had x-rays after the injury and was held out as a precaution. A trusted fan said they spoke to Asplund after the game mentioned that he's day to day, no trouble spotted on the x-rays.
"I think it's going to be a lot like that all year long certainly within our division," Gord Dineen said when asked about the third overtime game in five games played. "Everybody is really tight top to bottom as far as the level of play and special teams are a huge part of it. Their special teams were the difference tonight in getting the extra point."
"The biggest difference is the special teams, we have to make sure those are executed for us because those are going to find us ways to win games."
The two teams traded goals twice in the second period before Scott Wilson put the Amerks ahead 3-2. A Monsters power play goal late in the third tied the game and they went on to win in the shootout.
Defensively the team continues to show it has the tools necessary to win but the two losses in five games have been the result of third period goals against. Three out of five games going into overtime is another sign games are closer than anyone wants. Is it chemistry? Is it the lack of natural goal scorers? A little bit of both. Missing Curtis Lazar for a second game in a row doesn't help with attempting to build chemistry. JS Dea and Scott Wilson are off to a good start, now they need others to follow on a nightly basis. The team needs a finisher.
First Period
A defensive game of sticks on sticks though much of the first period. The refs called five penalties (3 on Rochester, 2 on Cleveland) which had an impact on the flow of the period.
The biggest concern from the start of the game was Rasmus Asplund blocking a shot two minutes into the game and leaving the ice holding his right arm. He didn't return by the end of the period.
It took Cleveland 15:45 to record their first shot on net.
Second Period
Rasmus Asplund did not return for the second period and would miss the rest of the game.
Cleveland scored the first goal of the game when Stefan Matteau redirected a shot by Nathan Gerbe in front of the net at 2:11 of the second.
Rochester responded 25 seconds later with a goal by Dalton Smith to tie the game. Casey Nelson took the shot from the point and Dalton Smith got a stick on it. It was originally credited to Casey Nelson.
Kevin Stenlund put the Monsters back in the lead at 9:11 of the second with a back hand over the right shoulder of Hammond.
Rochester tied the game right back up again with a goal 67 seconds later by JS Dea. Zach Redmond sent a pass from the opposite side of the ice across the center to JS Dea who finished the play to tie the game 2-2.
Just over two minutes later JS Dea earned another point by winning a face off to get an assist on the first goal of the season for Scott Wilson. Rochester took a 3-2 lead off the goal.
Marko Dano went for a big hit on CJ Smith late in the 2nd period and the team quickly responded. Kevin Porter was first to go after Dano before Will Borgen pushed him aside and took care of business.
Third Period
Special teams was the difference in the third period. Rochester had a power play chance but without being able to score they opened the door for the Monsters to have a crack at it. The referee's had the whistles out for both teams equally so it was only a matter of time.
Stefan Matteau scored his second of the game off a shot that Hammond never saw coming. Just before the goal the Monsters entered the Amerks zone with ease and without being touched.
Rochester had another power play chance after Calvin Thurkauf punched Lawrence Pilut on the face. "To be honest I just try to play game and if that means guys get on me that's how it is sometimes," Pilut said when asked if he had a magnet on him for taking shots like that. "I don't think I'm trying to do that all the time."
But the story remained the same, couldn't score to take the lead again.
Tage Thompson had a monster shift with just under four minutes left and took a beating. Lost his balance and went into the boards hard. Got up, returned to the front of the net, had a tip that went wide, wasn't able to get out of the way of a shot, and then after the whistle took a cross check. He went to the box for roughing along with Gabriel Carlsson of the Monsters.
Third period shot locations: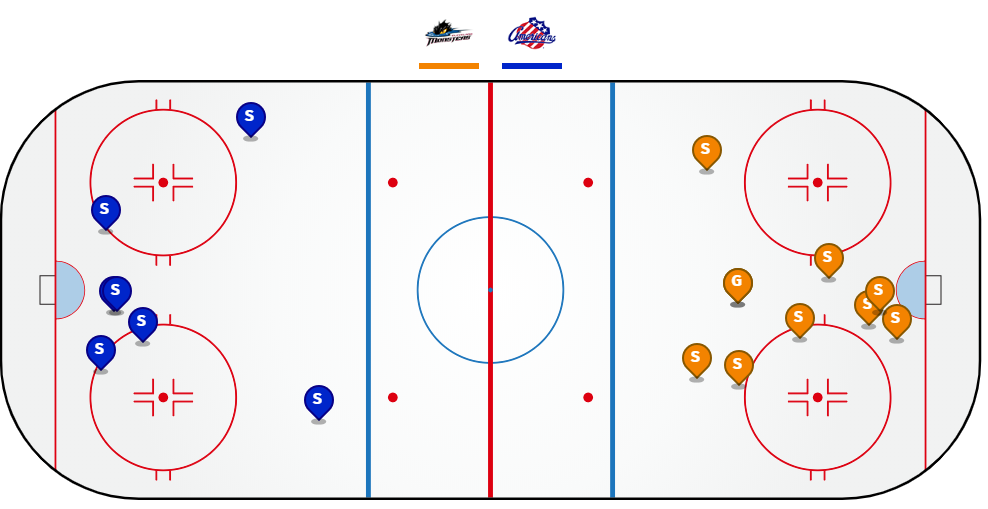 Overtime/Shootout
Rochester controlled the chances in the five minute three on three overtime but they couldn't find a way to beat Matiss Kivlenieks. Scott Wilson had a breakaway chance but was called off sides.
Nathan Gerbe was the only player to score in the shootout and won the game for the Monsters.
Rochester had Tage Thompson, JS Dea, and CJ Smith with attempts.
Overtime shot locations: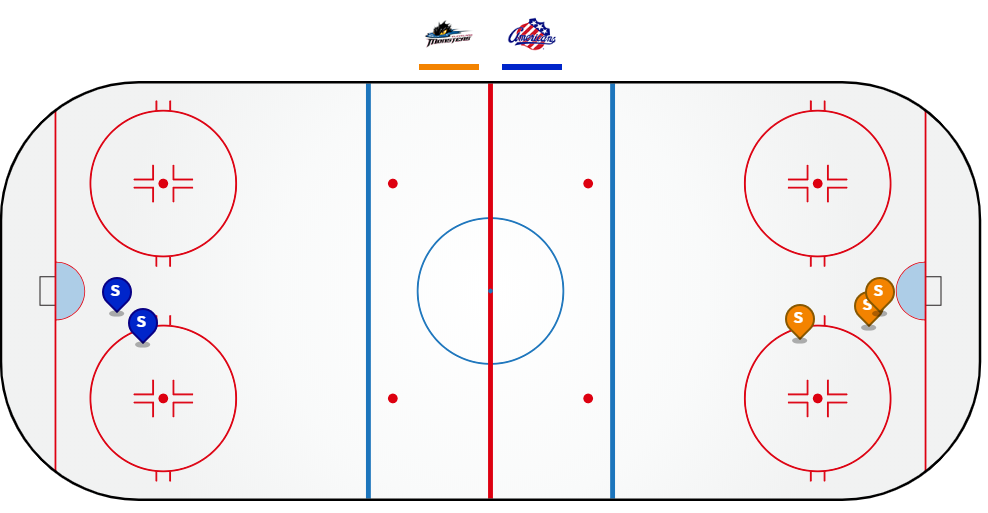 Entire game shot locations: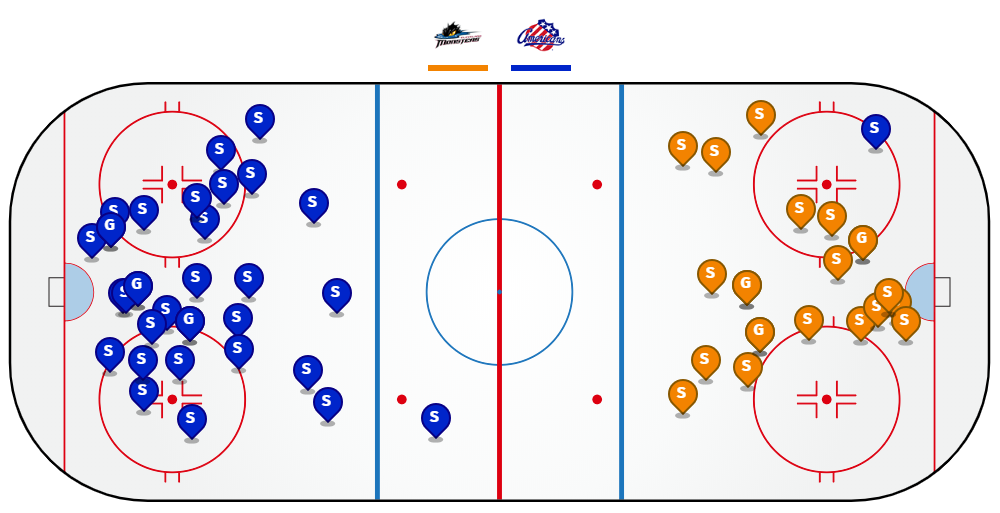 Final Thoughts
There's only been five games played but it's already feeling a bit like the 2017/2018 season when the Amerks featured strong goaltending but had trouble scoring, holding leads, and building leads. That resulted in a tying a league record for most games played in overtime at 29. That season featured Linus Ullmark in net, this year it's Andrew Hammond.
Special teams was a difference tonight with Cleveland scoring the only power play goal which was the game tying goal. Rochester had six power play chances but fell short on all of them. The Amerks went 1/5 on the penalty kill. As of late Friday night the Amerks power play is 24th in the league and the penalty kill is 22nd.
Lawrence Pilut played in his first game after six months off and he said he felt good but a little rusty. After six months off he said it was just a lot to clean up with speed and angle work.
With the return of Pilut it meant that Casey Fitzgerald and Brandon Hickey were healthy scratches along with Nathan Paetsch.
Saturday night the Amerks travel to face the Utica Comets, one of only five teams still undefeated in the league. Friday night the Comets knocked off the Charlotte Checkers with a 8-2 win. Justin Bailey scored two goals in that game and now has four goals in four games this season with the Comets.
Starting Lines
Elie, Asplund, Thompson
CJ, Porter, Cornel
Wilson, Dea, Oglevie
DSmith, Burton, Malone
Pilut, Borgen
MacWilliam, Nelson
Bryson, Redmond
Hammond
Scratched: Lazar (traveling), Hickey, Randell, Murray, Paetsch, Fitzgerald
Injured: Ukko-Pekka Luukonen, Taylor Leier.
Box Score
Cleveland Monsters 4 (SO) at Rochester Americans 3 – Status: Final SO
Friday, October 18, 2019 – Blue Cross Arena
Cleveland 0 2 1 0 – 4
Rochester 0 3 0 0 – 3
1st Period- No Scoring.Penalties-Bryson Roc (hooking), 2:00; Redmond Roc (slashing), 7:34; Dano Cle (tripping), 8:31; Matteau Cle (boarding), 10:58; Borgen Roc (interference), 13:46.
2nd Period-1, Cleveland, Matteau 2 (Gerbe, Clendening), 2:11. 2, Rochester, D. Smith 1 (Nelson, MacWilliam), 2:36. 3, Cleveland, Stenlund 1 (Gerbe), 9:11. 4, Rochester, Dea 2 (Redmond, Wilson), 10:17. 5, Rochester, Wilson 1 (Dea), 12:24. Penalties-MacInnis Cle (high-sticking), 5:59; Dano Cle (fighting), 14:24; Borgen Roc (instigating, fighting, misconduct – instigating), 14:24; Stenlund Cle (slashing), 19:13.
3rd Period-6, Cleveland, Matteau 3 (Gerbe), 14:29 (PP). Penalties-Stenlund Cle (slashing), 7:27; MacWilliam Roc (hooking), 12:37; Thurkauf Cle (roughing), 15:28; Carlsson Cle (roughing), 16:39; Thompson Roc (roughing), 16:39.
OT Period- No Scoring.Penalties-No Penalties
Shootout – Cleveland 1 (Gerbe G, Dalpe NG), Rochester 0 (Thompson NG, Dea NG, Smith NG).
Shots on Goal-Cleveland 2-8-6-3-1-20. Rochester 7-17-5-2-0-31.
Power Play Opportunities-Cleveland 1 / 5; Rochester 0 / 6.
Goalies-Cleveland, Kivlenieks 2-1-0 (31 shots-28 saves). Rochester, Hammond 3-0-1 (19 shots-16 saves).
A-3,070
Referees-Brandon Biggers (33), Alex Ross (7).
Linesmen-Neil Frederickson (68), Tory Carissimo (54).