The Rochester Americans were successful last weekend with two wins along with two perfect nights on the penalty kill. Unfortunately Saturday night struck and they also lost two key players to injuries. The team has only played 12 out of 76 games so it's a good time to take a look at some stats, standings, and get a big update out of the way. Considering it was a quiet week this could've been broken up into five different articles but happy Friday, it's all in one.
Was the schedule planned this way or did it just work out this way?
The Buffalo Sabres are in Sweden and they brought along goalie Andrew Hammond and defenseman Lawrence Pilut as extra players. Losing two key players can be a reason for concern in the American League but in this case there isn't any. The Amerks last played Saturday night in Utica and only have one game this weekend, at home Friday night. They won't play again until Wednesday on home ice. That's two games in 11 days, a nice break at this time of the season.
I asked Gord Dineen if it was planned this way, "I don't know but now that you're in the moment and you see that it's pretty good that they had the foresight if that was the plan to only have one game while the team was in Sweden."
A second game wouldn't have been the biggest deal but it's certainly worked out with injuries to some key players leaving the offense with only 12 healthy forwards as of Thursday morning practice.
Injury Updates
CJ Smith is out 4-6 weeks with a lower body injury. Within the first three minutes of the game vs Utica he took a hit along the boards and had to be helped off the ice. If you want to see the play you can see the tweet here.
Zach Redmond is out week to week with a lower body injury as well. Redmond didn't play after the first period in Utica and hasn't practiced this week.
Remi Elie is day to day with an upper body injury. Elie played both games this past weekend but hasn't been a part of practice this week. Dineen stated it's maintenance to make sure he's better for the long term.
Dalton Smith is day to day with an upper body injury. He left practice early two weeks ago and hasn't been on the ice since with the team.
There's a page for these. Click Injuries at the top menu which is updated regularly.
One Extra Healthy Skater
Heading into the game Friday night this means that the team only has one extra healthy player. There's 12 forwards, seven defensemen, and two goalies. Good news for Sean Malone after being a healthy scratch for two games last weekend. Also good news for Tyler Randell who'll likely play in only his second game of the season.
The team will have another four days off between games which will either allow some to return to health or find a need to bring in a reinforcement from Cincinnati. A light schedule is in there favor for now.
Did you know there's a roster page on this site? Click Roster in the top menu to view the current status of players. You can also sort by contract and veteran status.
Taylor Leier is Back in Rochester
Leier returned to team practices in a no contact jersey for the first time this week in Rochester. He had been skating on his own with the rehab staff. Leier had to have labrum (shoulder) surgery back in June and the original time frame was close to mid season.
"It's been a long summer. I've dedicate it to getting better and getting back with the guys and that's why I came back to early to be around them and enjoy the process with them. Get the team camaraderie back,"Leier said after practice this week.
When asked how close to returning Leier said, "That's not my place to tell but everyday is an inch closer."
Leier was acquired from the Philadelphia Flyers last season in exchange for Justin Bailey. Leier tallied 42 points (22G+20A) in 69 games split between Rochester and Lehigh Valley last season. Given a full season he's a guaranteed 20 goal scorer in the American League.
If he had been healthy going into free agency he likely would've earned a two-way NHL contract. Because of the surgery he's on an AHL deal. That doesn't mean his chances of making it back to the NHL are over. Play healthy, prove himself, and there'll be an opportunity.
"I'm very thankful for the deal that I got," Leier said. "I didn't really know what was going to happen. You never know with a major surgery and I was a free agent. It sucked. It couldn't have been worse timing. I'm thankful for this team and Randy (Sexton, Buffalo Sabres Assistant General Manager) gave me an opportunity to play."
The Ukko-Pekka Luukkonen Plan
A plan exists but it's not being disclosed. When Jason Botterill had mentioned on WGR 550 that Luukkonen would be joining Cincinnati to play it was announced earlier than expected. The General Manager can obviously say what he wants whenever he wants
Luukkonen said he isn't sure what the plan is when asked directly. Gord Dineen said there is a plan but he wasn't able to divulge what that is.
"We're just making sure he's going to be set for the long term," Dineen said about when talking about Luukkonen. "We're just making sure that he gets back to a physical level where he needs to be."
The original time frame for Luukkonen to be healthy was by American Thanksgiving, which is three weeks away. There's a chance he could go back to Cincinnati when Hammond is back from Sweden.
North Division standings are close
It's real early in the season but after 12 games played it's worth taking a glance at the standings. The North Division is as expected and also close. Perception may feel like the Amerks haven't had success but they're doing what's needed to be a competitive team and remain a top team. Like the Buffalo Bills, the wins might not be pretty but wins are wins.

5v5 Scoring, Shots, Averages and Special Teams
Here's some stats about goal scoring, special teams, and out shooting opponents through 12 games.
Everything is positive until it comes to special teams. The numbers speak for themselves. Too many goals allowed on the penalty kill along with a struggling power play, especially on home ice. The penalty kill was perfect the last two games which is a step in the right direction. Remi Elie could be a potential difference maker on the penalty kill. Elie has played eight games and the penalty kill was 85.7%. In the four games that Elie hasn't played the penalty kill was 53.3%. It's a small sample size but the gap is big enough to spot a potential difference maker.
Rochester has outscored opponents 32-18 playing five on five. Scoring five on five should be harder than having an extra man advantage (stating the obvious) but the power play hasn't been clicking. There's still 64 games to play, a lot of time to work on that. It's a better trend than relying on the power play to win and struggling to score even strength.
The power play is ranked 28th in the league and the penalty kill is ranked 29th. Ouch.
Rochester on average is out shooting other teams 35-28. Are they quality shots? Not all the time but this is now the third season the team has focused on shooting the puck and getting those extra chances which they have done.
Here's all the numbers just mentioned.

In a stat filled world rectangles with numbers are boring looking. I'll work on future updates with fancier looking pie charts.
Last Season vs This Season
Comparing year over year can be tough in the American League with so much roster turnover but it can also be good to refresh the memory when things feel a little bleaker than the year before.

Last season vs this season at this point the only difference is the power play. Players like Zach Redmond, Lawrence Pilut, and Victor Olofsson were clicking on every chance making a difference. That production has vanished (for now).
The charts that these stats are from will be available for everyone to see by early next week. All of the info is public but not in an easy to view way related just to the Rochester Americans.
Leading Scorers
Did anyone predict that Casey Nelson would be top five in scoring on this team? Highly doubtful. Tage Thompson leading the team was to be expected. The 14th points for Thompson currently have him tied for 11th overall in the league.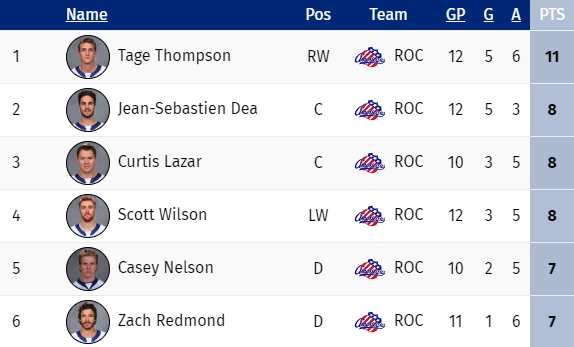 Two high scoring games out of the 12 played have helped everyone's stats, including the team average for goals scored. Rochester has had a 7-6 win over Syracuse and also a 6-0 win over Utica.
There's also six players tied with six points each.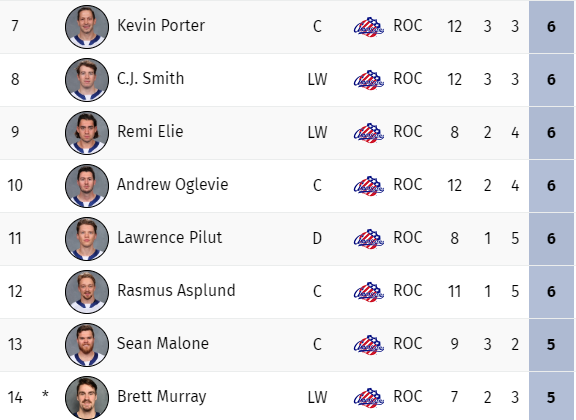 Is there a scoring problem? It's still too early to say. The team may not be as explosive like last season but the numbers prove that the results are similar.
Whats Next
Andrew Hammond and Lawrence Pilut will return once the Sabres are back from Sweden. The game Wednesday night will be against rival Syracuse Crunch.
Overall the month of November features nine out of 10 games against North Division opponents. A big chance early in the season to build some necessary points in what will be a close division all season.