The storyline is continuing for another season – the Rochester Americans and Toronto Marlies battle for the top of the North Division. Tonight is the first of six regular season games between the two teams. Last season the Amerks finished with a 5-1-0-0 record during the regular season against Toronto before being swept by them in the first round of the playoffs.
As we reach the end of the first quarter of the season Toronto is currently sitting in first place of the North Division with a record of 13-2-2-1 (29 points) and Rochester is in second place at 12-3-1-2 (27 points). Both teams are on a hot streak over the past 10 games – Toronto is 7-2-0-1 and Rochester is 7-1-1-1.
"This is going to be a good challenge for us. Not only did we lose out in kind of a tough way to them last year but they're they're also having a lot of success again this year. So for us to see them for the first time it'll be a good kind of preview of things to come and also a good way to measure where we're at," Zach Redmond said this morning. "And you know, I think that'll be at this point we'll have played everyone in our conference, maybe not Laval, but yeah, it just kind of tells the story of where things are headed and what you're going to need to do to to win The Calder."
Not only are both teams competing at a high level with similar records but they're also tied for the best five versus five teams in the league. Each time has a plus-22 goal differential when it comes to five on five scoring. Here's a chart of how all teams in the league are trending when it comes to five on five scoring.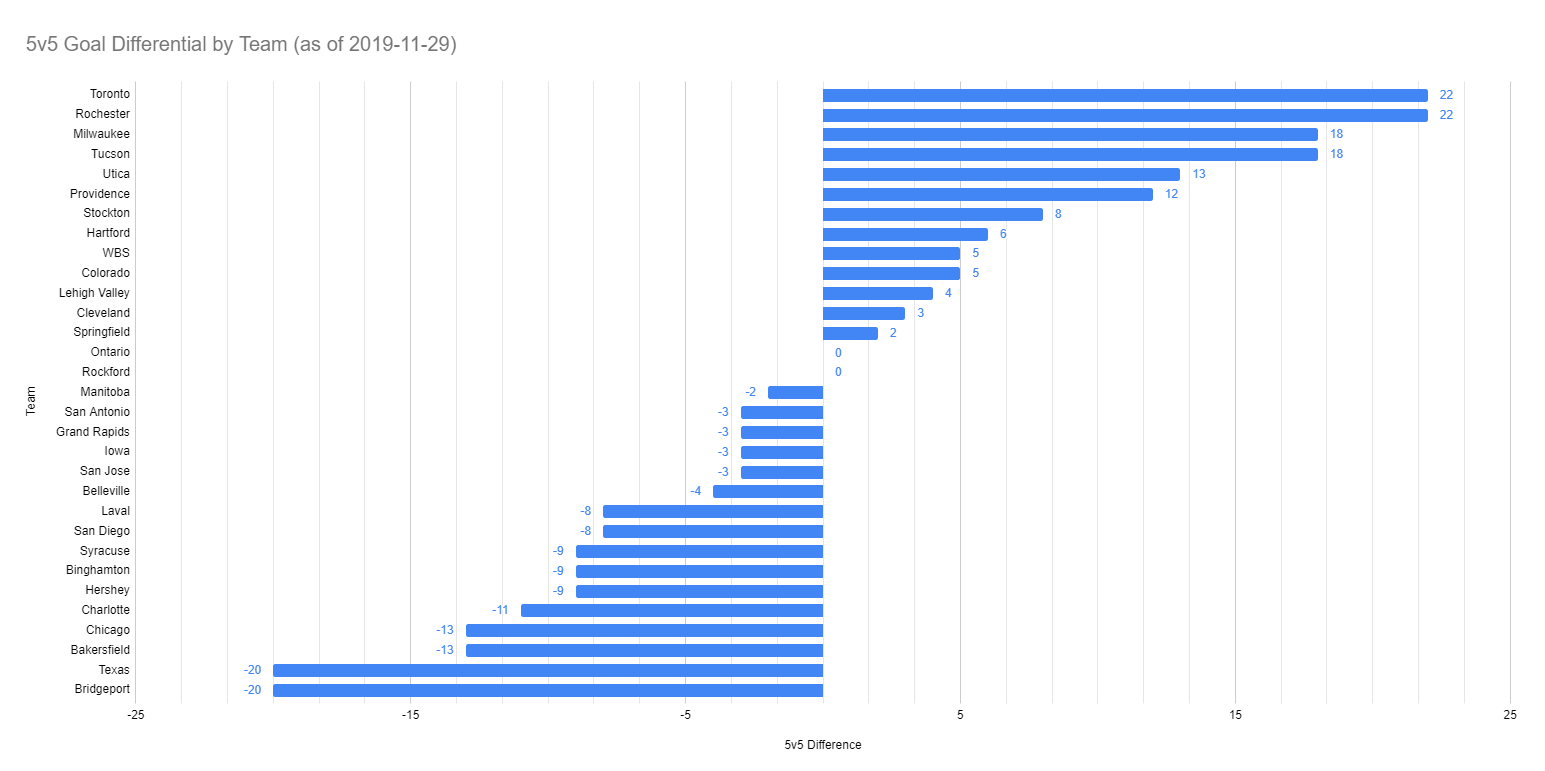 The fact that Rochester remains one of the best teams in the league while being down nine players speaks volumes not only about the depth the team has at this level but also the character of the locker room and coaching staff.
I asked Zach Redmond what it says about this team playing so well and he said, "I think I think it's really just the fact that we've been playing more simple this year. Everyone's kind of on the same page and knows what we need to do and there's not a whole lot of individualism. Everyone knows different areas of the ice in different situations what we need to do and where guys are going to be and it's really been working for us."
The simple game as it's talked about is because of a lineup that has been less than ideal. Rochester is currently without nine players due to a combination of call up and injury that was planned for the roster. That's half of a lineup.
"Yeah, I don't know that the lineups been really mattering a whole lot," Redmond said. "You know in some respects it does help us keep it more simple. So maybe it's a good thing, you know, you never want injuries but maybe it is a good thing to have learned this lesson and you know because it's because we've been depleted we have kept it more simple, and we're kind of realizing how well it works."
Chris Taylor returned to Rochester this week and tonight marks his return to the bench after a seven week visit with the Buffalo Sabres. I asked him about the five on five play and he said, "When you have great five on five it really helps out everything else and it energizes guys and it makes everybody feel part of the game. You know, if you just rely on your power play sometimes just the power play feels like they're part of the win and stuff like that but five on five its everybody and everybody has a huge part in the winning."
The team is getting contributions from every line with scoring. Here's some recent trends and streaks:
Andrew Oglevie 

has a goal in 4 straight games.

Lawrence Pilut has points in 4 straight (1G+5A).

Kevin Porter has points in 5 straight games (2G+3A).

Tyler Randell has scored three goals in his last five games.

Sean Malone has points in 8 of his last 10 games (4G+4A).

Brett Murray has points in 7 of his last 9 (1G+8A).

Eric Cornel has points in 5 of 6 (3G+2A).
Chris Taylor also made sure to mention the overall contributions of the line featuring Sean Malone, Tyler Randell, and Dalton Smith. They're applying pressure in the offensive zone generating turnovers and scoring but also able to play in the defensive zone. You'll see this line setup for face offs in every area of the ice, they're not a one dimensional line.
You aren't going to have success five on five without a strong defensive core. John Gilmour joined the team last Saturday in Binghamton and instantly contributed with an assist on the game winning goal.
Redmond briefly talked about Gilmour and the defense saying, "He's an awesome player and he's a really good guy, too. I think our D core is looking pretty good and everyone gets along too and that's the best part, you know, not not only does everyone know what their role is and know what they're doing but we have a good time back there too. So he's huge having him around."
The defensive game is a combination of leading the play up the ice but obviously in their own end. Casey Nelson is tied for fourth overall in the American League with a plus-12 and Jacob Bryson is tied for 12th overall with a plus-10. We all know that stat has had it's day but when you're leading the league it still says something. While points and +/- numbers are accumulating for some the defensive game of Will Borgen can't be overlooked either. Rochester has nine healthy defensfeman that are all capable of playing at this level.
The one big difference between the two teams is the power play. Toronto is at 21.7% and Rochester is at 12.5% for the season. There isn't much to say about that stat other than it's rough. Continue the success with winning games five on five and figure out the power play. It's a better problem to have than having to win games on the power play.
Expect Andrew Hammond to start in net tonight for Rochester. In his last four starts he has a 4-0 record along with a 0.955 SV%. That's excellent.
Rochester played their best team game of the season last Friday in a dominating 4-0 win over Hartford, another top team in the conference. Tonight will be another big test for Rochester to see where they're at by playing Toronto. Puck drops at 7:05pm.
***
Here's the current injury list as of November 29th:
Andrew MacWilliam – upper body – week to week (was day to day) – Hasn't played a game since 11/15 but has returned to skating with the team in a no contact jersey.
Jarrett Burton – lower body – 3-4 weeks – Hit on the boards late in the 2nd period 11/8 hurting his knee and didn't return. Original time frame would be a mid December return.
CJ Smith – lower body – 4-6 weeks – within the first three minutes of the game vs Utica he took a hit along the boards and had to be helped off of the ice. If you want to see the play you can see the tweet here. Original time frame would be a return by mid December.
Remi Elie – upper body – week to week (was day to day) –  played 11/1 and 11/2 but hasn't played or practiced since. Dineen had stated it's maintenance to make sure he's better for the long term. Randy Sexton mentioned 11/21 that he went out of town for treatment but no other details given.
Taylor Leier – shoulder – week to week (was indefinite – expected back mid season after off season shoulder surgery. Started skating with the team (no contact) on 11/5. Cleared for contact starting 12/3.