The good news is that the Rochester Americans have points in nine straight games and haven't lost a game in regulation since October 30th. The bad news is that they gave up points in the overtime loss to a division rival. It's not really all that bad considering the fact that Rochester played with 10 forwards and eight defensemen again.
Rochester played well but didn't score enough to win. The story of the playoffs last season repeated again. Similar situations, much different scenarios. It was a game between two of the top teams of the Eastern Conference but at least this time the season isn't over, not even close.
Pontus Aberg scored 96 seconds into overtime to give the Toronto Marlies a 3-2 win. Kasimir Kaskisuo setup a force field around his crease for the win with 33 saves.
Brett Murray scored the first goal of the game at 13:24 of the first period but was stopped by Kaskisuo on five other attempts. Murray credited Kaskisuo with the game he played and also said, "You can't get frustrated when they're not going in, you have to get frustrated when you're not getting chances. I think we had a lot today. Our line was creating a lot of opportunities, they're eventually going to start going in even more."
Credit to Casey Nelson on the first goal of the game. As Nelson carried the puck up ice during a line change he could've dumped it in from the red line but carried it into the zone and sent it around the boards. Kevin Porter picked up the puck and shot it on net, Andrew Oglevie picked up the rebound and passed it back to Porter who delivered a pass to Brett Murray in the slot.
After the game Chris Taylor said, "We had a lot of chances to win the game and we just didn't capitalize on the chances."
"We just need to be done with that one, get on the bus, and get ready for tomorrow," Kevin Porter said after the game. "It's a new day, a new game, a new team, so let's get ready for that."
Sounds like a cliche line but it's fitting after the game Friday night and isn't avoiding anything that happened. Some mistakes were made, a few avoidable penalties, but by the end of the night it was a close game that could've tilted in favor of Rochester.
Toronto tied the game at 13:18 of the second period after a turnover by John Gilmour in the defensive zone. Two quick passes and a shot by Tanner MacMaster that went into the net. Andrew Hammond didn't stand much of a chance on that one.
Scott Wilson demonstrated why it's important to always follow your shot by scoring on his own rebound at 16:53 of the second period. Zach Redmond and Sean Malone earned assists on the play.
Through 40 minutes the Amerks had a 29-18 advantage in shots and a 2-1 lead over the Marlies. Things changed in the third period. And got a little strange.
Darren Archibald scored at 8:43 of the third period but the only ones to signal it as a goal were the Marlies players. Depending where you were sitting it was clearly a goal. It would take another 88 seconds for play to stop again at which point the initial penalty to Dalton Smith had expired. Play was stopped due to a penalty called on Pascal Aquin.
What should have happened next is anyone's guess but here's how the officials ruled it at the time.
When play finally stopped the officials reviewed the play and determined it was a good goal. The play clock reset back the time the puck went into the net. Pascal Aquin also served the penalty that was called. If you follow the game clock the penalty happened at a time that didn't really happen (figure that one out).
Here's what the AHL rule book states: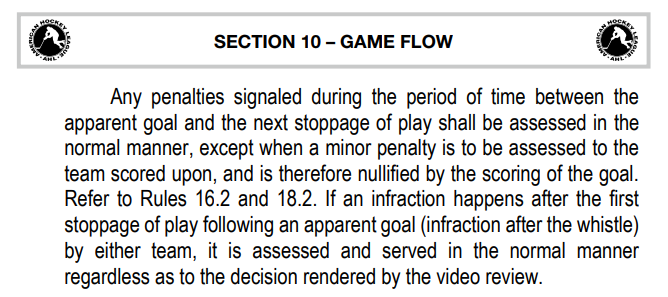 The penalty on Aquin happened after the goal was scored and before a whistle, not after. The interpretation by Rochester was that yes, it was a good goal, but they shouldn't have gone back on the penalty kill. A strange situation that'll likely be reviewed by the league. It won't change the outcome of the game but will need to be clarified.
It all could have been avoided. The hooking penalty on Dalton Smith was a textbook penalty but considering what had been going on in the game it was a weak call. Pascal Aquin just barely went through the crease of Kaskisuo which could have been avoided. Kaskisuo sold the small bump and fell to the ice. A good sell, can't blame him.
At that point the game had titled in favor of Toronto but a win wasn't out of reach.
If Brett Murray doesn't shoot wide with just under three minutes left they could have taken the lead and won.
If the linesman was in position to determine that Brett Murray was onside with two minutes left he may have scored on a quick rush.
If Kevin Porter doesn't shoot wide with 80 seconds left it could have been a game winner.
If Dalton Smith doesn't shoot just wide with 9 seconds left it could have been a game winner.
If Lawrence Pilut doesn't hit the crossbar 25 seconds into overtime it could have been a game winner.
Pontus Aberg had a scoring chance and didn't need any what if scenarios. A quick turn from the boards and shot inside the face off circle beat Hammond stick side for the win.
Andrew Hammond played another excellent game and finished with 28 saves.
"I thought we played well honestly. What they did get is what we gave them," Brett Murray said about what the team needs to do in the rematch Wednesday night.
What he's referring to by giving them is the turnovers and penalties. Avoidable situations.
Chris Taylor talked about the rematch Wednesday versus Toronto saying, "I thought we outplayed them for the majority of the game. I don't think we have to redo anything against this team. Obviously the results aren't what we wanted but I thought we did a good job. We have to stay out of the box, we were in the box too much tonight."
Nathan Paetsch explained the plan for Wednesday, "We don't change a thing."
With everything going on this Rochester Americans team hasn't lost a game in regulation since October 30th. The team is 7-0-1-1 so far in the month of November with one more game to be played Saturday night in Cleveland.
Credit to this group of players that continues to find a way. The results of this one game may not have been ideal but in the big picture of the season it's only a small bump, not a distraction or sign of the team going sideways.
****
Four players are currently putting up some points with some good scoring streaks:
Brett Murray has 10 points (2G+8A) in his last 10 games played.
Sean Malone has nine points (4G+5A) in his last nine games.
Andrew Oglevie is on a six game point streak with six points (4G+2A).
Kevin Porter is on a six game point streak with six points (2G+4A).
****
The Amerks only have 11 healthy forwards they still decided to only play 10. Shaw Boomhower was a scratch for the second game in a row. The Buffalo Sabres had a 4pm home game against Toronto and had JS Dea and Curtis Lazar as healthy scratches. There was a time when a team was down players that the parent team with an extra would send them down. Would either of those had made a different tonight? It's possible. Even though the Amerks are putting up the points the roster management hasn't been desirable. Gritty character points are fueling the season.
****
AHLTV had some streaming issues which impacted sharing gifs of late scoring plays. Here's the highlights courtesy of the Amerks.