The game on Saturday night meant absolutely nothing to the Rochester Americans.  A win against the Crunch would have been a great way to end the season with a complete sweep of the ten games between the two teams but it wasn't meant to be, the Crunch won the game 5-2.
The supposed plan was to start Alexander Salak in the game but I don't think that was ever going to happen.  Even if Tyler Plante did not get called up I think someone else would have been brought in to start in net for the Amerks.  With nothing on the line and the Crunch with a strong dislike for both goalies it was obvious that something would have happened.
Jon Mirasty spent time during the warmups chirping at Salak but Salak didn't give him the time of day.  Maybe if those players spent less time worried about trying to intimidate their opponents during warmups they'd be in the playoffs instead of scheduling locker cleanout day.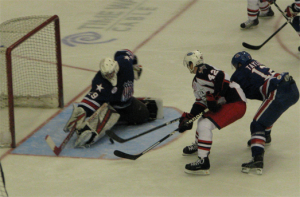 Alex Petizian was the unfortunate goaltender to get the call and make this is his first professional game.  The game will either scar him for life or give him some tough skin having to play behind an invisible defense and against a team determined to win.  Four goals were scored against him but he also made a number of great saves (including the one pictured).
At the other end of the ice Kevin Lalande won the game for the Crunch with 37 saves on the night.  Rochester had a number of great scoring chances but Lalande stopped just about all of them.
After the game I talked to Jamie Johnson and said to him 'with that game behind you' he quickly replied, "Thank God."
"It was one of those games you just want done with and one of those games that you don't want to play before  the playoffs but we did," Johnson said.  "Keeps us in shape I guess."
Late in the third period the Amerks seemed to kick things up a notch trying to get a third goal and make it a game but it just was not meant to be.  If the Amerks had a stronger defense and one of their two starting goalies it probably would have been a much different game.  In the end the game meant nothing to Rochester.
Graham Mink scored his 20th goal of the season and David Brine scored his 14th.  At one point it appeared as if the Amerks scored but one of the Crunch players pushed the net off just in time.
There were the fights as expected – view those here.  There was a number of great Crunch fans but of course many more who felt the need to open their mouths.
Everything changes from here going forward for the Amerks.  Abbotsford won their game on Saturday night so they're in third place and will be the Amerks first round opponent starting on Thursday.
——–
Box score from the game:
Rochester Americans 2 At Syracuse Crunch 5 – Status: Final
Apr 10, 2010 – Onondaga County War Memorial at Oncenter
Rochester 0 0 2 – 2
Syracuse 2 1 2 – 5
1st Period-1, Syracuse, Frischmon 7 (Sestito, Harvey), 1:29. 2, Syracuse, Mayorov 16 (Murovich, LaVallee-Smotherman), 11:46. Penalties-Bonneau Rch (fighting), 5:38; Mirasty Syr (fighting), 5:38; Liffiton Syr (hooking), 8:22.
2nd Period-3, Syracuse, Mayorov 17 (LaVallee-Smotherman, Holden), 16:03. Penalties-Lord Rch (fighting), 6:56; Harvey Syr (fighting), 6:56; Kana Syr (roughing), 16:34; Hudson Rch (fighting), 19:52; Mirasty Syr (instigating, fighting, misconduct – instigating, game misconduct – persisting a fight), 19:52.
3rd Period-4, Syracuse, Ratchuk 3 (Mayorov, LaVallee-Smotherman), 2:32. 5, Rochester, Mink 20 (Repik, Taylor), 8:12. 6, Rochester, Brine 14 (Duco, Syvret), 15:08. 7, Syracuse, Holden 6 (Moore, Liffiton), 19:24 (en). Penalties-Lord Rch (interference, fighting), 11:35; Harvey Syr (fighting), 11:35; Mink Rch (hooking), 16:44.
Shots on Goal-Rochester 10-9-20-39. Syracuse 10-10-11-31.
Power Play Opportunities-Rochester 0 of 4; Syracuse 0 of 2.
Goalies-Rochester, Petizian 0-1-0 (30 shots-26 saves). Syracuse, Lalande 25-24-2 (39 shots-37 saves).
A-6,317
Referees-Terry Koharski (10).
Linesmen-Jeff Walker (28), Brian Lemon (25).