The role of the stereotypical fourth liner in hockey has evolved over the last 10 to 15 years from being a goon that was pure intimidation to now being the muscle on the ice that can provide intimidation but also needs to be able to play hockey. There was a time not too long ago where that muscle only played a handful of shifts a game, now you have to be able to play a regular shift if you want to stay employed. You could say they're the last of the enforcers.
One of those players on the Rochester Americans roster is Dalton Smith. In his second season with Rochester he has the trust of management, coaches, and teammates with his role on the team. He's a difference maker as well. Carrying over from last season to this season the Amerks have won more games with Dalton Smith in the lineup than they have without him.
Out of 110 possible regular season and playoff games the Amerks have a record of 41-26 with him in the lineup and a record of 16-27 without. This season through 31 games the team is 17-5 when Dalton Smith plays, 2-7 when he doesn't. During the 2017/2018 season the team was 24-21 with, 14-17 without, and 0-3 in the three playoff games that he was scratched in. (Combine overtime and shootout losses to straight losses)
The winning record is something that Dalton is aware of saying it had been brought up to him and with a smile said, "It's something to be proud of and hope it continues."
There's a lot more that goes into a team winning a hockey game than one player who only has five points (2G+3A) in those 67 games played but it's enough of a sample size to show he is a difference maker.
Dalton Smith was a second round draft pick by the Columbus Blue Jackets in 2010 and it's been a bumpy road to this point but he's carving out his place in the game and showing his value to the lineup. It helps that he has a family that has spent a lot of time playing professional hockey.
His father Derrick Smith went to the Stanley Cup finals twice with the Philadelphia Flyers in the 1980s over the course of his 10 year NHL career. His uncle Keith Primeau played 15 seasons with four different teams. Another uncle, Wayne Primeau, was a member of the 1996 Calder Cup winning Rochester Americans – the last time the Amerks won the cup. Wayne Primeau played 15 seasons in the NHL with four of those in a Buffalo Sabres jersey. Between his father and uncles, they played in 2,520 NHL games combining both the regular season and playoffs.
"He watches every game and calls me frequently to give me tips and advice. He tells me good or bad what i have to do," Dalton said when asked about advice he gets from his father. "He played the game for a while and knows what he's talking about. It's nice having a reliable source in my ear telling me and keeping me going so it's awesome."
When he found out he was going to be playing in Rochester he had talked to Wayne about the city, the different areas, and the Calder Cup. When you don't have that much control over what city you end up playing in it's exciting for a player to land in a city where a family member played before and won a championship.
Dalton hasn't had the same start to his professional career as his father and uncles but they keep him going with advice, support, and off season training.
His only NHL contract was his entry level deal with the Columbus Blue Jackets that expired at the end of the 2014/2015 season. Columbus traded him to Tampa which saw him move from Springfield to Syracuse. He wasn't signed after that season and started the 2015/2016 season on a PTO (professional try-out) with Providence. His chance to earn a standard contract was diminished when he broke his hand. After healing up he landed an opportunity on another PTO with Lehigh Valley to end the season.
Going into his second straight summer with an unknown future and limited opportunities he was invited to the Charlotte Checkers training camp. When that finished he reached an agreement with the Florida Everblades in the ECHL, a step back from where he wanted to be.
"I was really hoping to kind of be down there short team and get a call up right away. That obviously didn't happen and it was in the back of my mind not knowing what's going to happen, if I'm going to have to play a couple more years in the East Coast, or go over to Europe," he said when asked about questioning if he'd ever play a higher level in North America again. "I didn't know what was going to happen and then I was very fortunate to get the opportunity here. I just want to take advantage of it and do the best I can to stay here as long as I can and do whatever is asked of me."
Last season with the Amerks he played in 45 games and had 102 penalty minutes along with one goal and one assist. He was also scratched in the three playoff games. The Amerks were pushed around by the Crunch in those games and they were swept in three games.
At the end of the season Dalton was told by management and coaches that they were happy with the way he played and how he stuck up for his teammates. A contract renewal still wasn't guaranteed.
"When I got the call from my agent saying that they did want me back it was a huge sigh of relief especially after the last few summers," Dalton said. "They've been long ones not having any contracts so it was nice getting it done early and it was a huge weight off my shoulders."
Rochester wanted to add more of a physical element to their game by playing hard, playing fast, not allow teams to push them around, and having players that would take pride in that role. That's why Dalton was brought back and the team also signed Tyler Randell and Yannick Veilleux.
"It definitely helps to have those guys that push you every day. They play that role as well and they play it really well," Dalton said. "We always stress here the internal competition and its going to bring up the best in our team. Its definitely in the back of my mind that if I don't do it one of those guys will. We're all hungry and we all want to play so its nice to have that internal competition to keep you honest every night."
At a time when teams in the American League, especially the Amerks, like to be a four line team, it requires a player to be consistent if they want to be in the lineup. The common fourth line is expected to play the role of creating time and space for everyone else – a task that isn't easy to keep up with. There's also the fighting as well, something that happens less frequently and when you have a big right like Dalton there's also fewer willing participants.
Sometimes on Twitter we refer to creating time and space as Dalton Smith things. Hits, fights, scrums, checking players into benches, and just being an overall pest.
"I think that's always been my role and my identity," Dalton said. "As I've matured I've kind of gotten better at it and figured out how to be more consistent at it because it is tiring hitting, checking, being loud, and being a pest sometimes. It does kind of wear on you. During the summers I've been working on my conditioning more so I can do it all the time and be more consistent."
When asked to compare his play from last season to this season he said, "Just being more consistent. There were stretches where I did it well (his role) but then I kind of tired out and got more fatigued. This year I've just done a good with my conditioning and keeping it going throughout game to game."
The job doesn't go unnoticed. When I asked CJ Smith about the role that Dalton plays his tone perked up to describe what he brings saying, "You have to give credit to the whole line. They create a lot of time and space for the rest of us guys. They go out there and they have a minute shift in the offensive zone obviously just wreaking havoc, throwing bodies. I think when you get a couple shifts like that from a line I think the defense sits back a little bit and they're a little more hesitant to go into those 50/50 puck battles and maybe a little less aggressive on the puck. I think it gives us other guys a little more time and space."
"They're not just out there running around not playing the game either," CJ Smith said. "They're getting over pucks and getting pucks to the net and just as many scoring chances as anybody else. It's big for any team when you can trust four lines and roll four lines."
Having the trust of your teammates and coach to contribute to the game versus being a liability is one of many ways the traditional fourth line has changed over the years.
"I'm very fortunate to have him as a coach, he's shown a lot of trust in me," Smith said when asked about earning the trust of Chris Taylor. "There's been a few games where we've been out there the last few minutes of a period. Earlier on in my career I would never be out there in those situations but he's put a lot of trust in me and I'm very grateful for that and I want to continue to prove that he can trust me in those situations."
Chris Taylor talked about Dalton Smith saying, "He's been playing great and he keeps improving. Sometimes it takes longer than others to get that. I thought last year he started improving. He kept on getting better at practice, we did a lot of development with him, and I believe this year its really paying off for him."
"Him, Cornell, Veilleux, Randell, all the guys that play that role," Taylor added. "I have full trust in everybody and its nice to see them get rewarded and that's the way it should be. We're a four line team and play it well."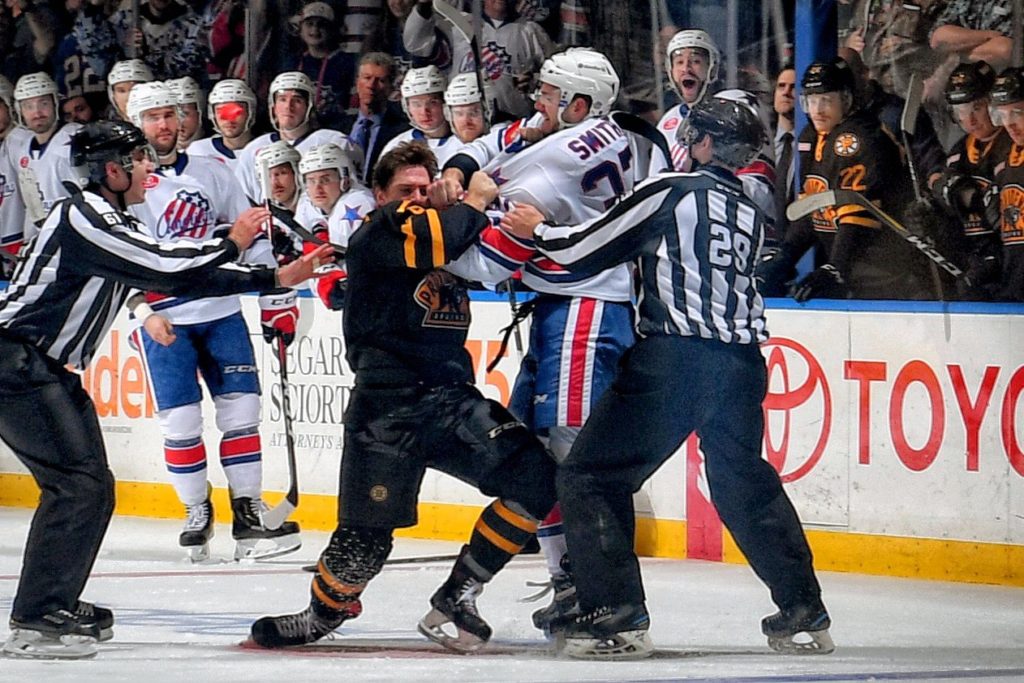 One of the rewards he's talking about was a recent goal against Syracuse by that line. Dalton Smith initiated a hit in the neutral zone which created space for Tyler Randell to skate the puck into the Crunch zone and score.
Kyle Criscuolo recently sat out 19 games due to a lower body injury which gave him a lot of time to watch from the stands. Asked about Dalton he perked up much like CJ Smith from standard media answers and said, "I think honestly he's one of the most effective guys on our team right now. No matter when he's on the ice whether we're winning or losing he's intimidating the other team and he's actually creating a lot of offense for us and making sure their defense doesn't want to go back for the puck. He's somebody that's going to protect his teammates. It was actually unbelievable watching him in the stands, you really get to see what he brings every night."
Players like D. Smith, Randell, and Veilleux know that there's less players like them around hockey and to keep playing they have to keep contributing.
"There's definitely less and it's something I constantly have to evolve with the game," Dalton said. "This year I've worked on my skating a lot to kind of evolve my game and be effective and be able to get in on the forecheck on these faster defensemen and hit them and stuff. I think I just need to keep evolving with the game and hopefully it will work out."
After the first quarter of last season his playing time wasn't consistent. As an exempt veteran (more than 260 games, less than 320) it appeared on paper that he might have a tougher time breaking into the lineup again this season with the addition of Randell and Veilleux. The internal competition appears to have helped along with working on conditioning and skating because the team is finding Dalton to be a valuable member of the roster – contributing vs taking anything away from chances of winning.
He knows he's very fortunate to be playing in his sixth season the American League because there's a lot of players that never reach it this far. The odds aren't in his favor but that isn't going to stop him from chasing the ultimate goal.
"Its everyone's goal in this locker room to reach the NHL at some point. Something I've learned throughout the years is that not everyone's journey is the same so it's something I keep in the back of my mind. It's a goal i definitely work towards every day."
His future hasn't been written but and even if that means sticking around the American League he said, "IÂ just want to keep playing as long as I can. I love hockey and whatever it takes to make a career or living out of it is great."