There were some questions on July 1, 2018 when the Buffalo Sabres announced in the first minutes of free agency that they signed goalie Scott Wedgewood to a one year two-way contract. Almost eight and a half months later Scott Wedgewood has answered all of those questions, many doubt filled, and proved that he could be the number one goalie for the Rochester Americans.
Wedgewood has played in 38 of the 62 games the Amerks have played this season and is having a career season. Personal bests in games played (39), wins (25), shutouts (5), and his save percentage is top ten in the league with only a few saves away from leading the league (more on that below).
(Featured picture by Amerks photographer Micheline Veluvolu)
"Good, really good. Obviously I think it was only 16 wins as my number to beat or something like that. A couple years where I didn't get to play a lot of games but being on a good team and having those guys come out every night and pop some goals for you is always nice to sit behind and watch them go to work," Wedgewood said when I asked him about how he's feeling about a career season. "Then other nights when you know you need to kind of help battle and help in games it's a lot of fun. I've been enjoying it and enjoying the battle."
The Buffalo Sabres were confident to sign him the moment they could and he hasn't let them down.
Wednesday night the Amerks won 3-0 over the Utica Comets and it was the fifth shutout of the season for Wedgewood. A career high for him and also the most shutouts in a season for an Amerks goalie since Ryan Miller had eight during the 2004/2005 season. For 13 seasons there hasn't been a goalie recorded more than four. That's a long time.
"I'm confident. Ever since Christmas break I changed a few things up with the way I wear my gear," Wedgewood said after the game. "Beforehand a couple of spots I'd be a little vulnerable for pucks and injuries. I found a way to clean that up. When you have a safe feeling out there and you trust the guys around you it's a lot easier to play."
Since the Christmas break Scott Wedgewood has a record of 16-4-1. Through 39 games he has a record of 25-10-2 with a 2.48 GAA (10th overall) and .916 SV% (10th overall). The 25 wins is second best in the league and his five shutouts is tied for second in the league.
"He has confidence and anybody that has confidence usually looks calm and plays well," Chris Taylor said when I asked about how calm Wedgewood appears with the way he plays. "It's nice for Scott because I know he moved around with a lot of teams last year. His stability with us is a big difference. Him and Wilcox push each other everyday to make each other better and our players push them each day because they can really shoot the puck and make them better too so overall everybody is helping each other."
Wedgewood is only 26 years old and now that he's with his third organization he's found another chance to prove he's an elite goalie. It's been tough dealing with trades and injuries but he's found a home this year in the Sabres organization. Wedgewood is carrying the work load in net and has helped the Amerks be an elite American League team.
He was drafted in the third round, 84th overall, in the 2010 NHL Entry Draft by the New Jersey Devils. In October 2017 he was traded from the Devils to the Coyotes. After playing in 20 games with the Coyotes he was traded to the Los Angeles Kings in February 2018. When he was traded he went through waivers and was assigned to the Ontario Reign to finish the season before becoming a free agent on July 1, 2018. That's when the Sabres signed him.
"We want everybody to get those chances and opportunities and no better place than here (Rochester). We want to be the marquee team of the American League. I believe we are and I believe that Randy (Sexton), Jason (Botterill), and Steve (Greely) have done a great job with the culture," Chris Taylor said this week when I asked about Wedgewood getting the chance he's had. "Our coaching staff and players have done a really good job of turning this around. We want this to be a place where everybody wants to sign and that's good. To see a guy (Wedgewood) go through different teams and playing well here hopefully a lot of goaltenders might be calling here and seeing if they can sign. The same with defenseman and forwards. We want good people and I think it's great that people get second opportunities at that age, play well, and get to where they want to get to. Everybody wants to get to the NHL and that's where we want to put them."
Those are some bold words. They're also bold words that have been backed up actions. Everyone plays in Rochester and everyone is treated well.
Our conversation is below where we talked about July 1st, his path, blocked shots, injuries, and video games. Rather than pick apart little sentences and put them in a story here's everything that he said.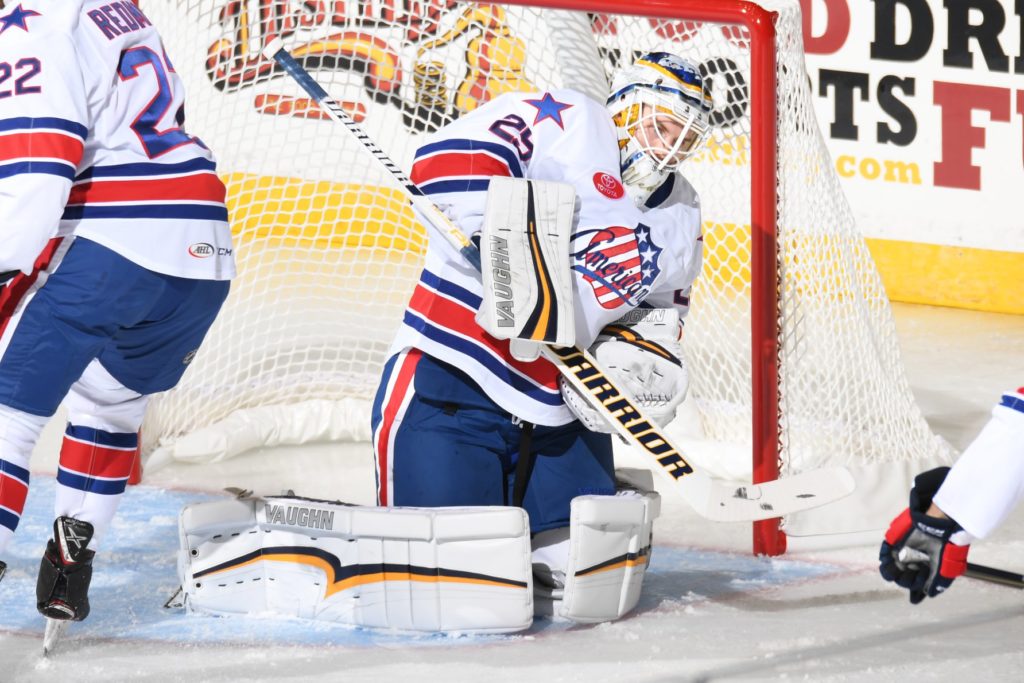 LGA: Going back to July 1st to where things are now did you feel like you still had to prove yourself or were you confident in the fact that somebody wanted to sign you the first day of free agency?
Wedgewood: I mean the nice thing was that I had conversations right away which obviously doesn't always happen. It was something that with teams calling you know you still knew that you were in the game, wasn't like anything bad had happened with my time in Arizona or LA.  It was just unfortunate maybe numbers wise but I still knew I could play the game and obviously battling injuries a couple years ago it's more proving to myself first that you know things are still there. I wasn't upset with myself last year, was more of just I wish I kind of did a little bit more in some situations. And then you know coming here getting a chance to battle in camp to prove I could play and then coming down and playing here. I just want to play a lot and and show that I can still be an elite goalie at this level and you know obviously open the door up there to play for a team and do well if i had the opportunity.
LGA: There was probably a handful of teams that you were mulling over but with the way that this game works you found yourself in here as the number one guy. The Sabres really didn't have a hot goalie prospect coming up that they wanted to play a ton of games, you're out to prove your worth to the NHL level, do you ever kind of sit back and say wow I really found myself in a great situation with a great team that has a great chance at a deep postseason run?
Wedgewood: Yeah, you know when I first went into the summer I wanted a NHL job and I still want an NHL job. That's not going to change until the day I hang my skates up. That's where you want to be. Coming in here Buffalo put it on the table and what they said was that Ullmark has played well and he's got the chance to be the number two, he's got the front foot forward for that, and we need a number three that can play. If anything happens or if anyone stumbles we need someone that can come in. They liked where I was at and obviously they told me that they'd bring in a veteran guy back here that can play and will push me for starts down here which Coxy (Adam Wilcox) has done so I knew what I was getting into. The situation for me was that I wanted to play hockey. I didn't want to go in somewhere where they said there was a guy that they had to play or they needed to play to make sure that their draft choice or whatever you might have is given a chance to do what he needed to.  I wanted to get myself back on the map and that's really worked out. Like you said the staff, the team, our play, it's all been great. The city's been great and my family enjoys coming down. My girlfriend is with me here and she's extremely comfortable. The girls are all great with her and the people that come around. So you know looking back at it I might look around the league and think if I went somewhere else where there's been a couple injuries where you get some NHL games maybe I could have backed up a couple up there. Obviously I want to get on the ice at the NHL level but playing wise, team wise, and the opportunity I have here is great. I don't think I've won anything since before I started playing junior hockey. I got a bronze medal in World Juniors and that's really close to my heart but that's only third place. To get a championship and get a chance at a championship is something I've been itching to go for. Obviously you know, not thinking too far other than tomorrow, it's just that we got a chance to do something special and I think we're all looking forward to that.
Rochester is in first place in the North Division, has been for a bulk of the season, and has a chance to be the number one team in the league this weekend with two games against the league leading Charlotte Checkers. Wedgewood was asked after the 3-0 win on Wednesday night against Utica about how pumped he was to make a playoff push and where the team is at right now.
Wedgewood: It's something you don't want to look too far ahead to but with the situation where we are in the standings and how we're playing it's something that you can't ignore. We have some business to take care of before we get there and set ourselves up in a good spot. That's our main focus. Stepping back and looking at the group and how we perform it's exciting and something you want a chance at.
LGA: Injury wise, was that something in the back of your mind, or something the team had any concerns about over the summer?
Wedgewood: No you know obviously when I came back to to Binghamton at the start of last season I was 100 percent and ready to go. Arizona took that chance bringing me over and playing me a lot. It was more of just a comfortability, back to the basics, and just getting yourself playing again. Nobody was worried about will the shoulder hold up or you know is the ankle gonna irritate you. That stuff was in the past it was more of can you play hockey again and do you trust yourself again. Injury wise I don't feel anything, haven't felt anything, and that's you know knock on wood. That's the nice thing about the rehab and playing, there's been no issues. It's now just putting your best foot forward and being as consistent as possible.
LGA: How is the ankle?
Wedgewood: The ankle has been good, that one hasn't bothered me as much. The shoulder is something I would have had a little more concern about but there's been nothing. It's taking impacts, it's taking slap shots, and it's taken a few bumps. They even said after you put those plasma anchors in there it's probably almost tougher than the left shoulder so hopefully that holds up.
In late January he had missed four games with what was determined to be a stress fracture in his ankle.
LGA: Are you a stats guy looking at goals against and save percentage?
Wedgewood: Not as much anymore. When I was younger it was something because you want to obviously be the top of the league and everything. I'll look at other guys coming in so you know what games they play, what they're doing. I know a lot of the goalies around the league so you're almost interested in that more and how buddies are doing and where you sit in the league and stuff like that. You want to get to good numbers, it's not that you don't care, it's a question of does it bother you or not. Earlier on in my career I would say yeah it probably did get to me a little bit more. Now you're after playing different teams and different situations, you're a product of situations. You can get 30 shots a night and 20 of them being great scoring chances and you give up five goals but you made 15 great saves. You can walk out of there happy and you know that was a lot of my time in Arizona. I've walked out of games losing by five six whatever that we got and not upset just because of the amount of shots I got against me in high quality chances. When that kind of comes into play it's more of you trust the people in hockey that watch the games and I got a lot of good feedback from Buffalo when they were talking to me in the summer. They liked what I did and just didn't get the big picture the big number kind of side of it and you know I appreciated that they went into depth to look and learn about what i went through and how I handled it other than just looking at a number sheet and saying oh he's no good or he's good depending on what that says.
LGA: There was a recent game where somebody blocked a shot and in the locker room after the game you kind of joked in the background that you could've easily saved that shot to help your save percentage. I did a little math and you're not that far off from having the best save percentage in the league. I know you were joking at the time but in a way you were still kind of serious.
Wedgewood: As a goalie you know with shot blocks it doesn't matter. I think the shot clock is more of our enemy than our team. For those guys for them to block shots it's a selfless act and something that's hard to do with the amount of protection that they have. They're always trying to shrink our protection as goalies, I don't think players have enough in some situations especially the way the guys can fire the puck now. Sometimes in scrums and just quick plays and things like that throughout my time in the American League and the NHL and wherever you might get a rebound and a quick shot and then a cover so you think that's two – you look up you got one. A power play goes shot off your shoulder, over the net, or it just rims around but you know it touched you but the way it looks in the game you don't get credit for those. They'll dump a puck from inside the blue line and it'll get a guy's toes beside the net you'll get a shot for those. It's the way of the game I mean you know those guys obviously have to kind of judge what they can see and it's hard sometimes. If you want to go into the numbers game you want to get as many as you can to improve your stats and actually show the NHL level that you're doing extremely well. In the back your head you want some of those when you don't get credit for it. Other than that it's nothing that you can really control. It's what those guys (off ice officials) see and it's not like if you tell a ref or your goalie partner that you got two out there they're gonna call up and change it. Some buildings you get better luck than others and it's just one of those things you gotta deal with.
(He went into a lot more detail than expected about shots and blocked shots)
LGA: Yeah just you having fun with the guys like come on I could be this much higher if you just let one more easy one come through.
Wedgewood: I don't think it's a personal battle, you want to win the hockey game. If I get two shots against and give up two goals and we win three to two so be it we won the hockey game. You don't want that to be the case, it's just team first. At the end of the day if we keep winning and we go as far as we want to go and make a run in at that it'll mean a lot more than my stats.
LGA:Â You know it's got to kill you when you see one of your defenseman in front of take one on the shin and he's hobbling like oh just let that go through yeah I got all this padding on.
Wedgewood: Yeah sometimes it's ones that you know you got and it's just them by themselves. It's just like dude if you would have moved that would have been easy and you can still skate for the next two minutes. Then other times when you know you're caught in no man's land and they lay out and take one and it hurts they know we appreciate it. We find a way to make sure that they get a tap in the back or a nice point at the end of the whistle or whatever. Sometimes that goes a little bit unnoticed in the crowd. Then situations you only make a glove save going wide and it doesn't mean too much we get some claps and those guys take a puck to the chest and you just hear whispers. It's a selfless act like I said and it's a tough job to do. Those PK guys and you know guys that block shots just on a five on five minutes in zone play you know they deserve the stick tap all the time.
LGA: Last Friday you took a shot up high and fans might lose sight of the fact that the bulk of your padding is probably below the waist but up top there are little gaps in your upper protection.
Wedgewood: I took one second period both games, one was against Syracuse last weekend. I took one on the power play from Conacher and it was like five seconds left and I just couldn't feel my arm. It gets you between the padding where you have the big chunks and you move to take a shot but as you move you create a hole and that one found a way. The way that hit me I thought I broke something, just sounded like concrete, was just like oh man. The sound probably scared me more than the actual pain did. End of that second period on Sunday against Bingo again someone stepped into one too and there was no time on the clock and you just have to eat it. I took it right in the same spot where that bruise was again and got woken back up. They've done a really good job with protection. I wear Vaughn everything and I'm very well protected but the way they can hammer the puck sometimes and just the counteract where you move and what opens up sometimes you don't get the the heavy piece.
The topic of video games has been and will always be talked about from children to adults to pro athletes. Earlier this season it was reported that Vancouver banned Fortnite from road trips. Scott Wedgewood is a big gamer you can often catch him streaming live on Twitch ( @wedgewall92 ).
I asked Chris Taylor if video games were an issue or that's ever come up. He said, "These guys are adults, I trust what they do away from the rink. I can't manage what they do. You can suggest things but unless it comes from the top it's their private time and what they do. You have to understand these are pro's and they have to make that commitment of what they want to do with their spare time. We suggest a lot of different things but it's up to them in their spare time."
LGA: The topic of video games will always be a hot topic. There's been reports out there about some teams don't like guys playing. Is it just something you do in your spare time? Is it much of a distraction out there?
Wedgewood: It definitely can be. I think it was Vancouver that banned it on the road or something this year. I've been a guy taking it (the Xbox) on the road sometimes, not as much this year. With the NHL schedule last year in Arizona we would travel for you know multiple days at a time and I'm not a big TV guy. I'm a big movie fan so movies are good and crushing TV shows has been a little bit more this year just because I don't travel with it (the Xbox) as much. I think that's kind of been something that's been talked about a lot in the hockey world since you have a lot of free time. Junior players that finish high school that are just waiting around until midday practices they kind of get a little more of quote unquote addiction to it. I've been playing my whole life. My brothers and I we grew up with you know everything since Nintendo, Sega, and Playstation straight up. We had everything and had to share between my two brothers so you know I understood the process of that and you know your time on it. My parents did a good job of making sure we didn't locked in. For myself in the off days my girlfriend's here, my dogs here, I got stuff going on. I have other things I need to do in a daily basis and I like to cook and I make sure I'm off of it. In the free time thing it's something that I enjoy with other guys around the league that I'm really close with and we play together so it's fun. I mean you have to do it right you know there's days for sure I'm locked in for you know upwards of three to three and a half hours and you just had an off day or something and you got time to kill nothing going on and it'll happen. I still play on game days I go home after pregame skate, cook my meal and you know sit there for an hour and a half and enjoy it with whoever is on we talk. It's also a nice conversational piece, gets you outside of your head. You're not thinking about the game, you're playing a video game outside of the hockey world. It's something to space you out. I mean I don't think there's a bad side to it but you obviously have to balance it. It's really enjoyable to me just because it's kind of like a friend circle right. You don't get the talk to say your buddy at home or hang out with them per se as much as you would in the summer so when you're here and someone's on you get to chat just outside of you know a text you can do so much more than a phone conversation, which no one does anymore. The Xbox headsets is almost sometimes my Bluetooth headpiece with somebody so it's fun that way. Obviously the hand-eye coordination and and the joy of a challenge is my big thing. I'm a big game person. I game about anything and if I have a chance to win at something I like playing it.
LGA: Who's the worst at Fortnite on the team?
Wedgewood: I don't know, there's some good players. I don't know if i can put anybody underneath the worst. Some guys like probably haven't played, I don't think Ports has played a video game in like 20 years.
Scott Wedgewood is playing with confidence this season which is fueled by playing, wins,  a lot of help from the defense, and everyone scoring goals to win games. You aren't going to see Wedgewood lose his cool in the crease and get taken off his game. You're just going to see him play the game. Looking at stats, he's having a career season but like everyone else, he wants more – a championship.
****
If you're a gamer and watch people live stream you can follow Wedgewood on Twitch at https://www.twitch.tv/Wedgewall92
If you're a dog lover make sure to give Captain America the mini doodle a follow. Yea, the goalies dog has an Instagram account.