There was a time not too long ago when players would pout about being 'sent down' the minors but for someone like Tage Thompson that just isn't in his DNA at all.
Thompson finished last season in a big way with the Amerks scoring six goals along with three assists in eight games at the end of the season. That was followed by two goals in three games during the playoffs. Friday night he scored in regulation and the game winner in overtime to lead the Amerks to a 3-2 win to start the season.
He would've preferred to have started the season in the NHL after putting on 15 pounds of muscle but the decision was made for him to start in Rochester. The message to him was play a consistent game and work his way back up. Dominating the AHL doesn't always equal dominating the NHL but if he continues to lead the way with the Amerks he'll get another chance.
Thompson scored the first goal of the game just 38 seconds into the second period. He carried the puck into the Crunch zone down the middle of the ice and while he had defenders trying to figure out if he was going to pass or shoot he pulled off a quick snap shot over the shoulder of Louise Domingue.
https://twitter.com/AmerksHockey/status/1180274192958316544?s=20
The Amerks penalty kill unit made a mistake allowing Cory Conacher to be wide open in the face off circle at the 8:30 mark of the second period. A quick pass from Dominik Masin, a quick shot from Cory Conacher and the Crunch tied the game at one.
It took 64 seconds into the third period for the Amerks to regain the lead when Andrew Oglevie hammered in a rebound in front of the net. Zach Redmond took the initial shot, Scott Wilson got a piece of the shot, and Oglevie was able to break away from the guy covering him to score.
Gord Dineen talked about Oglevie saying, "To come off basically a year he really didn't play much he came into training camp and I thought he was excellent. Anybody that's been through what he's been through might take a step backwards when it comes to battles or just going into tough areas and this kid has dug his heels in. I was really happy to see him get rewarded."
Oglevie didn't play too much in the first period because of the penalties that were called. He wasn't on the power play or penalty kill at first but Dineen said he put him out there for a kill because he liked the way he was playing. Last season Oglevie only played in 28 games due to concussions.
Rasmus Asplund is a good hockey player that makes everyone around him better. He's also very composed and has a lot of confidence in a good way for a 21 year old in his second season.
Asplund finished the game with primary assists on both of Thompson's goals. After the game though Asplund said, "It was nice to get a win but we all agree we have a lot to work on during the season but a win is a win and it's a good start for us."
Last season Asplund was center on a line with Victor Olofsson, who scored 30 goals, and Danny O'Regan, who scored 20. Asplund finished last season with 31 assists. Did Olofsson and O'Regan make Asplund better? Or did Asplund make Olofsson and O'Regan better? The answer is that Asplund is showing signs of being a top center and makes everyone better.
"Tage has a great shot out there and he knows how to get into the spots to use it," Rasmus Asplund said after the game. "I think we started to find a little chemistry and we got the two goals on our line there. It's a good start for our line."
If you weren't following along during preseason you would have seen Rasmus Asplund with a new number this season. He changed to 74 after wearing 26 all last season. He also wore 76 while with the Sabres. The reason? He always wore 74 in Sweden. He said his mom was born in the 1970's and his grandma in the 1940's.
Dannick Martel tied the game at 11:24 of the third with a power play fluke goal. Skating in down the right side he scored from an almost impossible angle that Andrew Hammond would likely love to have back. A back hand shot appeared to go off the back of Hammonds stick and into the net.
The power play was after a faceoff violation penalty called on Rochester. Kevin Porter doesn't like the penalty and made sure to let the officials know. After the game Porter talked about not liking the type of penalty in the first place but understands they have to call it. They'll call it, he'll voice his displeasure for it.
A delay of game penalty on the Crunch provided the Amerks with a power play chance in the third but nothing happened.
On the flip side, the penalty kill came up huge with under four minutes to play when Will Borgen was called for interference.
In overtime the Amerks had 11 different players on the ice and for the duration which was 4:17.
Tage Thompson scored the game winner and talked about it saying, "Reds made a great along the boards getting it up to Aspy and he made an unreal pass to me. I actually almost missed that one but it went off the pipe, off his back and in. I didn't know it went in at first."
"He's a great player. He's a play maker," Thompson said about playing with Asplund. "He looks to pass a lot and I like to shot which is kind of my instinct."
Andrew Hammond finished the game with 27 saves in his first win as a Rochester American.
***
Additional game notes…
Jacob Bryson
Rookie defenseman Jacob Bryson played his first regular season pro game Friday night in Rochester and if you didn't look anything up on him you may have thought he was a seasoned veteran.
Gord Dineen has highly of Bryson after the morning skate Friday and again after the game.
After the game Dineen said, "Jacob Bryson was great. He was probably our best defenseman I felt. He's not the biggest guy in stature but he uses everything in his gut to get in peoples ways and part of that is his skating ability. He just has hockey sense galore. I was really impressed with his game."
After morning skate Dineen had said, "The way he carries himself he's like a 10 year veteran. The way he showed himself in exhibition games at the NHL level, he's not in awe."
Bryson finished the game with four shots on net and was on the ice for both regulation goals scored by the Amerks.
By the way, he was paired up with Zach Redmond who also finished the game with an assist.
Andrew Hammond
Did anyone else notice his puck handling skills? He was a fourth player in overtime being able to play/pass the puck. He made a few passes in regulation to assist in clearing the zone. Hammond made a big (and risky) play in the first period when he left the crease to challenge Cory Conacher to a loose puck. Hammond won at the top of the face off circle. Looking back the play likely wasn't risky to Hammond at all.
Hammond was challenged early and made the saves early. It's only one game but he already had fans cheering for him.
Curtis Lazar and Jarrett Burton
Those two play a really good defensive game. There was more than one time a back check by those two players at different times slowed down a rush. There was more than one time a stick check or knocking a loose puck out of the air helped clear the zone. They'll need to score goals as well but the defensive game was something that stood out.
The game turned into the Thompson and Asplund show but the game also saw scoring chances from CJ Smith and Curtis Lazar who skated together.
Another One Bites the Dust
The song played after the game was won and the song should continue to be played after every home win.
Locations of Goals and Shots
Lastly, a new feature on The AHL web site is showing the location where goals are scored from and where shots are from. A quick glance shows that the first period appeared to be both teams feeling each other out followed by Rochester focusing most of their shots from below the face off circles.
Here are the charts period by period (will figure out a better way to show these off).
First period: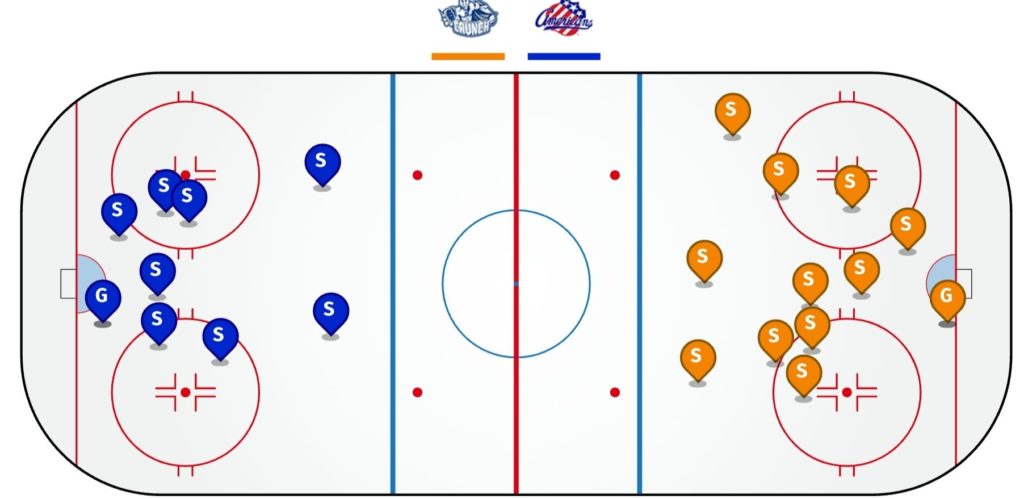 Second period: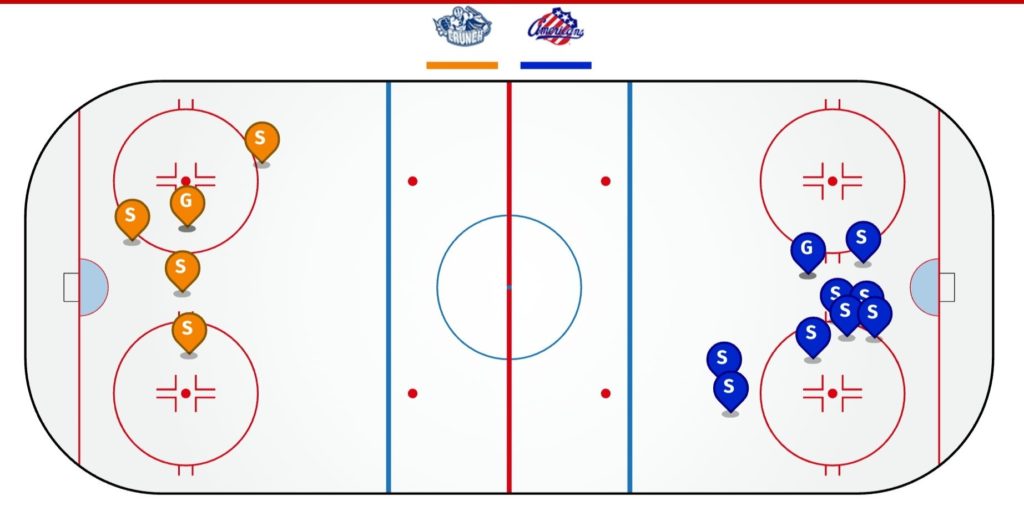 Third period: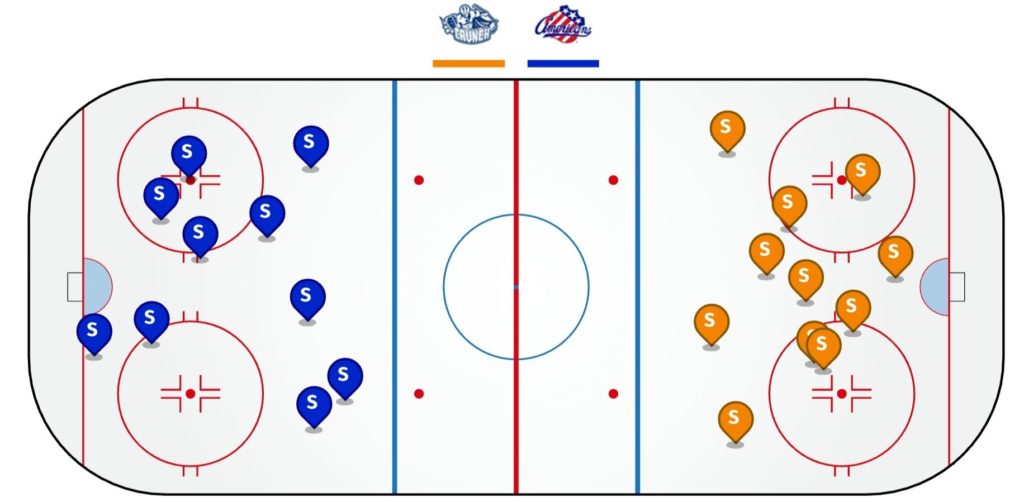 Overtime: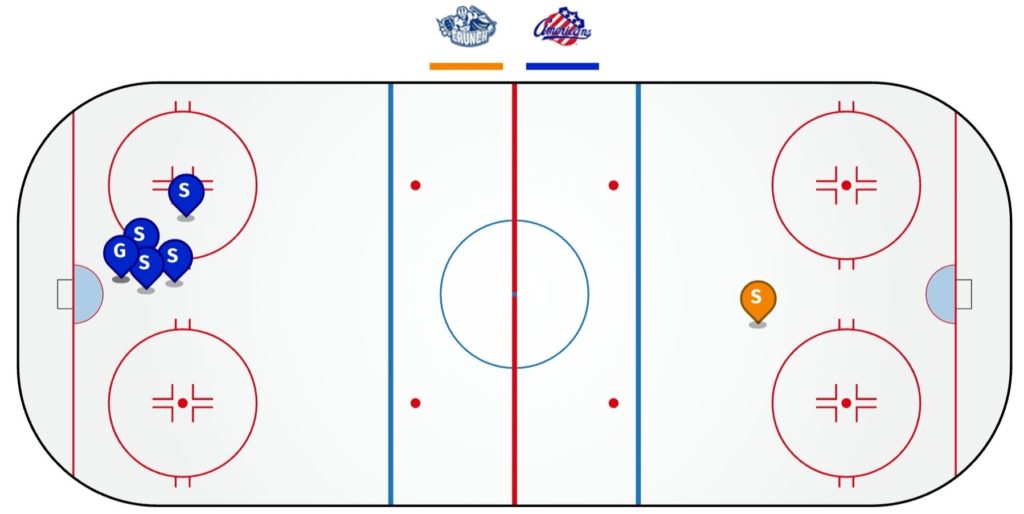 Full game: