The Rochester Americans finished off a set of four road games with a 5-2 loss to the Toronto Marlies. Down by two goals the Amerks were able to tie the game up with goals from Casey Mittelstadt and Lawrence Pilut but a three goal third period by the Marlies sent the team home with a loss.
Toronto scorers in the third period were Kalle Kossila, Pontus Aberg, and Egor Koshkov. Kasimir Kaskisuo was in net for the Marlies to earn the win.
Rochester has lost five of their last eight games and has reached their first skid of the season. Goalie Andrew Hammond has been tallied with the loss in those five games after starting the season on a high note. The losses have been a team effort but the goalie unfortunately gets tagged with the loss.
It might be time for Rochester to see about moving the rest of the seasons Saturday games. The team is 6-6 when playing Saturday games but remains undefeated in regulation with a 10-0-1-2 record when playing Fridays.
Two positives to takeaway from the weekend are that the Amerks still remain in first place in the North Division and Casey Mittelstadt has played his two best games with the team by scoring two goals but also leading play, something he wasn't doing. The offense has been struggling during this recent funk so adding another weapon will be beneficial.
Although the team remains in first place the North Division has tightened up. Winning streaks or losing streaks could change the entire look of the division by the end of the month.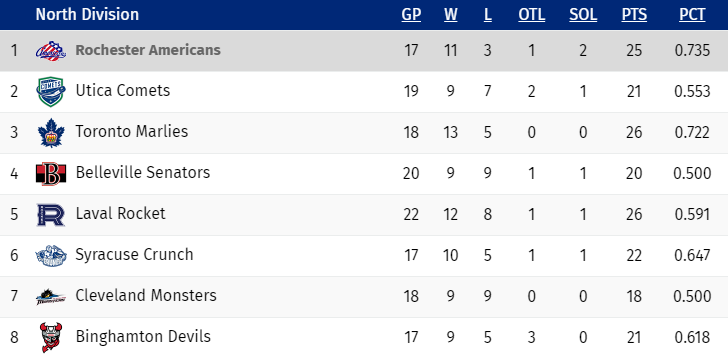 Taylor Leier did not play in the game after leaving the game at the end of the second period Friday evening. He was knocked to the ice and as he went down a shot appeared to go off of the side/back of his neck. During the broadcast Saturday it was mentioned by Don Stevens that he isn't expected to be out long term.
***
Amerks starting lines at Marlies 1/4…
Elie, Dea, Mittelstadt
CJ Smith, Porter, Burton
Murray, Malone, Cornel
Hickey, *****, Randell
(4th line had a rotating center)
Bryson, Redmond
Pilut, Nelson
Gilmour, Borgen
MacWilliam
Hammond
***
Here's a recap of Tweets along with a fight between Tyler Randell and Tyler Gaudet.
***
If you made it this far, thank you, but also give this a read below.