Welcome to the sixth part of a 15 part season series highlighting the last five games (the last segment will be six games) showing off the stats, standings, highlights, transactions and whatever else took place prior to the next five games. The goal is to post these the day of the next game of a five game set. A little different than a weekly format to give us a better snapshot of trends as the season goes.
The team finished the last five games with a record of 2-3-0-0 and are heading into the game tonight looking to put a three game losing streak behind them, the first time the team had lose three in a row in regulation all season. They're still in first place in the North Division but have fallen to third overall in the conference.
Not good is the simple way to summarize the last five games. Solid goaltending resulted in back to back wins against Cleveland but those wins had little meaning after losing the next three all on home ice. They had a 3-0 lead over Belleville before losing 5-4 and then lost the next two against Hartford.
Podcast
Did you know we have a weekly podcast? Typically released on Sunday afternoons depending on scheduling and we keep it under 30 minutes so it's easy to fit into busy schedules. Check it out here with different options to subscribe:
Articles (that aren't game recaps) in case you missed them
Wins and Losses – Games 26-30
Leaders in just the last five:
CJ Smith (4G+2A)
Victor Olofsson (2G+1A)
Danny O'Regan (1G+2A)
Matt Tennyson (3A)
Justin Bailey (3A)
Only two players scored more than two goals in the last five games, CJ Smith and Victor Olofsson. The two goals by Olofsson were in one game. CJ Smith scored a goal in four of the last five games and continues to be the team leader in terms of consistency.
Leading the Season:
Zach Redmond – 25 points (14G+11A)
CJ Smith – 25 points (11G+14A)
Victor Olofsson – 24 points (10G+14A)
Lawrence Pilut – 22 points (3G+19A)
Alex Nylander – 20 points (7G+13A)
At time earlier in the season the American League top 10 scorers were dominated by Amerks players. They're not even in the top 20 anymore unless we look at just defenseman.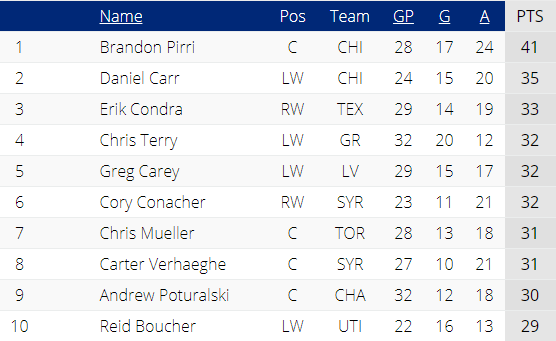 Looking at just leaders on defense, Zach Redmond and Lawrence Pilut are still near the top but former Amerk TJ Brennan is at the top spot earning points with consistency.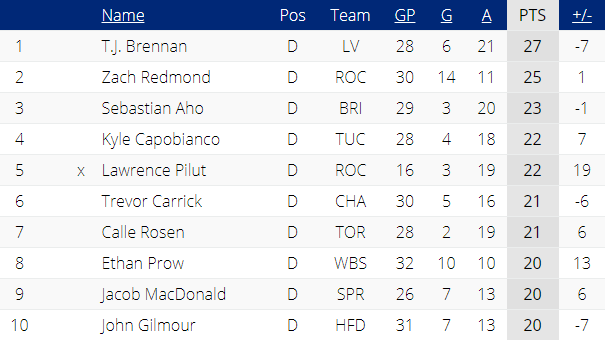 Zach Redmond continues to be on pace to break the all-time single season Amerks record for goals by a defenseman but the pace he was on to break that before the end of December has come to a halt. There's still a chance with three games remaining this month but he only has one goal in the last 11 games. The record is 18 goals and he has 14 goals in 30 games.
More than Just Points
Three straight regulation losses can derail the current pace of progress for a season. The potential to build a gap faded and even though they're still in first place everyone else has caught up.
Alex Nylander missed two games with a lower body injury and Brendan Guhle missed two games while called up to Buffalo. The absence of Nylander may have been felt a little more than Guhle but the two games they missed that were losses shouldn't be directly attributed to them missing from the lineup.
Kyle Criscuolo returned from injury after missing 19 games and had one assist in two games played.
CJ Smith and Danny O'Regan are the only two players putting up points at a somewhat consistent pace. Lawrence Pilut is still fourth on the team in points even though he's now missed almost half of the season so far.
There's struggles with large gaps in scoring that stretches beyond just the last five games with all the top names on the roster including Zach Redmond, Victor Olofsson, Alex Nylander, Justin Bailey, Rasmus Asplund, and Sean Malone.
Zach Redmond only has one goal in his last 11 games.
Victor Olofsson has two goals in his last eight games, both goals from one game.
Alex Nylander has three goals in his last 19 games.
Justin Bailey has two goals in his last 14 games, both goals from one game.
Rasmus Asplund only has one goal in 30 games.
Sean Malone only has two goals in 18 games.
Goal tending from Scott Wedgewood and Adam Wilcox won them two games against Cleveland but didn't do anything to steal wins the three games after. It doesn't help when the team isn't scoring in front of them.
One interesting note about Dalton Smith is that out of 106 possible games with Dalton Smith on the Amerks roster the team has a winning record when he plays, a losing record when he does not. The team is 39-27 w/ Dalton Smith in the lineup and 16-24 without. They're also 0-3 in the playoffs, he didn't play in any of the three playoff games last season.
2018/2019

With: 16-5-0-0
Without: 2-5-2

2017/2018

With: 23-13-7-2
Without: 14-9-4-4
Playoffs without: 0-3
Is Dalton Smith the reason the team has lost games? Not entirely but there's a clear difference that it's worth a discussion that he is a difference maker.
Goals and Shots
It's pretty simple, score more than the other team and win. The Amerks weren't able to do that and it shows in the losses. Third period goals against immediately stands out being outscored 8-3. Overall goal scoring has become an issue.

The team is putting up shots on net but what they aren't getting are the second and third chances that teams rely on to score. Marek Mazanec was outstanding in net as well in game 30. After that game Chris Taylor said they put up 91 shot attempts (including the 41 that counted). Sounds great on paper but when you lose 5-1 there's more needed than shot attempts.

Special Teams
Power play is currently 19th in the league at 18.6% (Previously 17th in the league at 19.4%)
Penalty kill is currently 28th in the league at 77.7% (Previously 24th in the league at 78.9%)
Both special teams units continue to go in the wrong direction. They've been in a steady decline after every five game recap with no signs of improvement. They scored three power play goals in the last five games but it wasn't enough to improve overall numbers.
PP and PK in games 26-30 by period:

Standings
Heading into the 31st game of the season the Amerks continue to stay in first place in the North Division based on points. Syracuse continues to have an advantage looking at winning percentage and still has three games in hand. The Amerks locker room had a goal of building a gap in the standings before they went into the Christmas break but the three game losing streak stalled that effort.
For the first time they've dropped to third overall in the Eastern Conference in points, fifth overall in winning percentage. Teams know that the Amerks can be beat. As we near the halfway point of the season the team is quickly going from a top team dominating to still being a decent team but not considered elite in the league.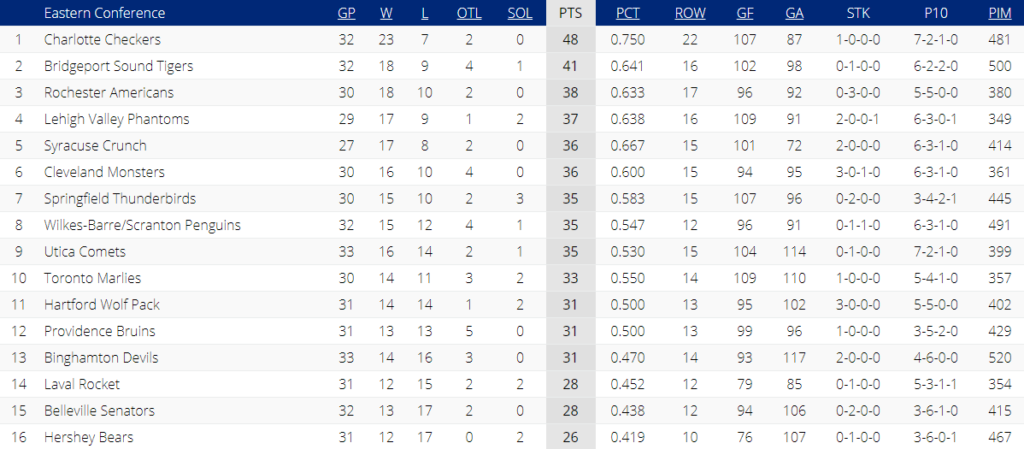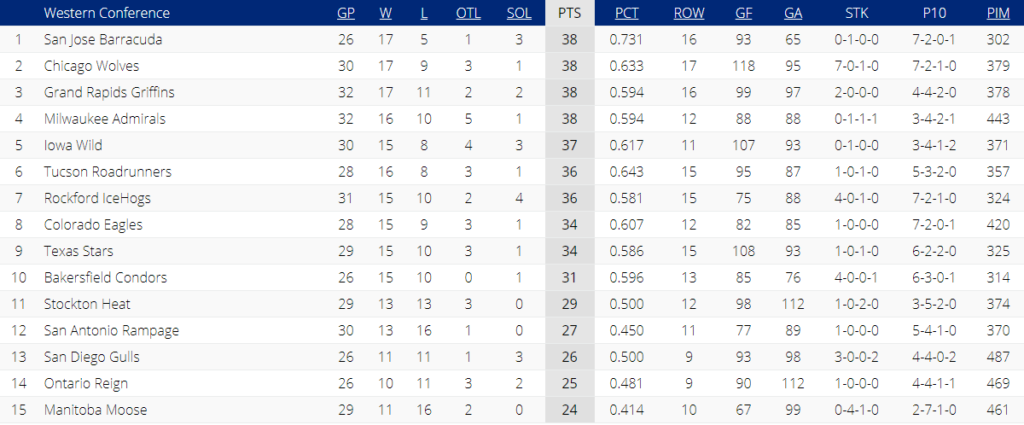 Highlight Goal
CJ Smith overtime winning goal on the road in Cleveland. Stick up and ready for the rebound.
The Next Five – Games 31-35
Wednesday 12/26/2018 Rochester at Cleveland 7:00pm
Friday 12/28/2018 Toronto at Rochester 7:05pm
Saturday 12/29/2018 Rochester at Utica 7:00pm
Wednesday 01/02/2019 Bridgeport at Rochester 7:05pm
Saturday 01/04/2019 Rochester at Laval 7:30pm
Injuries as of 12/26
Kevin Porter – Lower body – week to week – Initiated a hit against an opposing player on 12/7 and has been out since. Expected back mid January.
Andrew Oglevie – Concussion – indefinite -Â Occurred during the game on 11/30.
Transactions
12/22 Brendan Guhle returned to Rochester
12/19 Myles Powell returned to Cincinnati
12/19 Devante Stephens returned to Cincinnati
12/17 Devante Stephens called up to Rochester from Cincinnati
12/17 Matt Tennyson returned to Rochester
12/16 Brendan Guhle called up to Buffalo
12/15 Matt Hunwick called up to Buffalo
12/12 Matt Hunwick assigned to Rochester on conditioning loan
Highlight Videos