Welcome to the fifth part of a 15 part season series highlighting the last five games (the last segment will be six games) showing off the stats, standings, highlights, transactions and whatever else took place prior to the next five games. The goal is to post these the day of the next game of a five game set. A little different than a weekly format to give us a better snapshot of trends as the season goes.
The team finished the last five games with a record of 3-2-0-0 and are heading into the game tonight looking to put a lousy game on Wednesday night behind them in which they lost 5-1. They're still in first place in the North Division, second place overall in the conference.
A three game winning streak in the middle of two losses against the Binghamton Devils is the simple way to summarize the last five games. A win against the red hot Syracuse Crunch was a bright spot over the last five games but also tarnished by following up that win with a forgettable loss to Binghamton on home ice.
Podcast
Did you know we have a weekly podcast? Typically released on Sunday afternoons depending on scheduling and we keep it under 30 minutes so it's easy to fit into busy schedules. Check it out here with different options to subscribe -Â Beyond The Blade: Amerks Weekly | Episode 7
Articles (that aren't game recaps) in case you missed them
Wins and Losses – Games 21-25
Leaders in just the last five:
Wayne Simpson (2G+2A)
Rasmus Asplund (4A)
Victor Olofsson (2G+1A)
Brendan Guhle (3A)
The last five games has had balanced scoring across the roster with 16 different players registering points. Rasmus Asplund has found his name on more score sheets and Wayne Simpson continues to contribute here and there. Zach Redmond had been on a hot streak but over the last five games only had one goal. CJ Smith (1G+1A), Sean Malone (1G+1A), and Justin Bailey (2G) are secondary mentions.
Leading the Season:
Zach Redmond – 23 points (14G+9A)
Lawrence Pilut – 22 points (3G+19A)
Victor Olofsson – 21 points (8G+13A)
Alex Nylander – 19 points (6G+13A)
CJ Smith – 19 points (7G+12A)
The league leaders in points earlier on was dominated by Zach Redmond, Lawrence Pilut, and Victor Oloffson but they've all fallen off with recent droughts (and Pilut called up to Buffalo). Zach Redmond (14G+9A) has dropped to 19th in the league, Victor Oloffson to 30th, and Lawrence Pilut is 34th overall.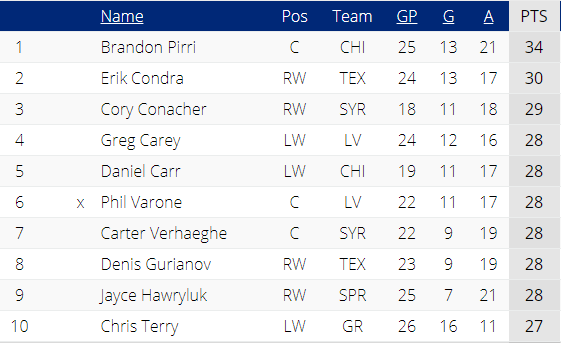 Looking at just leaders on defense, Zach Redmond and Lawrence Pilut are still at the top of the league.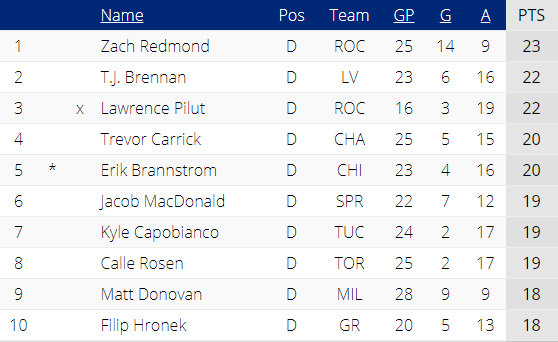 Zach Redmond continues to be on pace to break the all-time single season Amerks record for goals by a defenseman but chances of that happening before 2018 is over could be fading with the recent drought. The record is 18 goals and he now has 14 goals in 25 games.
More than Just Points
This might be one of the first teams to be in first place in the division where it just doesn't feel that way. There's some great wins but then also losses that raise some questions. The team had addressed this before the three game winning streak with an internal team meeting talking about how they aren't a .500 team and needed to get back to playing to their identity. That worked for three games before laying a stinker against Binghamton. Good news is they continue to build a gap in the standings.
Jonas Johansson made his first appearance in Rochester this season winning two games and getting tacked with the loss on another. The appearance was scheduled at the start of the season to give him a look in Rochester and also tied in with Scott Wedgewood being called up to Buffalo. Johansson looked pretty good in the two wins before getting lit up with four goals on 10 shots in his last start. He was assigned back to Cincinnati and the nets are back to Scott Wedgewood and Adam Wilcox.
Brendan Guhle seems to have gotten his feet back under him and has been showing flashes of speed in recent games. He's been taking part in rushes up the ice, has had some power play time, and two of his three recent assists have been on the power play. There was one turnover that created an odd man rush in Syracuse but he used his speed to get back and break up the play. He's been listed as question mark concerning his play but for the first time can say he's showing signs of turning things around.
Contributions from the entire team is a big part of the team identity and it's often from more than just points. From face off wins, hits, blocked shots, clean passes, or even fights. The last game (and loss) saw the fourth line of Tyler Randell, Myles Powell, and Yannick Veilleux creating the most offense with the most offensive zone time (based purely on watching the game – stats like that aren't available). In the game against Syracuse there was a big hit at center ice by Dalton Smith that created space for Tyler Randell to score a wrap around goal. The issue is that when that is the only line contributing the team is in trouble like we saw against Binghamton.
Zach Redmond only has one goal in the last five games and also had a turnover that resulted in a short handed goal against and turned out to be the game winner. These haven't been his best games but there's no reason to be concerned, just about everyone goes through a tough spot.
Goals and Shots
It's pretty simple, score more than the other team and win. The Amerks were outscored 14-12 over the last five games but still ended the five game set with three wins. One area that stands out is third period scoring. Even during wins there were goals given up.

The 25th game of the season vs Binghamton shows that Rochester had a 37-31 advantage in shots and still lost the game. The shots generated very few secondary shots or attempts. On the flip side, Binghamton took advantage of turnovers, immediate pressure, and scored. The 21st game listed was also against Binghamton and that was also a loss. In that game the Amerks were just outplayed the entire game.

Special Teams
Power play is currently 17th in the league at 19.4% (Previously 13th in the league at 20.3%)
Penalty kill is currently 24th in the league at 78.9% (Previously 22nd in the league at 79.2%)
Both special teams units continue to go in the wrong direction but they're still stringing together wins. They did score one short handed goal against Utica (was also an empty net goal).
PP and PK in games 21-25 by period:

Standings
Heading into the 26th game of the season the Amerks continue to stay in first place in the North Division based on points. For the first time all season Syracuse has taken an advantage when looking at winning percentage. There's only a four point gap in the standings and Syracuse still has three games in hand on Rochester. The gap is starting to grow between Rochester and the bottom four teams of the division.
The top two teams overall Eastern Conference standings have stayed the same since the last five recap with Charlotte ahead of Rochester. Enjoying the ride near the top but everyone knows there's still a lot of season left to play and a lot to work on where you can't feel comfortable.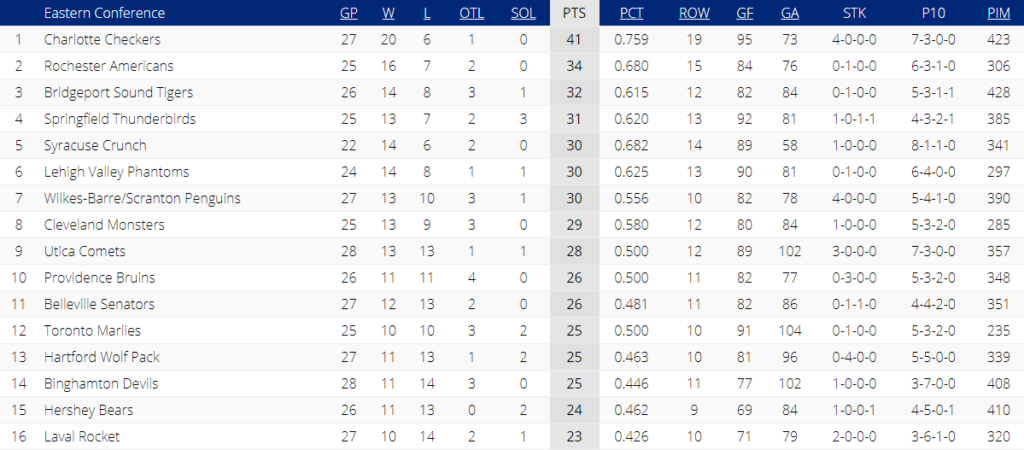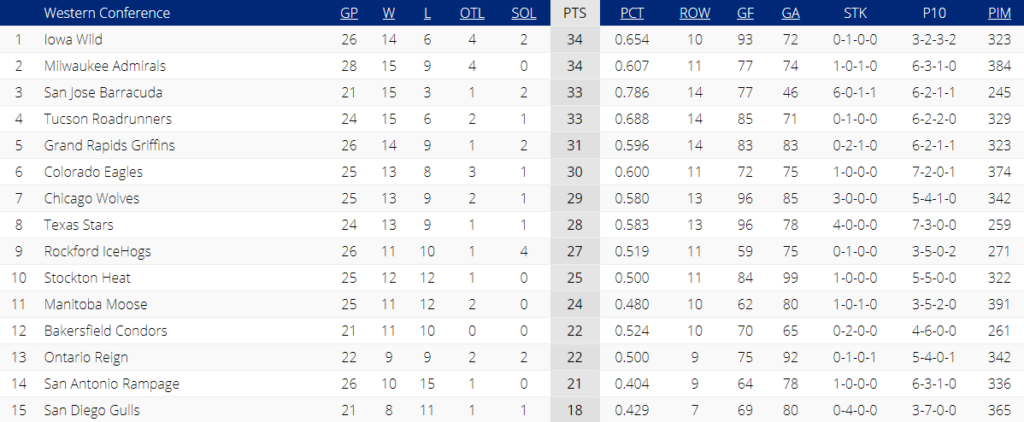 Highlight Goal
This turned out to be the game winning goal in a big win against Syracuse. Victor Olofsson from Brendan Guhle and Rasmus Asplund.
The Next Five – Games 26-30
Friday 12/14/2018 Cleveland at Rochester 7:05pm
Saturday 12/15/2018 Rochester at Cleveland 7:00pm
Wednesday 12/19/2018 Belleville at Rochester 7:05pm
Friday 12/21/2018 Hartford at Rochester 7:05pm
Saturday 12/22/2018 Hartford at Rochester 5:05pm
Injuries as of 12/14
Kevin Porter – Lower body – week to week – Initiated a hit against an opposing player on 12/7 and has been out since.
Andrew Oglevie – Concussion – indefinite -Â Occurred during the game on 11/30.
Kyle Criscuolo – Lower body – week to week – Was expected to start skating first week of December. Then the second week. It's mid month and has not returned to skating with the team yet.
Transactions
12/12 Matt Hunwick assigned to Rochester on conditioning loan
12/12 Jonas Johansson returned to Cincinnati
12/11 Scott Wedgewood returned to Rochester
12/10 Myles Powell called up to Rochester from Cincinnati
12/7 Matt Tennyson called up to Buffalo
12/7 Scott Wedgewood called up to Buffalo
12/4 Matt Tennyson returned to Rochester
12/2 Jonas Johansson called up to Rochester from Cincinnati
Highlight Videos