Welcome to the second part of a 15 part season series highlighting the last five games (the last segment will be six games) showing off the stats, standings, highlights, transactions and whatever else took place prior to the next five games. The goal is to post these the day of the next game of a five game set. There'll be an evolution to all of this especially in the way stats are presented. A little different than a weekly format to give us a better snapshot of trends as the season goes.
The team finished the last five games with a record of 4-0-1-0 and are heading into the game tonight with an eight game point streak. Not too bad after starting the season with back to back depressing losses on home ice. As it turns out, Charlotte is a pretty good hockey team but so is Rochester right now.
The last five games haven't been perfect but finding ways to win with a changing lineup will always be celebrated.
Articles (that aren't game recaps) in case you missed them
Wins and Losses – Games 6-10
Leaders in just the last five
Victor Olofsson (2G+5A)
Lawrence Pilut (6A)
Zach Redmond (3G+3A)
Danny O'Regan (4G)
Alex Nylander (3G+1A)
Leading the Season
Victor Olofsson (5G+10A)
Zach Redmond (6G+8A)
Lawrence Pilut (2G+11A)
Alex Nylander (4G+5A)
Danny O'Regan (5G+2A)
CJ Smith (4G+3A)
Kevin Porter (2G+5A)
It's a nice change of pace to look at the league leaders and see three Rochester Americans in the top five with two of those players being defensemen.

The last time a season finished with a top 10 league leading scorer was the 2016/2017 season when Cole Schneider finished with 63 points (24G+39A). Prior to that was the 2004/2005 season when Chris Taylor finished the season with 79 points (21G+58A). Thomas Vanek finished the 2004/2005 season with 42 goals, was good for second in the league behind Mike Cammalleri who had 46. The last time the Amerks had a top 10 goal scorer was 2013/2014 when Luke Adam had 29G.
More than Just Points
It was a surprising move on July 1 when the Sabres announced that they had signed goalie Scott Wedgewood. He wasn't at the top of lists for available free agent AHL goalies ready to be third in line for an NHL team. He's had some solid numbers but with limited playing time due to major shoulder surgery there were valid concerns about him stepping in. After seven games played and five wins later it looks like the immediate signing is paying off. By the end of the season the two opening weekend losses shouldn't make a difference but for now we aren't even going to count them, let's just say that Wedgewood is perfect with five wins. Is he an elite AHL goalie ready for NHL action if necessary? That's an unknown but right now he's been reliable for the Amerks and the six figure salary is paying off.
Danny O'Regan, featured picture, says don't forget about me! Zach Redmond and Victor Olofsson are stealing headlines but O'Regan is contributing just as much tied with Olofsson with five goals. O'Regan may not have the high profile power play success but his release is just as fast and lethal. O'Regan has a shoot first mentality but an eye for the game where he isn't selfish and will feed a pass if someone is open. Someday face off wins will be tracked and when that happens it wouldn't be surprising to see O'Regan with a winning percentage.
Wayne Simpson will be playing in his 198th consecutive game tonight vs Hershey and is the AHL's current leader in consecutive games played. The streak started on January 29, 2015 when he was playing with the Portland Pirates. He appeared in all 76 games with the Providence Bruins (2016/2017) and Hershey Bears (2017/2018) over each of the last two seasons prior to joining the Amerks this summer. Through his first 10 games with the Amerks, Simpson has tallied two goals and two assists, including a two-point effort (1+1) at Belleville on Saturday, Oct. 20.
It's unlikely that you'll ever see Will Borgen or Andrew MacWilliam win any player of the week or month awards but that doesn't mean they aren't big contributors on the ice. These two players are true defensive defensemen that have one task, defend the zone. Sometimes the best defensemen are the ones that you never notice. Blocked shots, clearing the zone, limiting scoring opportunities. It's always easier to focus on the offense but the next Amerks game you watch take some time to watch #3 Will Borgen and #2 Andrew MacWilliam when they step over the boards.
We had the first beat down of the season when Dalton Smith took on Laval Rocket forward Maxim Lamarche. A key to this season for Rochester this season was adding toughness and this season and Dalton Smith is leading the way.
The team has been a little banged up early in the season and the depth has paid off. The last game winning goal was scored by forward Yannick Veilleux with an assist from Dalton Smith. Myles Powell didn't earn a point but had a role in the goal by taking out an opposing player along the boards. The team played the last game with three key players on the injured list, Kyle Criscuolo, Andrew Oglevie and Sean Malone yet they still managed to win. Two years ago the team would've been relying on ECHL talent to fill the lineup, no offense to ECHL talent. Matt Tennyson and Jack Dougherty have been out of the lineup injured and Nathan Paetsch is still two players away from getting some playing time. It's only November 2 and depth has paid off.
Sean Malone should be returning to the lineup within the next week and will add a lot of grit and another scoring threat. Malone has been out the last six weeks with a knee injury. Last season he missed the first two games returning from a preseason injury and went on to play the next 74 games and was a big part of the Amerks shutting down other teams. Penalty kill, last minute of a game, whatever it was he was on the ice making plays.
Goals and Shots
Pretty simple. Score more than the other team in the third period and you'll probably win hockey games. They had their best third period of the season in the last game vs Laval to win 3-2. They've been to one shootout this season and they were perfect with goals from Victor Olofsson, CJ Smith and Wayne Simpson.

The last game is easy to see the Amerks first game without scoring a goal in the first two periods but still finding a way to win. Through 30 periods of hockey there's only been six they haven't scored a goal, three in the first five games, three in the last five.
There's a lot of stats that are tracked internally by teams and the league that aren't shared publicly, one of those being shots blocked. The team has been sacrificing their bodies blocking shots and it's something that earns the respect of your teammates and your goalie. In the win vs Laval in game 10 there was a shot blocked by Justin Bailey at the end of the second period off the side of his head. Plays like that were a deciding factor in that 3-2 win after being out shot period by period.

Special Teams
Power play is currently 2nd in the league at 29.5% (Previously 4th in the league at 31.8%)
Penalty kill is currently 26th in the league at 75% (Previously 24th in the league at 72.7%)
Olofsson, Redmond and Pilut have been lethal with 26 of their combined 42 points coming on the power play. Redmond leads the league with five power play goals, Olofsson leads the league with eight power play assists. The power play had an explosive night on October 17 vs Utica with four goals on five chances.
The penalty kill has struggled but gotten better. Staying out of the box appears to be the biggest challenge, it's up for debate if that's due to the officials or players. The penalty kill had a strong night on October 26 vs Utica killing off a five on three at a vital point in the game when they were only up 2-0. They were really put to the test on October 27 vs Laval when the Amerks had a combined 29 penalty minutes, only one five minute penalty.
CJ Smith has scored both of the teams shorthanded goals this season and is tied for the league lead.
PP and PK in games 6-10 by period:

Standings
Heading into the 11th game of the season the Amerks are in first place in the North Divsion with almost every team having played 10 games. Enjoy it but it's still early, a lot can change in this league at any time.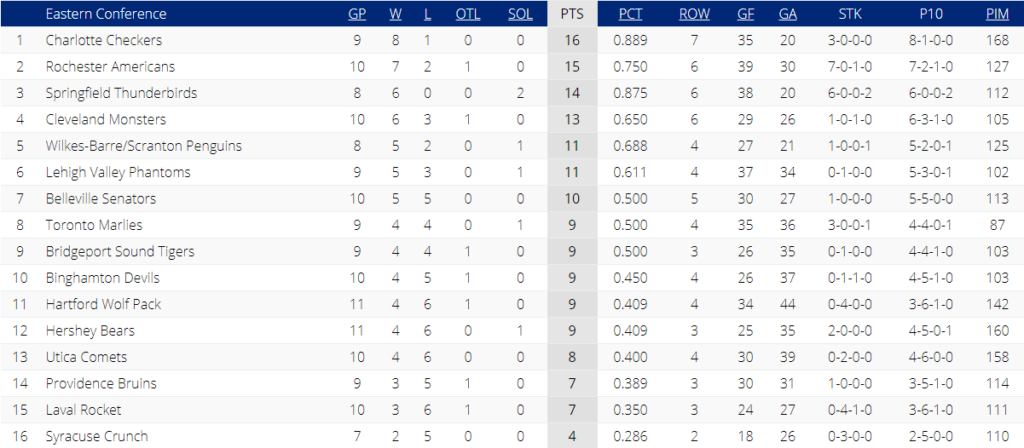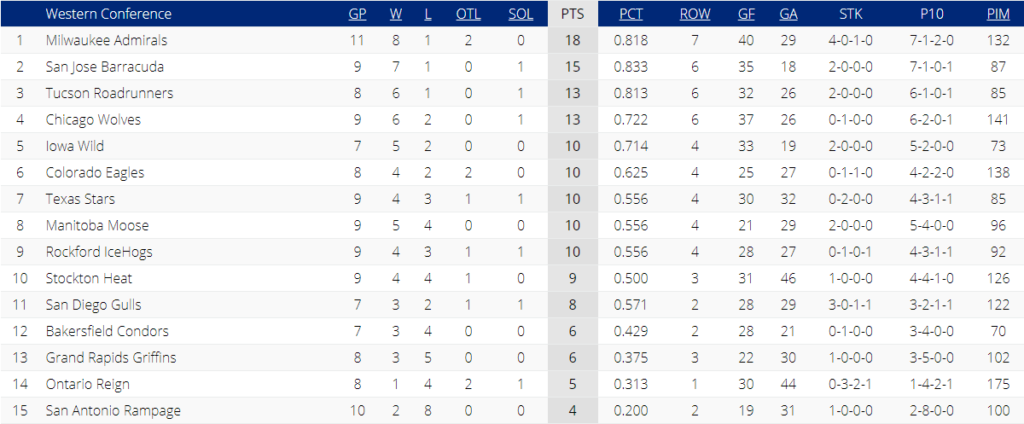 Highlight Goal
This was enough to be the game winning goal shutting out Utica on 10/26 and shows off the lethal power play. Pilut to Olofsson to Redmond. When you have three players like this all capable of scoring teams aren't going to know who to cover.
The Next Five – Games 11-15
Friday 11/2/2018 vs Hershey Bears 7:05pm
Saturday 11/3/2018 at Hershey Bears 7:00pm
Wednesday 11/7/2018 vs Cleveland 7:05pm
Friday 11/9/2018 vs Syracuse 7:05pm
Friday 11/16/2018 at Springfield 7:05pm
Injuries as of 11/2
Sean Malone returned to practicing yesterday, he had been out with a knee injury since September 17. Andrew Oglevie had been out since October 14 and returned to practice this week as well and is expected to play tonight.
Tyler Randell – Lower body – Unknown – Banged up in the game vs Utica on 10/26.
Matt Tennyson – Lower body – Unknown – Banged up in the game vs Utica on 10/26.
Kyle Criscuolo – Lower body – unknown – Blocked a shot in the 2nd period on 10/26 and didn't return to the game. Out of the game on 10/27.
Jack Dougherty – Lower body – week to week – Believed to have blocked a shot on Wednesday October 10 vs Syracuse.
Transactions
Myles Powell was assigned to Cincinnati on 10/31
Technically Sean Malone will have to be officially assigned to Rochester before he plays since injured players can't be transferred.
Highlight Videos
W 10/17 Game 6: Rochester (6) at Utica (1) [ Recap ]
SOW 10/19 Game 7: Toronto (4) vs Rochester (5) [ Recap ]
OTL 10/20 Game 8 Rochester (4) at Belleville (5) [ Recap ]
W 10/26 Game 9 Utica (0) vs Rochester (4) [ Recap ]
W 10/27 Game 10 Laval (2) vs Rochester (3) [ Recap ]
This series will be a work in progress as the season goes on and I manage to prevent stats in a better way. For now it's a simple glimpse into the last five games and we'll use it as comparisons going forward.