Welcome to the seventh part of a 15 part season series highlighting the last five games (the last segment will be six games) showing off the stats, standings, highlights, transactions and whatever else took place prior to the next five games. The goal is to post these the day of the next game of a five game set. A little different than a weekly format to give us a better snapshot of trends as the season goes.
The team finished the last five games with a record of 4-1-0-0 and are heading into the game this afternoon looking to continue to build on recent wins and full team efforts. They're still in first place for now. Syracuse has three games in hand and will make up one of those games this week. Wins were against Cleveland, Toronto, Bridgeport, and Laval. The only loss was a close game vs Utica.
Back on the right track is the simple way to summarize the last five games. Scott Wedgewood had all four wins, the team has had balanced scoring, they continue to beat top teams, and they're still without their captain in Kevin Porter. CJ Smith was also called up and missed the last two games and the team still won.
Podcast
We weren't able to record a new podcast but will be back with a new one this Sunday. In case you missed it or want options to subscribe click the link below:
Articles (that aren't game recaps) in case you missed them:
Wins and Losses – Games 31-35
Leaders in just the last five:
Victor Olofsson – 6 points (6A)
Wayne Simpson – 5 points (3G+2A)
Kyle Criscuolo – 5 points (2G+3A)
Justin Bailey – 4 points (2G+2A)
CJ Smith -Â 4 points (2G+2A)
Danny O'Regan -Â 4 points (2G+2A)
Zach Redmond – 4 points (1G+3A)
Even though the regulation goals haven't been coming lately, 2 goals in his last 13 games – both in one game, for Victor Olofsson he's still putting up points and helping goals get scored. He did score a beauty of a shootout winner against Bridgeport.
Leading the Season:
Victor Olofsson – 30 points (10G+20A)
Zach Redmond – 29 points (15G+14A)
CJ Smith – 29 points (13G+16A)
Alex Nylander – 22 points (8G+14A)
Lawrence Pilut – 22 points (3G+19A)
With the six assists Victor Olofsson did get back into the top 20 in league leaders and currently tied for 18th.
Looking at just leaders on defense, Zach Redmond is neck and neck with TJ Brennan.

Zach Redmond finally scored a goal after a seven game drought and continues to be on pace to break the all-time single season Amerks record for goals by a defenseman. He was on pace to break that before the end of December but hit a slump of sorts. The record is 18 goals and he has 15 goals in 35 games.
More than Just Points
This was only the second five game set where the team had four wins. The first time was early in the season from games six to ten when they were 4-0-1-0. The team has had a five game winning streak and two different three game winning streaks this season. Players often say they never want to lose three in a row, something that has only happened once this season. A nice rebound from a bad stretch.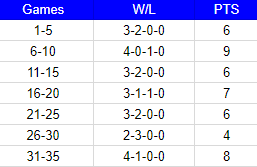 The team has 22 wins this season, 10 of those are against the three teams directly below them in the standings in the North. 3-0 vs Syracuse, 4-0 vs Cleveland, 3-2 vs Utica. Toronto is on the heals of Utica, a team the Amerks are 2-0 against. Against the Atlantic Division they've played six games against the current top teams, four of those are wins. The two losses were the first two games against Charlotte – a team as it turns out is tops in the league. In 15 games against teams currently out of playoff range they're 6-7-2. Win vs the best, struggle vs the bottom. Is that really a bad thing?
CJ Smith earned a call up to the Buffalo Sabres and after two wins for the Amerks it's almost as if he wasn't missing. Alex Nylander moved up to the top line in his absence.
One problem that has plagued just about everyone on the team lately has been shooting the pucks high or wide. They're still scoring goals and winning games but you have to wonder, how many more goals would the team have with second and third chances generated? Wins are wins but the goal for this unit was to be an elite playoff so expectations remain high.
Alex Nylander missed almost two full games after taking a hit. He left the game vs Toronto 12/28 early in the first period, missed the next game. In the last five games he has 1G+1A, both memorable points. A goal that was redirected against Laval and an assist with 12 seconds left in the game as he passed the puck to Rasmus Asplund. He also has a shootout game winning goal.  In his previous 12 games he only had 1G+3A. It's easy to say he has 22 points (8G+14A) in 32 games which is a decent number but the details are in the invisible stretches. What happens when NHL players go through stretches of lacking productivity? Questions and criticism. The AHL shouldn't be any different. He's still better than previous seasons and expectations remain high.
Scott Wedgewood has won four of the last five games. The only loss was against Utica when Adam Wilcox played. With a quick turnaround today for an afternoon game it'll probably be Wilcox getting the start but playing your #1 goalie in Wedgewood is proving beneficial.
When Dalton Smith plays the team is 20-6, when he doesn't they're 2-5-2-0. Difference maker? We'll say so.
Six players have played all 35 games so far – Zach Redmond, Wayne Simpson, Danny O'Regan, Eric Cornel, Rasmus Asplund, and Will Borgen.
Judd Peterson tallied his first American League point with a goal vs Laval. An attempt to pass to Danny O'Regan was redirected by a Laval player. Not the most memorable first goal but maybe it is that way? He's the third player to be given a chance on the fourth line as a center. Myles Powell and Vasily Glotov were before him and while neither seemed out of place neither offered more than the team already had. Scoring a crucial game tying goal in your first game of the season is a way to make an impression early.
Goals and Shots
It's pretty simple, score more than the other team and win. They had been on a streak of allowing third period goals which lead to previous losses. They've found the scoring touch and even though two games went to shootouts they didn't let the other team score more.

There was only one game that they were out shot in yet they still won. There really isn't anything to analyze with the shots based on the last five games when four of those games were wins. Shoot, score, win. If you've made it this far in reading thanks for enjoying this incredibly in depth analysis of shots for and against.

Special Teams
Power play is currently 6th in the league at 21.5% (Previously 19th in the league at 18.6%)
Penalty kill is currently 26th in the league at 78.3% (Previously 28th in the league at 77.7%)
The power play has finally seen improvement with eight goals in the last five games. Enough to move the team from 19th up to 6th in the league. The scoring has been balanced with seven different goal scorers. CJ Smith is the only player to have two goals. The penalty kill hasn't seen much improvement at all. Two goals against in the last five games were five on three situations.
It's as if a successful power play results in wins.
PP and PK in games 31-35 by period:

Standings
Heading into the 36th game of the season the Amerks continue to stay in first place in the North Division based on points. There was a brief moment that Syracuse was in first place but wins have put the Amerks back in the top spot. Syracuse continues to have an advantage looking at winning percentage and still has three games in hand. Syracuse will make up two of those three games in hand this coming week.
Looking at the conference level the Amerks remain in the third spot. They recently beat Bridgeport who is number two overall in the conference. Charlotte sits at number one and chances are they're going to stay there the rest of the way.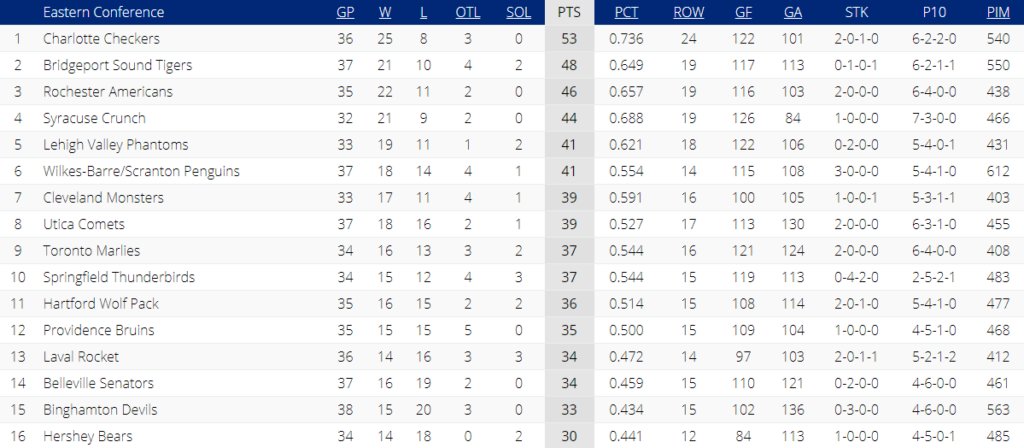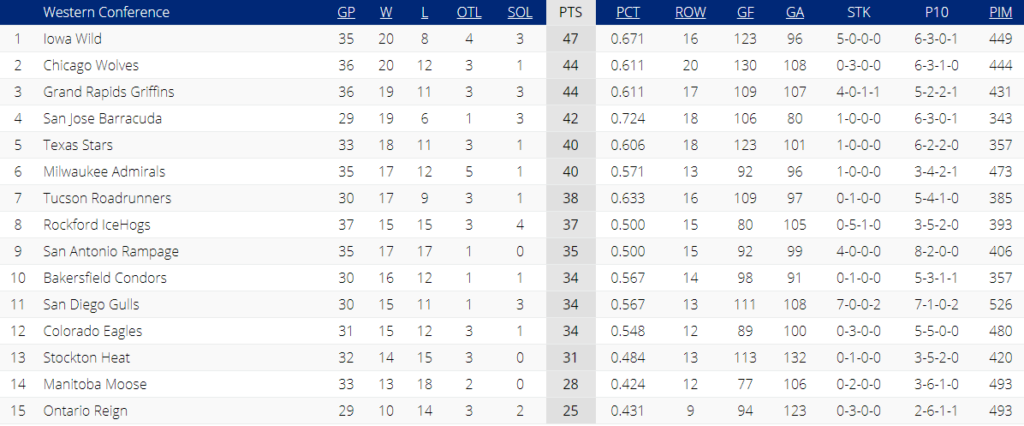 Highlight Goal
Two shootout wins in the last five so I have to go with the two shootout winners.
The Next Five – Games 31-35
Saturday 01/05/2019 Rochester at Laval 3:00pm
Friday 01/11/2019 Toronto at Rochester 7:05pm
Saturday 01/12/2019 Rochester at Toronto 4:00pm
Friday 01/18/2019 Rochester at Wilkes-Barre/Scranton 7:05pm
Saturday 01/19/2019 Rochester at Lehigh Valley 7:05pm
Injuries as of 01/05
Kevin Porter – Lower body – week to week – Initiated a hit against an opposing player on 12/7 and has been out since. Expected back mid January.
Andrew Oglevie – Concussion – indefinite -Â Occurred during the game on 11/30.
Transactions
1/2 Judd Peterson called up to Rochester from Cincinnati
1/2 Vasily Glotov returned to Cincinnati
12/31 CJ Smith called up to Buffalo
12/30 Jonas Johansson returned to Cincinnati
12/30 Scott Wedgewood returned to Rochester
12/29 Scott Wedgewood called up to Buffalo
12/28 Jonas Johansson called up to Rochester from Cincinnati
12/26 Vasily Glotov called up to Rochester from Cincinnati
Highlight Videos