Welcome to the 10th part of a 15 part season series highlighting the last five games (the last segment will be six games) showing off the stats, standings, highlights, transactions and whatever else took place prior to the next five games. The goal is to post these the day of the next game of a five game set. A little different than a weekly format to give us a better snapshot of trends as the season goes.
The team finished the last five games with a record of 1-3-0-1 to only gain three points in the standings. They went from one of the best set of five games to the worst and because of it the Syracuse Crunch have moved into first place in the North Division.
Here's how the team has finished each five game stretch so far:
Amerks Weekly Podcast
The only Rochester Americans focused podcast in the world! We weren't able to record an episode last week. Come back Monday for a new one. In case you missed it or you aren't subscribed click the link below for episode 14.
Articles (that aren't game recaps) in case you missed them:
With five games in a short time there was few practices and mostly game recaps.
Wins and Losses – Games 46-50
Leaders in just the last five:
Victor Olofssn – 5 points (4G+1A)
Wayne Simpson – 4 points (3G+1A)
Rasmus Asplund – 3 points (1G+2A)
Kevin Porter – 3 points (3A)
Matt Tennyson – 3 points (3A)
Danny O'Regan – 3 points (3A)
Leading the Season:
Victor Olofsson – 43 points (19G+24A)
CJ Smith – 41 points (18G+23A)
Zach Redmond – 39 points (19G+20A)
Danny O'Regan – 33 points (17G+16A)
Wayne Simpson – 31 points (16G+15A)
A hat trick for Olofsson put him in the lead for the first time this season. With CJ Smith called up to the Sabres and Redmond still injured it was time for Olofsson to continue to score and that's what he did. Olofsson has moved into the top 20 league leading scorers.
Redmond has now missed nine games as of writing this but is still leading the league compared to other defensemen.

More than Just Points (but about points)
When there's only one win in five games there's very little say when it comes to more than just points.
The five games can easily be summed up without a recap.
A shootout loss to Syracuse after giving up a third period goal.
A fun 7-1 win that speaks for itself.
A 5-2 loss in Utica after allowing three goals against in a span of 58 seconds during the second period. The Amerks did have a 2-0 lead at the end of the first period.
A 5-2 loss in Cleveland after allowing three goals in a span of just over 2:30 during the third period. Two of those goals were within 51 seconds of each other.
A close 1-0 loss on home ice vs Syracuse. One mistake that resulted in Syracuse scoring vs Rochester having a lot of scoring chances with the best one going off a post.
Adding Casey Nelson to the roster on a conditioning assignment has been indifferent to the outcome of the games. He's played alright but hasn't been a difference maker.
None of the games were blow outs where they never had a chance to win but at this time of the season the only thing that counts is wins. They're clearly missing the presence of Zach Redmond with those quick goals against. The same can be said about missing CJ Smith to create some offense in close games. Referencing missing players is more of an excuse as the teams depth should be built to handle games without them.
Two players that have stood out are Remi Elie and Taylor Leier. Elie has shown off the ability he has to score and Leier does everything right wherever he is on the ice. Without wins saying those things may not hold as much merit but assuming the Amerks make it into the playoffs they're the types of players that should be difference makers.
Alex Nylander has been out with an injury after taking a bump in practice along the boards.
Andrew Oglevie returned after missing 29 games and wasn't out of place. It's not easy returning after missing over half of the current games played so judging anything off of one game wouldn't be fair.
By the time the next five game recap is written they should also have Zach Redmond and Sean Malone back in the lineup.
Goals and Shots
It's pretty simple, score more than the other team and win! That didn't happen.
Over the last five games the Amerks were outscored opponents 14-12. The bulk of those 12 goals over five games were scored in the one seven goal night.

Through the last five game stretch the other teams had a 154-131 advantage in shots.

Out scored and out shot. Here's to a better next five.
Special Teams
Power play is currently 8th in the league at 20.8% (Previously 6th in the league at 21.5%)
Penalty kill is currently 10th in the league at 82.4% (Previously 17th in the league at 81.1%)
The penalty kill only allowed one goal in the last five games and it was the first in a month. The penalty kill has continued to improve as the season has gone on.
PP and PK in games 46-50 by period:

Standings
Heading into the 51st game of the season the Amerks have moved out of first place to the Syracuse Crunch. Looking at the conference level they've moved down to third and league level dropped down to sixth. Three of the next eight games are against Syracuse and with only seven points separating fist and fifth place the standings have gotten interesting.
The Amerks previous point streak came to an end and after three consecutive losses they've stumbled in the standings.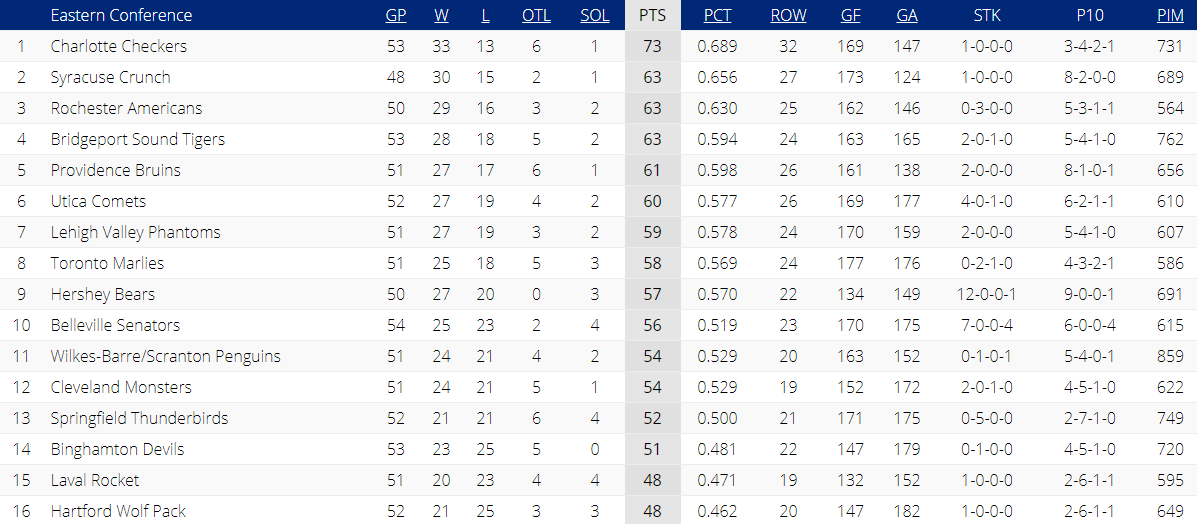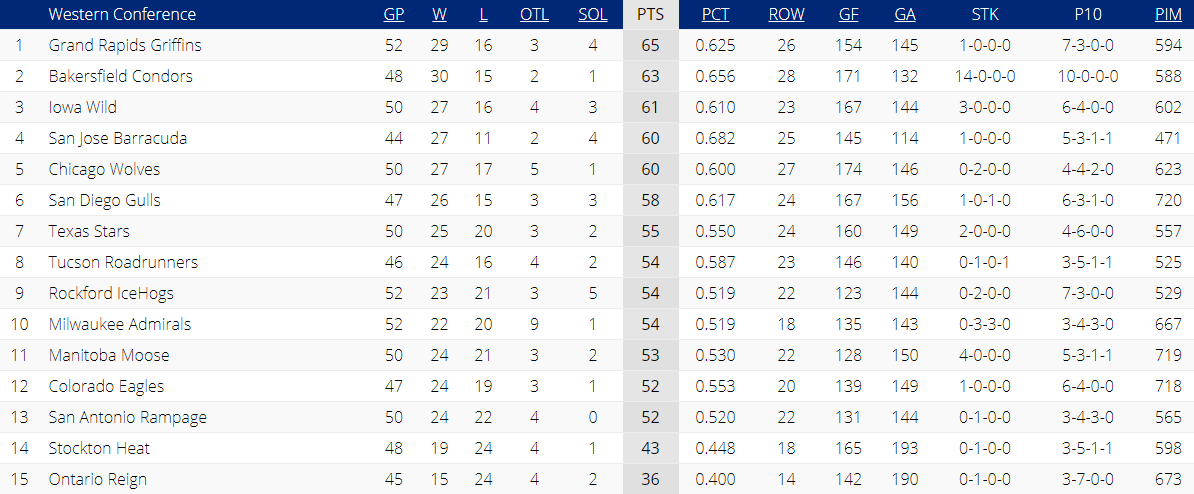 Highlight Goal(s)
Victor Olofsson scored a hat trick in a 7-1 win but the highlight has to go to Remi Elie with this beauty in Cleveland.
The Next Five – Games 46-50
Saturday 02/16/2019 Rochester at Syracuse 7:00pm
Sunday 02/17/2019 Binghamton at Rochester 3:05pm
Wednesday 02/20/2019 Cleveland at Rochester 7:05pm
Friday 02/22/2019 Rochester at Utica 7:00pm
Saturday 02/23/2019 Belleville at Rochester 7:05pm
Injuries as of 02/16
Kyle Criscuolo – lower body – day to day – Left the game early 2/8, missed the game 2/9, and practice 2/11.
Alex Nylander – upper body – week to week – Hurt in practice 2/5 from a hit. Returned to practice 2/14.
Zach Redmond – lower body – week to week day to day week to week – Last minute of the game 1/23 he fell awkward into the boards, had to be helped off the ice. Possibly back the 2nd week of February. [ Tweet of the incident ] Changed to day to day on 2/4, returned to practice 2/6. Expected back February 20th.
Sean Malone – unknown – week to week – Didn't travel to Toronto on 1/12, has been out of practice since. Lingering injury, decision was made to go out for recovery. Returned to team practice 2/14. Possible to return any game.
Details on injuries over on the injury report page.
Transactions
02/11 Myles Powell called up to Rochester from Cincinnati
02/08 Casey Nelson assigned to Rochester on conditioning loan
Highlight Videos
Previous Five Game Recaps: