Welcome to the 11th part of a 15 part season series highlighting the last five games (the last segment will be six games) showing off the stats, standings, highlights, transactions and whatever else took place prior to the next five games. The goal is to post these the day of the next game of a five game set. A little different than a weekly format to give us a better snapshot of trends as the season goes.
The team finished the last five games with a record of 4-1-0-0 which was one of their best stretches following one of the worst and are still in a battle for first place currently tied with Syracuse. That has been the story line of the season. Up and down and tied with Syracuse.
Here's how the team has finished each five game stretch so far: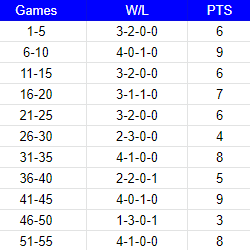 Amerks Weekly Podcast
The only Rochester Americans focused podcast in the world! Here's episode 15 recorded on February 17th. We weren't able to record an episode this week.
Articles (that aren't game recaps) in case you missed them:
Wins and Losses – Games 51-55
Leaders in just the last five:
Over the last five games there have been 21 different players with points. 13 different players had more than one point.
Zach Redmond – 6 points (2G+4A)
Remi Elie – 5 points (3G+2A)
Andrew Oglevie – 5 points (2G+3A)
Wayne Simpson – 4 points (3G+1A)
Taylor Leier – 4 points (1G+3A)
Leading the Season:
Victor Olofsson – 46 points (20G+26A)
Zach Redmond – 45 points (21G+24A)
CJ Smith – 42 points (18G+24A)
Wayne Simpson – 35 points (19G+16A)
Danny O'Regan – 34 points (18G+16A)
No surprise that that Zach Redmond returned and immediately put himself back near the top.

More than Just Points
Keeping this section short and to the point in this recap. The team really saw the value in what players like Taylor Leier and Remi Elie can provide along with the return of Andrew Oglevie. The phrase "compete level" is often used by coaches and those three have been the definition.
A four game winning streak was met with a dud of a loss to the streaking Belleville Senators. A loss shouldn't takeaway from the streak but it does due to the fashion of the game. They were unorganized and just didn't look like the same team.
Will Borgen dropping the gloves for his first pro fight didn't surprise his teammates. They knew he was capable if needed but he certainly isn't a Dalton Smith, Tyler Randell, or Yannick Veilleux.
Alex Nylander returned to play from an injury and as written there's questions that remain about his future. In his first game back he turned the puck over twice which resulted in two goals against. Played better in his second game back. With 21 games remain the pressure is on.
Staying healthy is going to be a big factor going forward. Wayne Simpson and Kevin Porter will be missing games again. Kyle Criscuolo is still "week to week." Simpson has been a leading scorer all season and the leadership that Porter provides is valuable during games.
Brendan Guhle was traded to Anaheim which could have left a big hole on the blue line but the Sabres filled that role by assigning Lawrence Pilut back to the team. Redmond, Pilut, Tennyson, MacWilliam, and Borgen make up the guaranteed top five. The last spot is going to be between Jack Dougherty and Brandon Hickey with Nathan Paetsch still on call.
17 of the remaining 21 games are against North Division teams, there's little room to slump in this last stretch.
Tage Thompson was assigned to Rochester as a paper transaction which makes him eligible for AHL playoffs. How he'll fit into the team will be addressed in April but for now it's a great option available.
Adam Wilcox was signed to a two-way NHL contract for the remainder of the season. Jonas Johansson ended his season with knee surgery which left a vacancy in net for the Buffalo Sabres. Teams like to have four goalies on NHL deals preparing for the worst and that's where Wilcox falls.
Goals and Shots
It's pretty simple, score more than the other team and win! That's what happened and they won more games.
Over the last five games the Amerks were outscored opponents 19-13. Balanced scoring and outscoring other teams won hockey games. Imagine that.

Through the last five game stretch the other teams had a 185-135 advantage in shots. Everyone is encouraged to shoot the puck and that's what happens.

Special Teams
Power play is currently 5th in the league at 21.5% (Previously 8th in the league at 20.8%)
Penalty kill is currently 7th in the league at 83.2% (Previously 10th in the league at 82.4%)
The penalty kill only allowed one goal in the last five games and only two in the last ten games. Overall the special teams is where the team has had constant improvement all season.
PP and PK in games 51-55 by period:

Standings
Heading into the 56th game of the season the Amerks moved ahead of the Syracuse Crunch and now they're tied again. Looking at the conference level they remain tied for third and league level remain tied for third as well. Rochester and Syracuse play each other in back to back games weekend setting up two more playoff level games.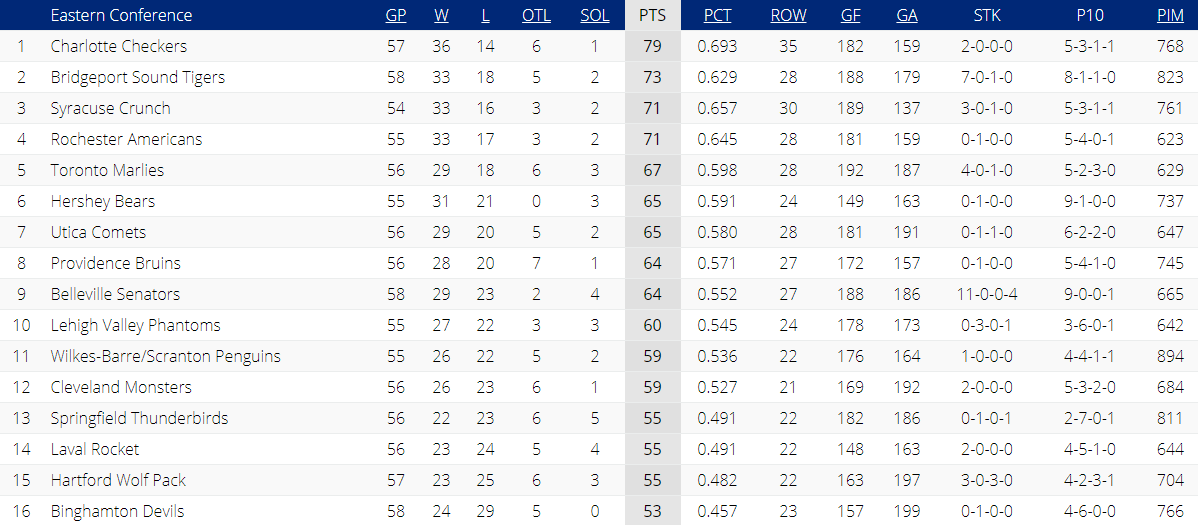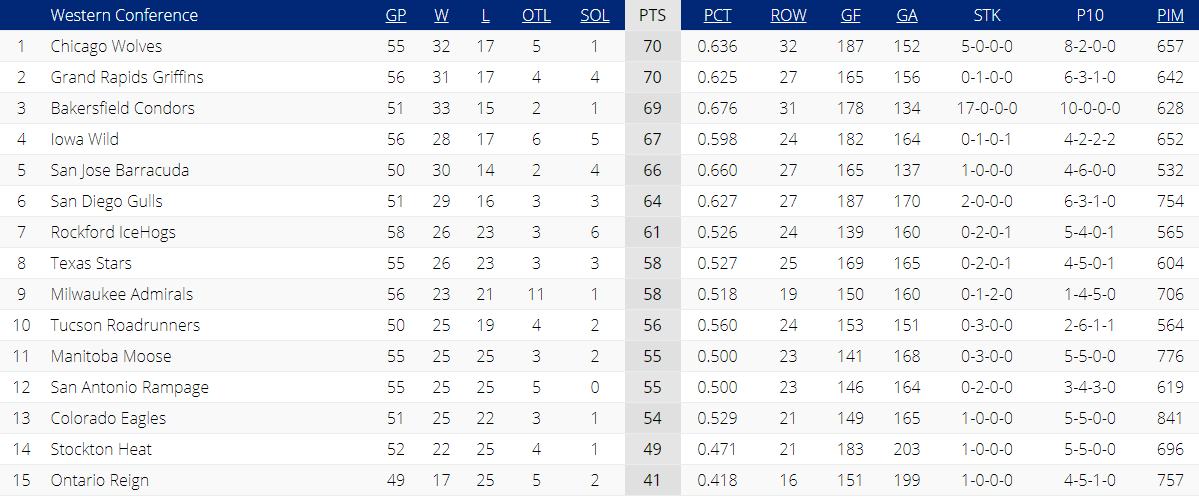 Highlight Goal(s)
Game winning goals for a couple of highlights.
The Next Five – Games 56-60
Wednesday 2/27/2019 Rochester at Utica 7:00pm
Saturday 3/2/2019 Rochester at Syracuse 7:00pm
Sunday 3/3/2019 Syracuse at Rochester 3:00pm
Friday 3/8/2019 Bridgeport at Rochester 7:00pm
Saturday 3/9/2019 Rochester at Binghamton 7:05pm
Injuries as of 02/27
Zach Redmond, Alex Nylander, and Sean Malone all returned from injury during the last five game stretch.
Wayne Simpson – upper body – day to day – missed practice 2/25. Possible return 3/1
Kevin Porter – upper body – day to day – missed practice 2/25. Possible return 3/1
Kyle Criscuolo – lower body – week to week – Left the game early 2/8, missed the game 2/9, and practice 2/11. Has been out since. Has skated on his own, hasn't returned to team practices yet.
Details on injuries over on the injury report page.
Transactions
2/26 Danny O'Regan returned to Rochester
2/25 Tage Thompson assigned to Rochester, called up to Buffalo. Paper transaction to be AHL playoff eligible.
2/25 Adam Wilcox cleared waivers and assigned to Rochester
2/24 Brendan Guhle called up to Buffalo, traded to Anaheim
2/24 Adam Wilcox placed on waivers to sign NHL contract
2/23 CJ Smith returned to Rochester
2/22 Danny O'Regan called up to Buffalo
2/22 Lawrence Pilut returned to Rochester
2/22 Scott Wilson called up to Buffalo
2/18 Myles Powell returned to Cincinnati from Rochester
2/17 Casey Nelson assigned to Buffalo ending conditioning loan
Highlight Videos
Previous Five Game Recaps: