Welcome to the 12th part of a 15 part season series highlighting the last five games (the last segment will be six games) showing off the stats, standings, highlights, transactions and whatever else took place prior to the next five games. The goal is to post these the day of the next game of a five game set. A little different than a weekly format to give us a better snapshot of trends as the season goes.
The team finished a second straight set of five games with a record of 4-1-0-0. They're 8-2-0-0 in the last 10 games.
Here's how the team has finished each five game stretch so far: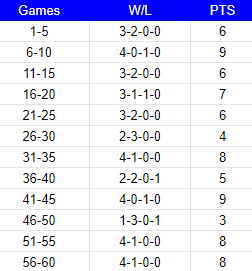 Amerks Weekly Podcast
The only Rochester Americans focused podcast in the world! Here's episode 16 recorded on March 3rd.
Articles (that aren't game recaps) in case you missed them:
Wins and Losses – Games 56-60
Leaders in just the last five:
Over the last five games there have been 16 different players with points. 12 different players had more than one point.
Alex Nylander – 6 points (4G+2A)
Rasmus Asplund – 6 points (2G+4A)
Taylor Leier – 5 points (4G+1A)
CJ Smith – 5 points points (2G+3A)
Victor Olofsson – 4 points (3G+1A)
Danny O'Regan – 4 points (4A)
Leading the Season:
Victor Olofsson – 50 points (23G+27A)
CJ Smith – 47 points (20G+27A)
Zach Redmond – 47 points (21G+26A)
Danny O'Regan – 38 points (18G+20A)
Wayne Simpson – 36 points (19G+17A)
No surprise that that Zach Redmond remains the league leading defenseman in scoring.

More than Just Points
It's tough to stray from anything but points at this point of the season.
Rasmus Asplund has played great hockey all season but he's been snake bitten when it comes to goal scoring. Two goals against Bridgeport will hopefully have that monkey off his back to find the net more often. He has the speed, he has the shot.
21 year old Alex Nylander has turned into a good hockey player with 4G+2A since his 21st birthday. Credit where it's due, he's shooting the puck and scoring. The great stretch earned him his first call up of the season today.
Scott Wedgewood is having a career season in games played and wins. There were valid concerns at the start of the season but he continues to play well.
Kevin Porter and Wayne Simpson both returned from managing minor injuries. Chances are they could have played if this was playoff time but the depth of the roster allows the games off and no one loses any confidence in being able to win.
The only loss of the stretch was a penalty filled game in which the Syracuse power play took over. The Amerks have said they're taking too many penalties but very teams will also publicly say anything negative about the officials.
Rochester and Syracuse continue to battle for first place in the North, a spot that all of the players are hungry for. Meanwhile Belleville continues to win and rise up in the standings and Utica has fallen.
Goals and Shots
It's pretty simple, score more than the other team and win! That's what happened and they won more games.
Over the last five games the Amerks were outscored opponents 19-11. Balanced scoring and outscoring other teams won hockey games. Imagine that! Over the last 10 games they've outscored opponents 38-24.

Through the last five game stretch they out shot other teams 180-144. Everyone is encouraged to shoot the puck and when that happens you often win.

Special Teams
Power play is currently 6th in the league at 20.9% (Previously 5th in the league at 21.5%)
Penalty kill is currently 10th in the league at 82.2% (Previously 7th in the league at 83.2%)
The penalty kill struggled in game 58 vs Syracuse against a strong Syracuse team. It also doesn't help when you have to kill off eight penalties. The penalty kill dropped a little bit due to a few too many penalties (that weren't helped by officiating). The power play needs to find their groove again.
PP and PK in games 56-60 by period:

Standings
Heading into the 61st game of the season the Amerks had fallen behind the Crunch in points for the first time. Looking at the conference level the Amerks remain in third and league level remain in third as well.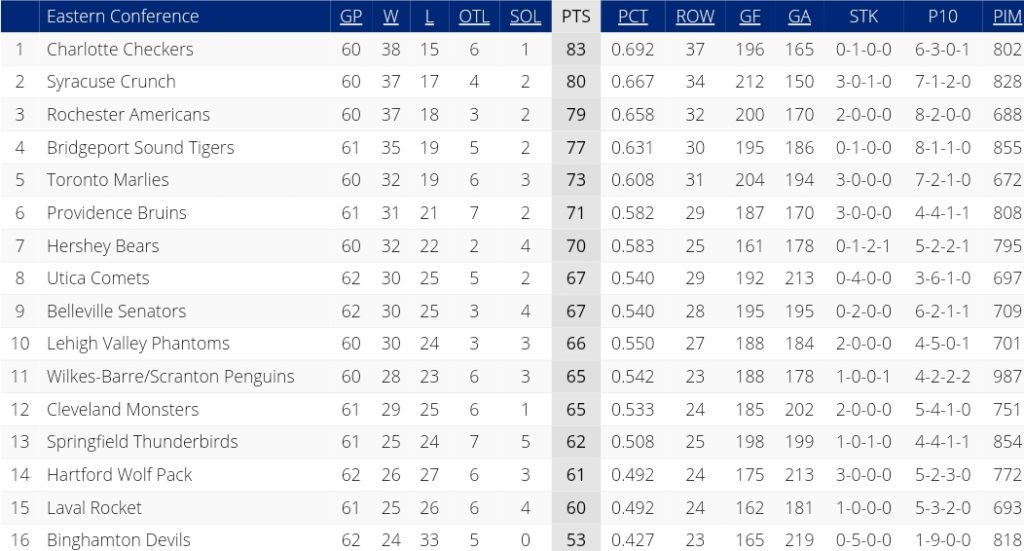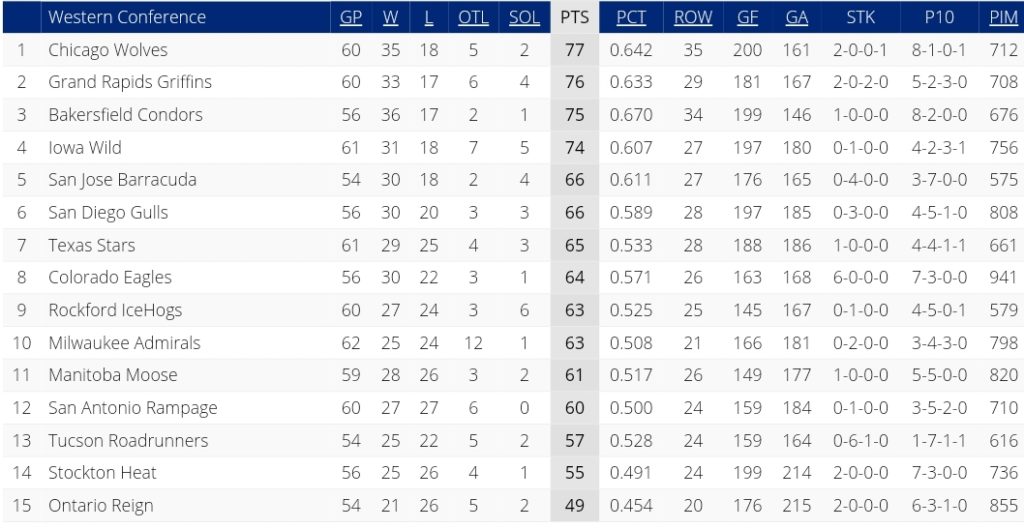 Highlight Goal(s)
The way Oglevie split through two players to jump ahead with speed was impressive.
The speed and shot here from Asplund opened the game up. He would score a second in the same game.
The Next Five – Games 61-65
Sunday 3/10/2019 vs Binghamton Devils 3:05pm
Wednesday 3/13/2019 vs Utica Comets 7:05pm
Friday 3/15/2019 at Charlotte Checkers 7:00pm
Saturday 3/16/2019 at Charlotte Checkers 6:00pm
Friday 3/22/2019 vs Cleveland Monsters 7:05pm
Injuries as of 03/10
Kevin Porter and Wayne Simpson had been out and returned from injury during the last five game stretch.
Kyle Criscuolo – lower body – week to week – Left the game early 2/8, missed the game 2/9, and practice 2/11. Has been out since. Has skated on his own, hasn't returned to team practices yet.
Details on injuries over on the injury report page.
Transactions
3/10 Alex Nylander called up to Buffalo
Highlight Videos
Previous Five Game Recaps: