Welcome to the 13th part of a 15 part season series highlighting the last five games (the last segment will be six games) showing off the stats, standings, highlights, transactions and whatever else took place prior to the next five games. The goal is to post these the day of the next game of a five game set. A little different than a weekly format to give us a better snapshot of trends as the season goes.
After two five game stretches going 4-1 the team finished 2-3 and has really hurt in the standings. The end of the season is coming up fast and playoff positioning is a factor now.
Here's how the team has finished each five game stretch so far: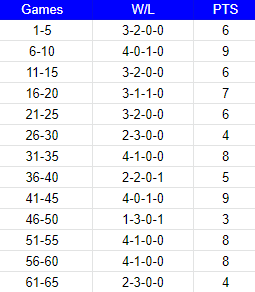 Amerks Weekly Podcast
The only Rochester Americans focused podcast in the world! But it's been a few weeks since we've been able to record an episode. There'll be a new one Monday morning.
Articles (that aren't game recaps) in case you missed them:
Wins and Losses – Games 61-65
Leaders in just the last five:
Rasmus Asplund – 6 points (2G+4A)
CJ Smith – 5 points (3G+2A)
Victor Olofsson – 4 points (2G+2A)
Taylor Leier – 4 points (2G+2A)
Leading the Season:
Victor Olofsson – 54 points (25G+29A)
CJ Smith – 52 points (23G+29A)
Zach Redmond – 49 points (21G+28A)
Danny O'Regan – 40 points (18G+22A)
Wayne Simpson – 37 points (19G+18A)
No surprise that that Zach Redmond remains the league leading defenseman in scoring.

More than Just Points
A quick recap here…
The biggest part of the last five games was the two road games in Charlotte where the Amerks looked to prove some dominance. The games didn't go that way but they weren't generally bad games. Charlotte had won the first two games to start the season and Rochester was looking for a little pay back. They were outscored 7-2 in the two games which sounds worst than they were. Losses by multiple goals are still losses.
Zach Redmond went out with a lower body injury again after the Charlotte games.
The four points from only two wins is a low points in the season and that allowed Syracuse to move into first place overall.
The Amerks struggled to score goals which resulted in struggles to win.
Goals and Shots
It's pretty simple, score more than the other team and win! Over the last 5 games scoring was even with 13 goals for and against. Prior to that the Amerks had outscored teams 19-11 and 19-13 in five game stretches. Scoring matters and it's fallen off and that's why the losses have added up.

At this point in the season shot counts only go so far but here they are for historical purposes. They're shooting but nothing is going in.

Special Teams
Power play is currently 7th in the league at 20.3% (Previously 6th in the league at 20.9%)
Penalty kill is currently 11th in the league at 81.9% (Previously 7th in the league at 83.2%)
Chris Taylor talked this week that it's not about percentages anymore, it's needing that big power play goal that can make a difference in a game or that big blocked shot or save on the penalty kill.
PP and PK in games 61-65 by period:

Standings
Heading into the 66th game of the season the Amerks have fallen behind to the Crunch and are at risk of 3rd place with back to back games versus Toronto.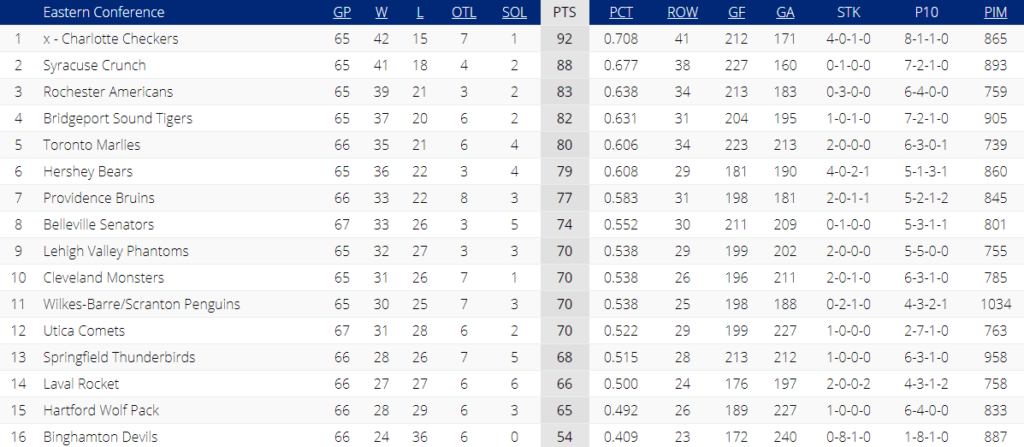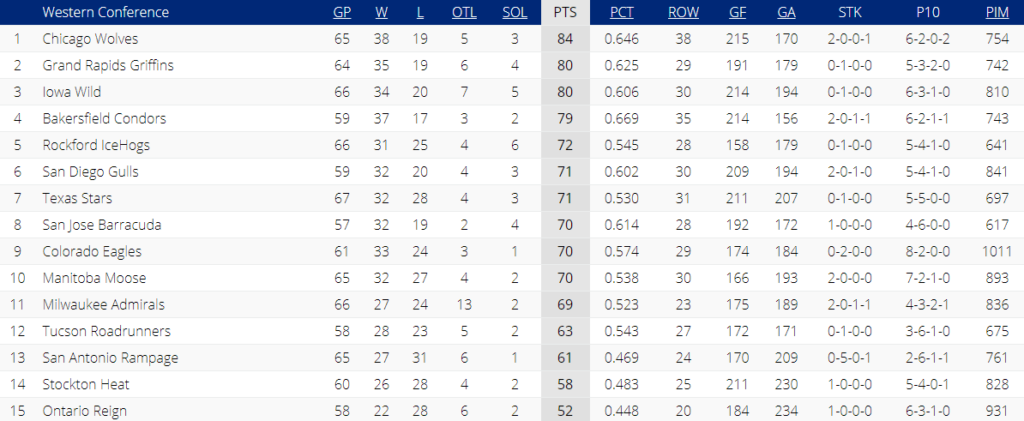 Highlight Goal(s)
The Next Five – Games 66-70
Saturday 3/23/2019 at Toronto Marlies 5:00pm
Sunday 3/24/2019 at Toronto Marlies 5:00pm
Wednesday 3/27/2019 vs Lehigh Valley Phantoms 7:05pm
Friday 3/29/2019 vs Laval Rocket 7:05pm
Saturday 3/30/2019 at Binghamton Devils 7:05pm
Injuries as of 03/23
Sean Malone and Kyle Criscuolo returned from injuries in the last five game stretch.
Zach Redmond – lower body – week to week – Left the game early 2/8, missed the game 2/9, and practice 2/11. Has been out since. Has skated on his own, hasn't returned to team practices yet.
Details on injuries over on the injury report page.
Transactions
3/19 Matej Pekar assigned to Rochester from Barrie (OHL)
Highlight Videos
Previous Five Game Recaps: