Welcome to the 14th part of a 15 part season series highlighting the last five games (the last segment will be six games) showing off the stats, standings, highlights, transactions and whatever else took place prior to the next five games. The goal is to post these the day of the next game of a five game set. A little different than a weekly format to give us a better snapshot of trends as the season goes.
An exciting stretch of five games going 4-0-1-0 after previously going 2-3-0-0. Over the last 20 games the Amerks have won 14 games overall and only lost five games in regulation. There's six games remaining in the regular season and overall they continue to trend where they need to be.
Here's how the team has finished each five game stretch so far: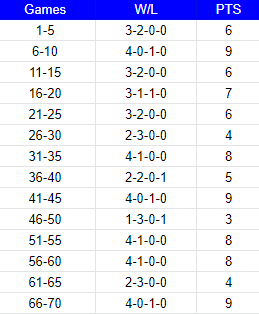 Amerks Weekly Podcast
Articles (that aren't game recaps) in case you missed them:
Wins and Losses – Games 66-70
Leaders in just the last five:
Victor Olofsson – 6 points (2G+4A)
Danny O'Regan – 6 points (2G+4A)
Kevin Porter – 6 points (1G+5A)
Kyle Criscuolo – 5 points (2G+3A)
CJ Smith – 4 points (4G)
Tage Thompson – 4 points (3G+1A)
Rasmus Asplund – 4 points (2G+2A)
Remi Elie – 4 points (2G+2A)
Leading the Season:
Victor Olofsson – 60 points (27G+33A)
CJ Smith – 56 points (27G+29A)
Zach Redmond – 49 points (21G+28A)
Danny O'Regan – 46 points (20G+26A)
Wayne Simpson – 39 points (19G+20A)
Even though Zach Redmond has missed the last six games with a nagging lower body injury he's still a team leader and one of the leagues leading defensemen.

More than Just Points
Two come back wins and clinching a playoff spot are the highlights of the last five games. The team came from behind by scoring four goals in the third period on the road in Binghamton to clinch a playoff spot in the 2019 Calder Cup playoffs.
Victor Olofsson was called up to Buffalo and Tage Thompson was assigned to Rochester. On the surface that sounds like a losing situation for Rochester – losing your leading scorer and gaining a player that wasn't producing in the NHL. Tage Thompson arrived with a positive attitude, confidence, and followed it up with three key goals in his first two games along with an assist.
Having your top goalie pulled in two straight games could be a concern but Adam Wilcox stepped right in to win some games. Wedgewood addressed the situation as just a bad week, maybe his only bad week of the season, and complimented how the team stepped up at the same time.
There's six games remaining, three against Syracuse, one against Cleveland, one against Binghamton, and the final game vs Belleville. The North Division title is still up for grabs and this weekend could determine if the race continues into the final weekend. Syracuse is currently three points ahead of Rochester and will look to all but secure the division title this weekend.
Goals and Shots
It's pretty simple, score more than the other team and win! Amerks outscored opponents 23-16 and won more games. Revolutionary.

Shooting the puck, creating more chances, and it creates wins.

Special Teams
Power play is currently 8th in the league at 20.0% (Previously 7th in the league at 20.3%)
Penalty kill is currently 13th in the league at 81.4% (Previously 11th in the league at 81.9%)
PP and PK in games 66-70 by period:

Standings
Heading into the 71st game of the season the Amerks appear to be in sole possession of second place with a chance to still grab the North Division title.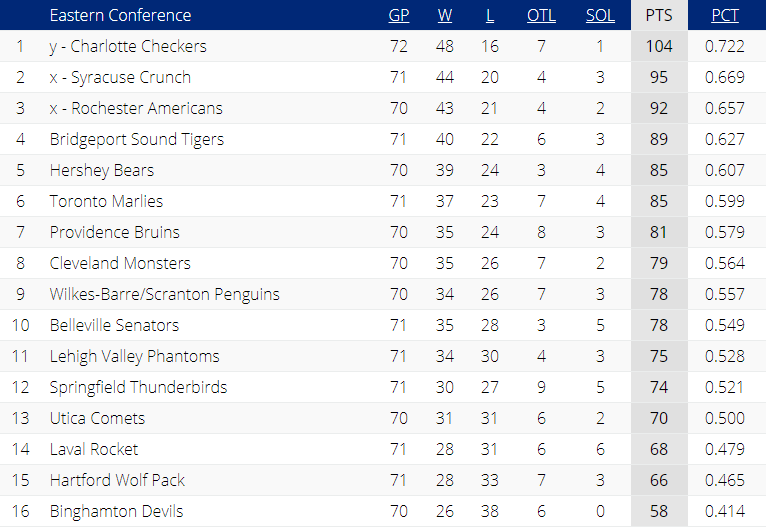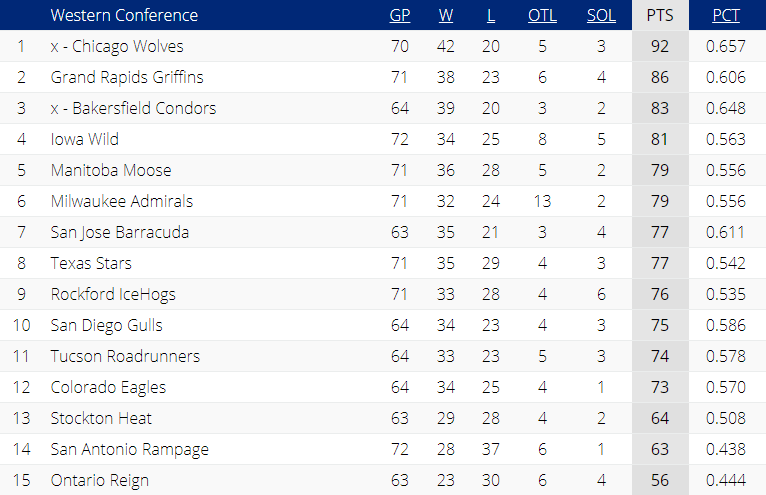 Highlight Goal(s)
Danny O'Regan winning the game in overtime in Toronto.
The Next Six – Games 71-76
Friday 4/5/2019 vs Syracuse Crunch 7:05pm
Saturday 4/6/2019 at Syracuse Crunch 7:00pm
Monday 4/8/2019 at Cleveland Monsters 7:00pm
Friday 4/12/2019 vs Binghamton Devils 7:05pm
Saturday 4/13/2019 at Syracuse Crunch 7:00pm
Sunday 4/14/2019 at Belleville Senators 2:00pm
Injuries as of 04/05
Andrew Oglevie – upper body – unknown – Played March 22, hasn't skated since.
Zach Redmond – lower body – day to day – Played 3/16, did not practice week of 3/20. If the playoffs started tonight he could play. Remains out to heal up. Returned to team practice 4/4. Possible for 4/5.
Details on injuries over on the injury report page.
Transactions
The busiest time of year for transactions.
4/3 Will Borgen returned to Rochester from Buffalo
3/31 Judd Peterson returned to Cincinnati from Rochester
3/28 Arvin Atwal called up to Rochester from Cincinnati
3/28 Matt Tennyson called up to Buffalo from Rochester
3/27 Casey Fitzgerald signed ATO out of Boston College. Is also signed through 2019/2020 season.
3/27 Victor Olofsson called up to Buffalo from Rochester
3/26 Kurt Gosselin called up to Rochester from Cincinnati
3/26 Will Borgen called up to Buffalo from Rochester
3/25 Judd Peterson called up to Rochester from Cincinnati
3/24 Lawrence Pilut called up to Buffalo from Rochester
Highlight Videos
Previous Five Game Recaps: